"Portuser" contributed this article to NextInsight


After failing twice to get listed on the Shanghai Stock Exchange, in 2015 and 2017, Tianjin Kemai submitted a fresh draft IPO prospectus this June.

It targets to raise RMB 1,427m for the construction of new production capacity of 130,000 tonnes of rubber chemicals on a 728-mu-site in Hebei province over five years.

The three main rubber chemical groups are rubber accelerators, insoluble sulphur and anti-oxidants. They are essential in the manufacture of rubber products such as tyres. in particular, rubber accelerators drastically shorten the time taken to improve the properties of rubber.

Kemai foresees rising tyre consumption to lead to strong demand for rubber chemicals. It expects its project to generate RMB 2,321m in revenue and RMB 369m in profit.

Although the IPO pricing and valuation have not been revealed yet, Kemai's draft IPO prospectus has a treasure trove of information, including:
• Firstly, China is the world's largest rubber chemical producer with 76.3% of market share in 2018.

The rubber chemical industry in China has been undergoing consolidation. As of 2018, the top 10 producers accounted for 66.8% of market share.

Continual phasing out of smaller producers, which have difficulty in complying with stringent pollution control requirements, will lead to even higher market concentration.



•
Secondly, large rubber chemical firms are better-placed to raise product prices than small ones.



•
Thirdly, rubber accelerators TBBS and CBS, which are used in the manufacture of radial tyres, are not in the U.S. tariff list. Other rubber accelerators such as DCBS, DPG, TMQ are hit but it's the US tyremakers who are footing the 10% tariff.


This underscore an important point: While U.S. tariffs have been levied on tyres made in China, U.S. tyremakers need rubber chemicals from China to boost production.
•
Sunsine's expansion: Past and future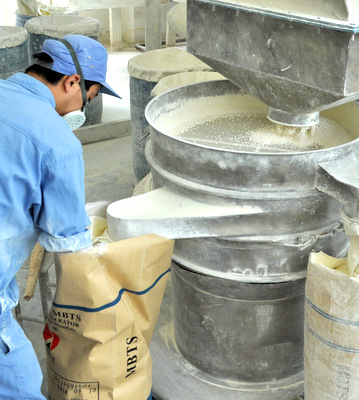 Rubber accelerators being produced at China Sunsine plant. NextInsight file photo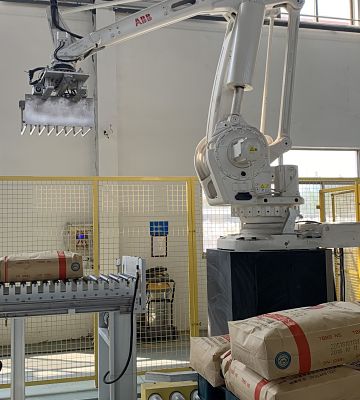 Robotic arm picks heavy 25-kg bags of accelerators off a conveyor belt for baling.
Singapore-listed China Sunsine is the world's largest rubber accelerator (RA) producer with 20% of market share.

The Chinese Rubber Industry Association (中国橡胶工业协会橡胶助剂专业委员会) reported that in 2018, Sunsine sold 85,000 tonnes of RAs and Kemai 52,000 tonnes.

The combined RA sales volume of its closest rivals (Kemai, Weilin [蔚林] and Yanggu Huatai) was 119,000 tonnes in the same year. (Source)

The four top RA producers (China Sunsine, Kemai, Weilin and Yanggu Huata) have around 48% of global market share.

China Sunsine's RA capacity was 87,000 tonnes in 2018. By the end of this year, it is expected to rise to 117,000 tonnes with the addition of 10,000 tonnes of TBBS, a high-grade RA, early this year, and another 20,000 tonnes by year-end.
Since its IPO in 2007, Sunsine has been expanding its RA capacity as well as adding anti-oxidants and insoluble sulphur to its product range.

Its total production capacity was 162,000 tonnes in 2018, five times 32,000 tonnes back in 2007.

By 2019, total capacity is expected to hit 192,000 tonnes.

Sunsine has recently acquired a 680-mu (equivalent to 45 hectares) site, which is bigger its 600-mu main base.

The multi-year development, costing RMB 1,500m for PPE and RMB 1,000m for working capitals, will be funded from internal resources. (Sunsine had RMB 1,169m cash as at end-June 2019. Annual profit is expected to be above RMB 500m, based on broking firms' projections.)

The first project is a 60,000-ton insoluble sulpher plant, to be constructed in 2 phases over few years.

Other aspirants
Weilin and Yanggu Huatai, ranked third and fourth, respectively, in the RA industry, are also keen to expand.

• Weilin failed in its IPO application in 2011. It is still unable to refile because its IPO sponsor has yet to provide an endorsement (Source).
• Yanggu Huatai needs RMB 1,200m to relocate an old site and expand, but managed to raise half the amount from a rights issue. Early this year, it abandoned plan to add 10,000 tonnes of TBBS. (Source).



See 2015 report: CHINA SUNSINE: Rival applies for IPO, how its business compares