"Portuser" contributed this article to NextInsight


China Sunsine is the world's biggest rubber accelerator (RA) producer with 20% of market share.

RAs account for 70% of Sunsine's revenue. The remaining 30% is from sales of two other groups of rubber chemicals -- insoluble sulphur (IS) and anti-oxidants (AOs).


Rubber chemicals are essential additives in tyre production. In particular, RAs drastically reduce the time taken to improve the physical properties of rubber before tyre production.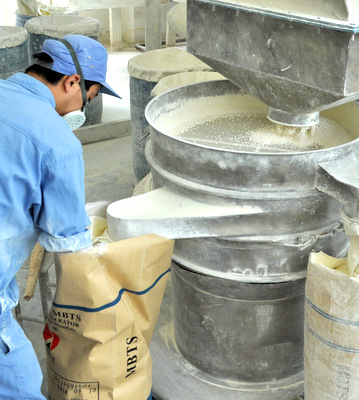 Rubber accelerators being produced at China Sunsine. NextInsight file photo.As RAs (IS and AOs as well) are sold on a cost-plus basis, high raw material prices bode well for Sunsine, unlike commodity chemical companies that compete on product prices and must absorb cost increases.

Aniline is the main raw material for the manufacture of RAs.

The graph below shows its price swing in the past 38 quarters -- it was as low as RMB 4,627 in 1Q16 and as high as RMB 10,232 in 4Q12 and RMB 10,166 in 1Q18.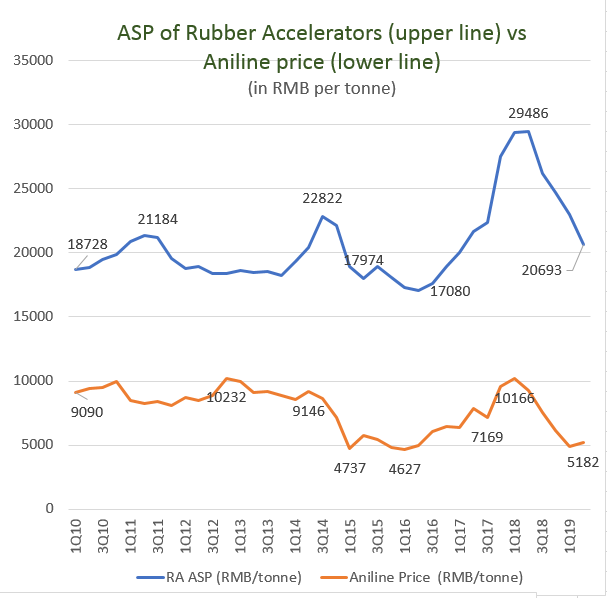 RAs was at its lowest, RMB 17,080, in 2Q16. Its highest and second highest were RMB 29,486 in 2Q18, and RMB 29,378 in 1Q18 respectively.

Gross profit margin unaffected by raw material prices

In the most recent seven quarters, the Gross Profit Margin (GPM) stayed in a narrow band of 32.4% - 36.7% while aniline price varied between RMB 4,895 and RMB 10,166 (graph below).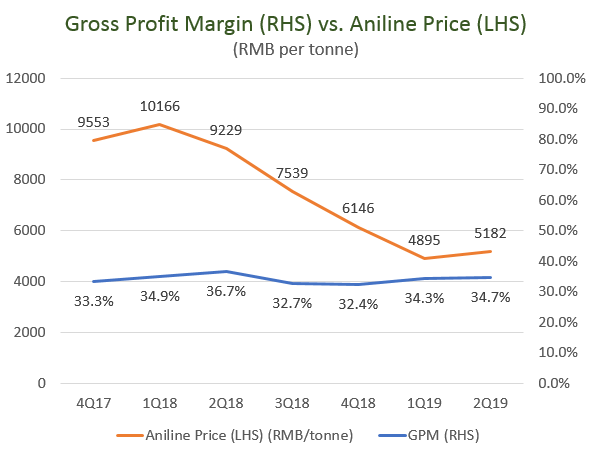 Between 2014 and 2016, yearly GPM was confined in a very tight band of 26.5% to 27.3%, while aniline ranged between RMB 4,924 and RMB 8,303.

GPM variation in those earlier years was significant even though aniline price was relatively stable (graph below):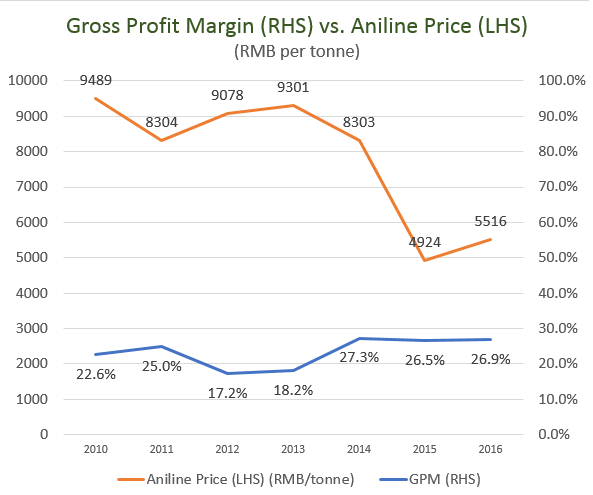 The stable GPMs for the two periods (2014 - 2016 and the recent seven quarters) were the outcomes of stricter enforcement against polluters.

Starting in 2014, local governments in China closed some RA factories for excessive waste discharge, reducing excess RA supply. In the middle of 2017, the central government joined in and the closure of more RA factories resulted in even better balance between supply and demand.

The ASP of rubber accelerators has trended up. For instance, recent ASPs were higher than before for comparable aniline price of RMB 5,000:


| | | |
| --- | --- | --- |
| | Aniline price (RMB/tonne) | Rubber Accelerators ASP (RMB/tonne) |
| 1Q15 | 4,737 | 18,940 |
| 3Q15 | 5,398 | 18,961 |
| 4Q15 | 4,814 | 18,076 |
| 1Q16 | 4,627 | 17,333 |
| 2Q16 | 4,945 | 17,080 |
| 1Q19 | 4,895 | 23,027 |
| 2Q19 | 5,182 | 20,693 |
High profit margin


As a business-to-business entity, Sunsine enjoys high net profit margin (around 10% between 2014 and 2016, 15% in 2017 and 17% in 2018) as a result of not spending as much on advertising & promotion as consumer goods companies.

Its ROE was

very high -- 25% in 2018 and 23% in 2017, even though it was weighed down by huge amount of cash that earned minimal interest incomes. (Cash of RMB 1,039m was 44% of 2018 RMB 2,326m equity.)

ASP fluctuation resulting from aniline price swing has short-term impact on Sunsine's profitability. Long-term profit growth will be driven by capacity growth.

As its main RA rivals (Tianjin Kemai and Yanggu Huatai) are not poised for expansion, rising demand for RA by the tyre industry has to be met mainly by Sunsine.

As its RA capacity grows, cost advantage will be a strong deterrent to others contemplating expansion.