Riverstone Holdings' 2H2019 will be marked by a bustle of activity, as it ramps up production by 1.4 billion pieces of gloves by 1Q2020.


| | | |
| --- | --- | --- |
| Year | Added Capacity | Final Capacity |
| 2013 | -- | 3.1 billion |
| 2014 | +1.1 billion | 4.2 billion |
| 2015 | +1 billion | 5.2 billion |
| 2016 | +1 billion | 6.2 billion |
| 2017 | +1.4 billion | 7.6 billion |
| 2018 | +1.4 billion | 9.0 billion |
| 2019F | +1.4 billion | 10.4 billion |
A new plant for phase 6, in Taiping, Malaysia, has recently been completed, and commissioning of production lines will take place progressively over the rest of the year.

The capex, as in previous phases, is RM80-85 million, excluding land cost.

"In the lead up to the new capacity coming on board, our sales and marketing efforts for both cleanroom and healthcare products continue to gain traction as we secure order allocations from both new and existing customers," said CEO Wong Teek Son.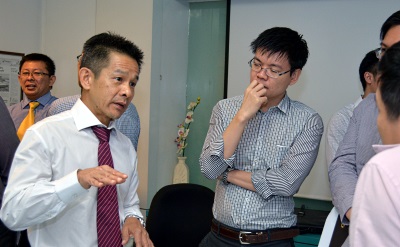 Executive chairman and CEO Wong Teek Son owns a 50.75% stake in Riverstone. NextInsight file photo.Riverstone, based in Malaysia, has been steadily increasing its production capacity over the past 6 years -- from 3.1 billion to 10.4 billion.

The capacity has been well-utilised and, notably, has generated revenue and profits that cushioned a fall in gross margins for its healthcare gloves, which are used in places such as hospitals and pharmacies.

That's why Riverstone's net profit has stayed stable: RM126.5 million in 2015 versus RM129.7 million in 2018, for example.

The global market continues to grow, so Riverstone's not done yet with capacity expansion.


Stock price

S$0.90

52-week range

89 c – $1.24

PE (ttm)

15.8

Market cap

S$667 m

Shares outstanding

741 m

Dividend
yield (ttm)

2.47%

1-year return

-17%

Source: Bloomberg
In Nov 2018, it paid RM18.175 million for 637,718 sq ft of land in Taiping, where the bulk of its production capacity lies, to build Phase 7 and Phase 8 over the next two-three years.

Other glove producers have reportedly increased capacity also -- but the market is massive and growing, and Mr Wong is confident that Riverstone's new capacity can be taken up.

For healthcare gloves, the global market is expected to grow at 8% per annum on a large base of 268 billion pieces of gloves in 2018.

Through the years, Riverstone's production growth has generated positive operating cashflow which, in turn, has sustained its dividend growth, as this chart shows: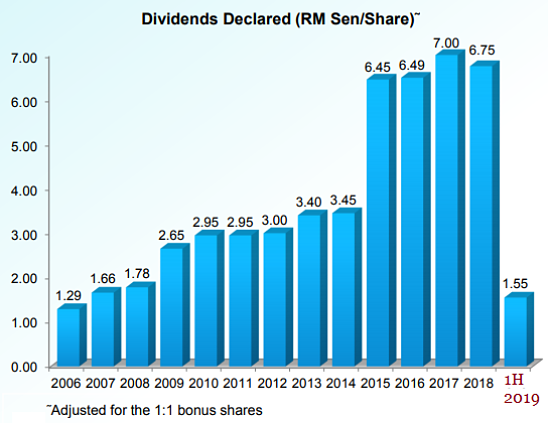 Riverstone's dividend track record since its IPO in Nov 2006. In recent years, its payout ratio has hovered around 40% of earnings, with dividends mostly paid out as final dividends after the end of FYs.

Aside from higher production output, Riverstone's outlook for 2H2019 seems to have brightened because raw material prices (principally butadiene) have trended down.


RM'm

1H2019

1H2018

Change
%

Revenue

480.3

424.1

13.3

Gross profit

94.9

95.1

(0.3)

Net profit attributable to shareholders


62.7


64.6


(3.0)
The company's selling prices of healthcare gloves are adjusted monthly according to raw material price movements, on a cost-plus basis.

By revenue, healthcare gloves contribute about 75% of Riverstone's revenue and come with lower gross margins.

In contrast, its cleanroom gloves used in high-tech manufacturing facilities have greater price resilience, as they are adjusted quarterly, which could translate into higher profit margins.


1H2019 results announcement is here.

For a background story, see: RIVERSTONE: Stretches Limits with Breakthrough Technologies

For an idea of the operations of Riverstone, watch our video taken during a visit in 2013 -->