Hollywood-class film productions are embracing profound changes in the supply chain following the inking of a potential strategic investor agreement between Ryan Kavanaugh's Proxima Media and National Arts Entertainment and Culture Group Ltd. (HKSE stock code: 8228), a tourism and media company based and listed in Hong Kong.



Mr Kavanaugh, the man behind the aggregate US$17 billion worldwide box office revenue from more than 200 films, through his Proxima Media, will endeavor to raise US$100 million over the next nine months to assist National Arts in building a vertically-integrated internationally competitive film and television business and establish a world-class film-making studio in Foshan City, south China for the production of multi-million theatric and TV titles. According to Checkley Sin, chairman of National Art, Proxima Media will participate in Phase Three development of Xiqiaoshan National Arts Studios in Foshan. "This is going to be a global version of what we have at Phase One and Two."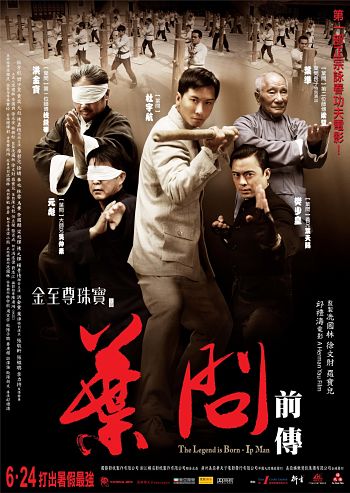 "The Legend is born -- Ip Man", a famous martial arts movie, was filmed in National Arts StudioXiqiaoshan National Arts Studios are uniquely positioned among the film studio industry in China in having real concrete structures of major historical scenes built for filming – Wong Tai Sin Temple, the Forbidden City for the Ming and Qing dynasties, streets of Hong Kong, streets of Guangzhou, streets of Shanghai, Shalin Temple, Jiangsu Mansion and Kowloon Walled City.

"It used to be considered an overstretched ambition to have these scenes built in real concrete and finished with fine details when we first started a decade ago, when only facades were needed to meet requirements of film making of the time. As our productions go for high definition specs of up to 8K pixels and high frame rates, production houses start to realize how real concrete structures can make a difference in reproducing the details and textures modern productions require to satisfy viewers' long-spoiled yet increasingly picky palates," Mr Sin, better known as "Master Sin" in the industry, said.

It is precisely this belief in using real structures to make real productions and a decade-long track record of building and managing the real concrete architectures and landscapes for film making in Xiqiaoshan that attracted the attention of Mr Kavanaugh.

"We plan to build in Phase Three both aged and modern versions of major scenes of London like the Bridge of London, the Palace of Westminster; the White House of the US, etc., in real concrete. There are already similar scenes built in Nu Boyana film studios in Bulgaria. We are going to build an even wider range of architectural styles, bigger in scale and in much finer details, in concrete and rebars. In the blueprint we are going to an indoor studio of 8,000 sq. m. in GFA, the largest in the world, and a first-in-Asia major modern shooting water studio to full the requirements of mega-budget, A-list productions," Mr. Sin said.

"We will have true scale replicas of the most important of shooting and tourist locations: Eiffel Tower, the Venice canals that can actually take in gondolas,, the beaches of Hawaii, Hollywood Boardwalk, all the way to a remote location in the Africa Safari," Mr. Kavanaugh of Proxima Media said.

Phase Three also aspires to leverage Mr. Kavanaugh's connections in Hollywood to introduce enterprises engaging in post-production activities of film editing, color correction, color grading, audio dubbing, editing and mixing, visual effects and telecine to establish units in Xiqiaoshan.

"Our goal is to provide one-stop film production support from shooting all the way to post-production. This will become the first-ever successful attempt to make this happen in a single location. This will initiate a departure from the prevailing practice of having these activities done in different locations for block-buster Hollywood titles, a practice which is time consuming and costly. Not only will housing all activities in a single location bring steadier rental income for studio city operators like ourselves, that will mean more cost-efficient productions for the studios to enhance their profitability." said Mr. Sin.

"There has never been a location since the 1940s where the entire movie, the entire video show, all A-class caliber, and the A-list feature movies in the US, can actually be completed, from pre-production all the way to release, in one spot," Proxima Media's Kavanaugh said.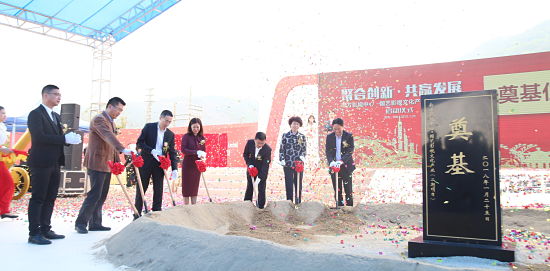 Sin Kwok Lam, Chairman of National Arts Entertainment and Culture Group Ltd, host the Foundation Stone Laying Ceremony for National Arts Studio with government officials.
In addition to what National Arts has achieved in Phase One and will achieve in Phase Two of the Xiqiaoshan National Arts Studio,, Proxima Media is also inspired by a shared vision with Master Sin on how to establish an all-in-one supply chain for Hollywood A-list productions, transforming the Studio into a hub for talents from both the world and mainland China to work in, and a tourism spot for Chinese tourists who are longing for a peek into this larger-than-life experience.

A hotel in the Xiqiaoshan National Arts Studio will be converted into a seven-star hotel with 200+ rooms for the A-list movie stars and top production professionals to stay in during the productions.

"The size and scope of land [Xiqiaoshan], the geography has set up in a manner that I see what can be built and what can be create there. I have never seen anywhere like this, pretty much in the world," Mr Kavanaugh said.

Proxima will introduce up to five overseas films and 3 overseas TV series to be filmed in the Xiqiaoshan National Arts Studio each year. These will be regarded as co-productions that will be given greater access to the theatrical distribution system in China for bigger box-office revenue opportunities, leveraging National Art's distribution capabilities. "Each of these movies is not only cost-effective to make but almost guaranteed to have extra revenue streams from exploitation of both he US and China, the world's two most important movie markets," said Mr. Kavanaugh.

"It truly creates a system that makes for a symbiotic East-West content machine that will create more profitable films, a more cost-effective system that will bring the two cultures of the East and the West together."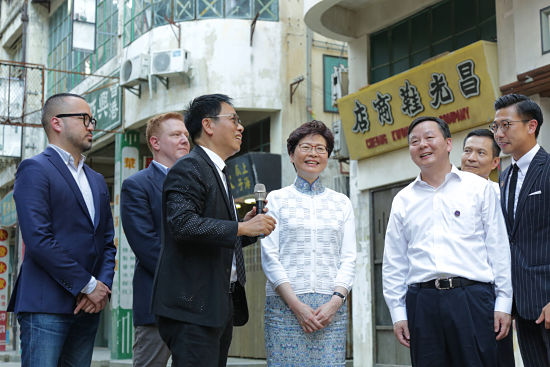 Carrie Lam (middle), the Chief Executive of Hong Kong, visiting the unique panoramic building in National Arts Studio. To her right: Sin Kwok Lam, Chairman of National Arts Entertainment and Culture Group. Extreme right: Kian Chow (left), Co-Chairman of National Arts Entertainment and Culture Group. Next to Mr Sin is Ryan Kavanaugh.
This project fits well into the Greater Bay Area initiative under which Foshan has been earmarked to be groomed into a culture and entertainment hub.


"I very much want to realize our vision of making this a truly world-class film studio, using my connections in Mainland China and the world entertainment industry, and Ryan's connections to bring in the best-in-class pre-production, production and post-production participants to set up operations in our studio, which we name it 'the World' ".

-- Sin Kwok Lam,
Chairman of National Arts Entertainment and Culture Group
"Our studio had been picked by the Hong Kong SAR Chief Executive Carrie Lam as a must-visit location in her visit to the Greater Bay Area in mid-May this year. She was facilitated to see and touch the replica architectures and landscapes in our studio and was proud to learned that the studio was initiated, built and managed by a businessman originated from Hong Kong," Mr. Sin said, adding Mrs Lam was pleased to hear about the job opportunities this project can create for talents from Hong Kong and the locals from China.

National Arts will sponsor 10 students from each of Harvard University of the US and City University of Hong Kong on internships in the Xiqiaoshan National Arts Studio, as part of the Company's efforts to nurture Hong Kong and US talents and promote blending of talents from different cultures in this industry.

With support from shareholders and Mr. Kavanaugh in this new project, Mr. Sin returned to the limelight to be the Chairman of National Arts Entertainment and Culture Group, after having retired from the position for about a year.