Following our article yesterday (Singapore Hospitality: "Buy ahead of a spectacular quarter"), here's another piece on a brighter outlook for travel plays -- this one on Trip.com, the HK-listed online travel agency with a market cap of US$16 billion.

Excerpts from China Galaxy International Securities (Hong Kong) report

Analyst: Lei Yang

Trip.com
Effective cost control to help earnings recovery

■ Trip.com reported revenue of Rmb4bn in 2Q22, down 31.8% yoy and 2.3% qoq, stronger than our expectation, owing to a stronger recovery since June.


TRIP.COM

Share price:
HK$196.70

Target:
HK$293
■ The non-GAAP net loss was Rmb203m in 2Q22, in line with our expectation.

■ Management guided a good recovery in Jul and Aug, and we expect revenue to grow by 22% yoy to Rmb6.5bn in 3Q22F with non-GAAP net profit of Rmb1.4bn.

■ Reiterate Add with higher DCF-based TP of HK$293, since we believe Trip.com has large growth potential in the long term, along with Covid policy relaxation and a travel market recovery.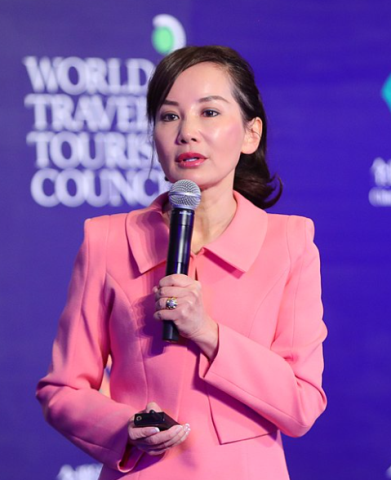 Trip.com CEO Jane Jie Sun: married to John Wu, former chief technology officer of Alibaba before setting up his own investment fund.
Photo: World Travel Tourism Council
Better-than-expected 2Q22 results
• Accommodation revenue was Rmb1.4bn, a 45% yoy and 6% qoq decline, recovering to 40% of the 2019 level, with local hotel bookings increasing by over 30% compared to that in 2Q19.

• Transportation sales reached Rmb1.8bn, representing a 15% yoy decline and an increase of 6% qoq, recovering to 52% of the 2019 level. Weak domestic air revenue in Apr and May was offset primarily by a strong recovery in air ticket revenue in overseas markets.

• Packaged-tour revenue was Rmb122m, representing a 67% yoy and 2% qoq decline, recovering to 12% of the 2019 level.

• Corporate travel revenue was Rmb210m, representing a 46% yoy and 5% qoq decline, recovering to 68% of the 2019 level.

Its GPM dropped by 3.6ppts yoy to 75.7% in 2Q22. The company continued to improve its selling and marketing expenses control and achieved a 3.4% non-GAAP OPM in 2Q22.

Strong recovery in the international travel market

"Management noted that the Asia travel market has recently started to recover. Currently, international business accounts for 20–30% of the company's total revenue (c.30% for air ticketing and single digits for hotel booking revenue)."
The Covid-19 resurgence affected the domestic travel market in 2Q22, but international travel delivered encouraging results following the easing of Covid-19 measures, especially in Europe and the US.

Trip.com's hotel booking revenue increased by 300% vs. that in 2019.

The company's international air ticketing revenue returned to 70–80% of the 2019 level in 2Q22, and management expects it to further recover to 80–90% of the 2019 level in 3Q22F and to fully recover in 4Q22F.

Trip.com is still loss-making, while Skyscanner's margins are higher than the company average.


Likely recovery in 3Q22F
Given the strong travel recovery in Jul and Aug for summer travel, we remain positive about 3Q22F. In Jul, China domestic hotel booking revenue was 20% higher than the 2019 level and continued to show positive growth vs. the 2019 level in Aug.

The company's air booking revenue was down 20–30% vs. the 2019 level in Jul/Aug.

Although Covid volatility affected the Sep travel market, the company noted some recovery in recent weeks for the National Day holiday, along with the end of the Chengdu and Sanya lockdown period.

The company maintains an 8–10% take rate for the hotel booking business, and local hotel revenue now accounts for 50–60% of hotel revenue vs. 30–40% pre-Covid. Management said it will maintain effective expense control measures in 2H22F, especially for selling and marketing expenses.

Reiterate Add with higher DCF-based TP of HK$293
We raised our FY22–24F EPS forecasts by 16.2%/23.5%/19.5%, to reflect stronger topline recovery and better cost control.

We adjusted up our DCF-based TP to HK$293 (riskfree rate: 4.0%, beta: 1.2, WACC: 10.1%, terminal growth rate: 3%) and reiterate our Add rating for the company, given large revenue recovery potential and margin improvements, once the Covid-related policy is relaxed.

For near-term, we are more confident on 3Q22F topline given the encouraging trend in Jul/Aug.

We raised our TP to HK$293, since we raised our FY22-24F EPS forecasts.

Key risks are more serious Covid outbreaks, which would delay the travel market recovery, and weak macro, which would affect travel demand.

Full report here
UOB KH's report is here