Singapore Medical Group (SMG) reported S$3.3 million in net profit for 1Q19 and, notably, a gross profit margin of 46.4%.

Its multi-specialist practices continued to gain traction but it decided to close its orthopaedics practice owing to its competition with its own diagnostics business.

As a result, revenue of the health business segment ($14.3 million) stayed fairly constant y-o-y, despite an increase in the revenue of the clinics in this segment.

However, revenue from the other segment, diagnostics & aesthetics, jumped from $4.9 million in 1Q18 to $7.2 million in 1Q19.

This was mainly driven by contributions from SW1, Singapore's largest aesthetic, plastic surgery and medical spa establishment which SMG acquired in April 2018.
| | | | |
| --- | --- | --- | --- |
| (S$'m) | 1Q19 | 1Q18 | % change |
| Group revenue | 21.6 | 19.2 | 12.3 |
| Gross profit | 10.0 | 8.9 | 12.3 |
| Net profit | 3.3 | 3.4 | (3.0) |
| Net profit margin | 15.4 | 17.8 | (2.4 pts) |
Other takeaways from 1Q19 results briefing:

♦ Diagnostics & aesthetics: This segment is expected to continue to grow, said CEO Dr Beng Teck Liang at a results briefing last week.

The Group has opened a second SW1 Clinic in Singapore at OUE Downtown Gallery in January 2019.

Also, it officially launched SW1 Vietnam in April 2019 with the opening of a 4,000 square feet aesthetics centre in Ho Chi Minh City.

♦ Organic growth in Singapore: SMG targets to onboard 10-12 specialists this year, including 2-3 Obstetrics & Gynaecology specialists, 2-3 paediatricians, and one radiologist.

That represents an "opportunity for us to take things to a new level," as most of SMG's existing 45 doctors are working at near their capacity, said Dr Beng.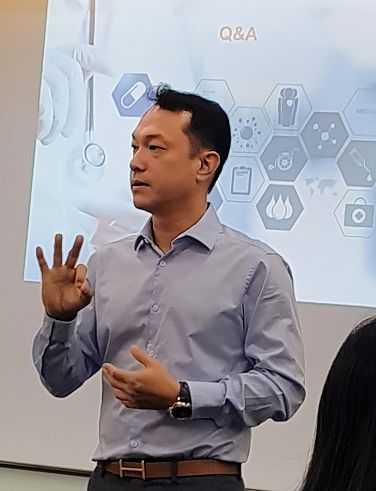 Dr Beng Teck Liang, CEO of Singapore Medical Group. NextInsight file photoHe said the majority of the new hires will operate out of SMG's various existing spaces where there is unutilised physical capacity.

In addition, because there is limited need for capex such as for new equipment, costs will not necessarily surge before the new hires raise their contributions to the group.

♦ Overseas ventures: In Australia, a SMG joint venture with CHA continues to invest to grow its IVF business, especially in hiring top IVF specialists.

(CHA is South Korea's leading expert in infertility, women's health and maternity care, with c.6,000 deliveries and c.12,000 IVF cases annually.)

In Vietnam, while its health-screening business narrowed losses, a delay in the opening of SW1 did not help matters.

In Indonesia, its eye care business JV was profitable and accumulating cash.

In aggregate, SMG's share of loss of JV entities and associate increased from S$12,000 for 1Q2018 to S$98,000 in 1Q2019.

♦ Collaboration with CHA Healthcare: SMG and CHA are looking at growth opportunities in Asia. A possible acquisition is in the pipeline.


Stock price

44.5 c

52-week range

38 c – 52.5 c

Market cap

S$214 m

PE (ttm)

16x

Dividend yield

--

Year-to-date
return

-8.3%

Shares outstanding

480.7 m

Source: FT.com
♦ Cash and bank balances: As at end 1Q19, SMG had $13.4 million.

Soon, it will receive nearly $10 million from its strategic investor, CHA Healthcare Singapore (CHS).

CHS is extending a $10 million convertible loan to SMG for M&A (80%) and working capital (20%).

Separately, CHS is set to raise its stake in SMG to 24.13% upon the completion of a sale and purchase agreement with several SMG insiders.

See also: SMG's press release here.