Excerpts from Lim & Tan Securities report

Analyst: Chan En Jie
We initiate a BUY rating on SMG with a target price of S$0.50, pegged to 14.3x FY22F P/E (15% discount to peers average of 16.8x P/E), representing a potential upside of 56.3%.


S'pore Medical Group

Share price:
32 c

Target:
50 c
SMG remains significantly undervalued compared to its peers and represents a defensive healthcare play amid uncertain and volatile markets in the year ahead.

Record year of revenue despite lack of medical tourism. SMG reported an increase in FY21 revenue to a record high of S$100.8mln (+15.5% yoy) and net income of S$15.6mln (+78.8% yoy), despite the complete absence of medical tourism which has historically contributed 15% to 20% of overall revenue.

SMG announced total dividends of 0.9 S cents, comprising of a final dividend of 0.65 S cents (0.4 S cents in FY20) and special dividend of 0.25 S cents, representing a 2.8% dividend yield at today's price.

With the announcement that Singapore will reopen its borders to all fully vaccinated travelers from April 2022, it will provide the impetus for the recovery of
medical tourism and higher demand for its medical services.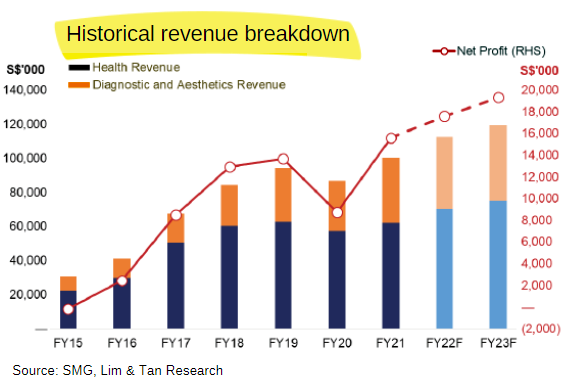 Pent up demand for aesthetics to drive record levels of earnings. Within the higher margin diagnostic and aesthetics segment, revenue increased significantly by 28.9% yoy from S$30.7mln to S$39.9mln in FY21 amid strong local demand.


"As Singapore reopens its borders to all fully vaccinated travelers from April 2022, we anticipate SMG's financial performance to improve in FY22 with the expected return of medical tourism."



- Lim & Tan Research
Based on channel checks, the Group's SW1 flagship aesthetics clinic continues to be amongst the leaders in Singapore's aesthetics market and has continued to grow with off shoots in OUE Downtown Gallery and the launch of a new skin and facial product brand.

Defensive healthcare play amid uncertain economic outlook. Structural shifts such as an ageing population, rising affluence, and increasing prevalence of chronic diseases will continue to bode well for SMG in the year ahead.

As a result of the pandemic, consumers have become more health conscious, shifting discretionary spend towards health screening services, diagnostics and aesthetics, to name a few.

SMG will continue to benefi t from these structural shifts in the near to medium term as the demand for specialist healthcare services continues this trajectory.

Overseas investments and joint ventures continue to gain traction. SMG holds multiple strategic investments overseas in high-growth markets such as Vietnam and Indonesia as well as an investment stake in a growing fertility business in Australia.

In Indonesia, the Group opened its second eye centre and in Vietnam, expanded with the opening of its third medical centre in Ho Chi Minh City.

These overseas investments have started to gain traction as its share of profits increased 98.2% yoy from S$0.5mln in FY20 to S$0.9mln in FY21.

We expect high-growth markets such as Vietnam and Indonesia to continue this growth momentum in FY22 with the easing of lockdowns and restrictions.


SOG's privatization showcases SMG as a deeply undervalued gem. SMG trades at undemanding valuations of 9.2x forward P/E compared to its industry peers average of 16.8x P/E, a discount of 45.2%.

On 7 March 2022, Singapore O&G's (SOG) S$0.295-a-share takeover offer from a vehicle linked to Dymon Asia values the company at 16.8x P/E with a market cap of S$141mln.

Across all relative valuation metric, SMG trades at a steep discount compared to SOG, despite being the larger and more diversified healthcare play both in terms of their business segments and geographic footprint across Asia.