Alliance Mineral Assets (ASX: A40; SGX: 40F) announced record lithium production at its Bald Hill Lithium & Tantalum Mine in Western Australia for the quarter ended 31 March 2019.

The quarter also saw AMA deliver record shipment of lithium concentrate:
Stock price

18.1 c

52-week range

16 – 40 c

PE

--

Market cap

S$238 m

Shares outstanding

1,305 m

Dividend
yield

--

1-year return

-47%

Source: Bloomberg
• A total of 38,291 wmt (wet metric tonnes) of high grade spodumene concentrate produced for the March Quarter grading 6.1% Li2O. A 68% increase from the December 2018 quarter production of 22,724 wmt.

• Record monthly production in March 2019 of 15,012 wmt with a recovery of 70% of gross feed and 79% of net feed (after removal of unprocessed fines).

• A total of 44,305 dmt (dry metric tonnes) of concentrate was shipped during the March Quarter representing an almost 100% increase on the December 2018 quarter. The shipments comprised regular sales to Jiangxi Bao Jiang Lithium Industrial Limited and a trial parcel to a new customer.

• March Quarter tantalum pentoxide production of 34,380Lbs was in line with the December 2018 quarter production of 32,700Lbs. Three shipments totalling 38,935Lbs of contained tantalum pentoxide were made during the March Quarter.

• Bald Hill produces a premium coarse concentrate with very low levels of Fe, K, mica, moisture and less than 2% ultra‐fines (<500 microns).

• 14 March 2019 marked the first anniversary of lithium production at the Mine.

Mark Calderwood

(photo

), MD, Alliance Mineral Assets, says


"We are well on track to meet our guidance for the first half of 2019 of 65,000 wmt to 80,000 wmt of lithium concentrate produced.

"Bald Hill's coarse spodumene concentrate is being recognised by the industry as a premium product due to its coarse size, low fines and very low level of Fe and other deleterious elements.

"The Company expects to select its preferred customers for the remaining off‐take over the next few months." "It has been an excellent quarter as the Mine continues to ramp up concentrate production through increased throughput, improved grades and recovery.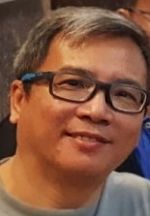 Teo Luan BooThe company's figures for the production and shipment of spodumene came close to the forecasts made by investor Teo Luan Boo in his 12 March 2019 article ALLIANCE MINERAL: Expecting record quarter -- production, shipment, revenue, profit

He, however, had a big miss in his forecast for the shipment of tantalum pentoxide.

As a result, he has updated his pre-tax profit forecast for 3QFY19 to A$8-10 million.

Details:


Q3 (Jan-Mar 2019)

LB's Forecast

Actual

Notes

Production of Spodumene Concentrate
(wet metric tonnes)

38,235

38,291

Luan Boo was spot on

Shipment of Spodumene Concentrate
(dry metric tonnes)

44,732

44,305

Luan Boo was spot on

Revenue for Spodumene Concentrate (A$)

$47-50m

Not avail. yet

Actual should be close to forecast

Shipment of Ta2O5
(lbs)

132,240

38,935

LB says: Got this one wrong, as I had took the 7-Feb announcement on "20t high grade tantalum grading appox 30% Ta2O5 shipped in Jan" to mean 20t of Ta205. The actual meaning: effectively 6t of Ta205 (ie 30% of 20 t).

Tantulum Credits
(A$)

$12.96m

Not avail. yet

Ta credits should come in around A$4m instead of $12.96m, which will affect the cash cost/t

Profit before Tax (A$)

$12-15m

Not avail. yet

Luan Boo's new forecast = A$8-10m, based on a projected higher cash cost/t.