An iron ore miner in Malaysia, Southern Alliance Mining, is set to diversify big-time into certain critical minerals that are growing in demand for a green future.

The Singapore-listed company said it is looking to acquire two rare earth elements (REE) miners in Malaysia, positioning it as one of the largest rare earths producers in Asia ex-China.

REEs are found in permanent magnets of, for example, electric vehicles and wind turbines that generate renewable energy.

The demand for REEs has been projected to outstrip supply in the coming years and decades as the world moves toward its decarbonisation goals.

Photo: https://mcreresources.com/about-us/
Southern Alliance Mining (SAM) signed two memorandums of understanding on 17 April 2023 to acquire a 40% stake in MCRE Resources and a 100% stake in Paramount Synergy.


Southern Alliance stock price

77 c

52-wk range

35 – 98 c

PE

--

Market cap

S$376 m

Shares outstanding

488.8 m

Dividend
yield

0.27%

1-yr return

18%

P/B

4.5

Source: Yahoo!
MCRE operates an ion adsorption clay rare earth mine in the Malaysian state of Perak, while Paramount is currently exploring for rare earth minerals in Johor and has drilled 1,200 holes.

The proposed acquisitions are in line with Southern Alliance Mining's strategy to build sustainable revenue and diversify its earnings stream in addition to its iron ore mining operations.

Following the signing of the MOU:

Southern Alliance Mining

shall commence due diligence exercise on MCRE and Paramount.



•

The parties agree to enter into definitive agreements by 30 Sept 2023.



•

Southern Alliance Mining will appoint an independent valuer to commission a valuation on the relevant mining assets held by MCRE and Paramount, and an independent qualified person to furnish a report on the relevant mining assets held by MCRE and Paramount.



•

The proposed acquisitions are interested party transactions as the vendors include executive officers of Southern Alliance Mining and, given the expected value, will be classified as "very substantial acquisitions" under Catalist rules.



•

The deals will be subject to approval by (i) the SGX-ST; and (ii) the shareholders of Southern Alliance Mining at an extraordinary general meeting to be convened.



• The vendors are expected to be paid fully via the issue of new shares of Southern Alliance Mining.


•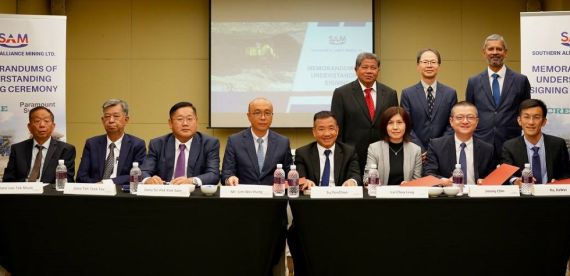 Extreme left: MCRE vendor Dato Lee Tek Mooh.
Second from left onward: Southern Alliance Mining non-exec Chairman Dato Teh Teck Tee| MD Dato Sri' Pek Kok Sam| Exec Director Lim Wei Hung.
Standing: Lead ID Dato' Sri Mohd Jamidan Abdullah| ID Sim Chin Hoe| ID Dato Gainneos Jacob Goldie.
Seated from right: Paramount Synergy vendors Xu DaWei, Jimmy Chin, Lai Choy Leng, Su Yunchun
The environment impact assessment report of MCRE revealed that the estimated rare earth oxide of MCRE's explored mine area of 2,161 hectares is around 33,000 tonnes.

It is the first ion adsorption clay rare earth mine located in Malaysia.

MCRE has obtained all its operating and mining licences and commenced mining in 2022.

It is the pioneer of the application of ground-breaking mining techniques to extract Non-Radioactive Rare Earth Elements in Malaysia via in-situ leaching method.

It does not involve massive open pit mining and therefore, helps to preserve the natural landscape with an overall low carbon emission footprint, according to Southern Alliance Mining.

MCRE has already begun exporting these elements to China, where 85% of the world's rare earth processing and 92% of rare earth magnet production takes place.


China is itself the world's No.1 miner of rare earth elements.



In Asia, rare earth mining takes place in Thailand, Myanmar and Vietnam.

In Australia, Lynas Rare Earths is a prominent -- and the sole rare earths producer -- but there are several advanced explorers such as Hastings Technology (production: late 2024/early 2025) and Arafura Rare Earths (production: 2024).

• The PowerPoint deck on the MOUs is here.
• Details of the MOUs are in the company announcement here.