Here are excerpts of RHB Research report on CSE Global, which follows on the heels of CSE GLOBAL: "Won $85 m infra works in 4Q18, is our small-cap pick," says CGS-CIMB

Analysts: Lee Cai Ling & Jarick Seet

CSE Wins On Home Ground; Maintain BUY

♦ Maintain BUY and DCF-backed TP of SGD0.59, 40% upside, plus 7% yield. CSE Global secured SGD84.8m infrastructure projects on home ground, bringing the segment's order intake to SGD150.5m (+43.6% YoY) for FY18.


CSE GLOBAL

Share price:
43 c

Target:
59 c
The orders included government contracts for the provision of communication, and security solutions that involve surveillance work.

Taking into consideration the typical quarterly infrastructure order intake of SGD20-25m, we estimated the large orders to be SGD59-64m, consisting of the maintenance portion that should be recognised over several years.

Supposing 70-80% of the orders are project revenue, we estimate that project component to be recognised over the next few years should about SGD43- 49m.

♦ New projects in the pipeline to boost orderbook. CSE is currently pursuing a few more projects in the infrastructure space. Recent contract wins are testament to its capabilities of providing mission-critical solutions. We are optimistic that it will be able to continue its winning streak.

♦ Working on accretive acquisitions. We understand that CSE is currently working with target companies, and remain hopeful that the acquisitions will be finalised in 1H19.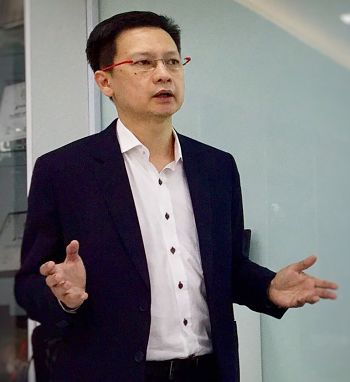 CFO Eddie Foo. NextInsight file photoOn 10 Jan 2019, it announced the acquisition of Blackstar Services for USD2.375m. This acquisition should boost product offering for the oil & gas segment.

♦ Sound balance sheet and attractive 6.5% dividend yield. Net cash of SGD 34.4m as at end-Sep 2018 should support its dividend payout, and the execution of its expansion plan.

♦ Expect 4Q18 results to be in line, if not, better. We believe that short-term volatility in the oil prices would not affect CSE's oil & gas segment, as business flow remains stable.

However, we do not foresee major greenfield projects coming on-stream anytime soon. Despite the lack of mega projects, we still see growth in the area of smaller brownfield and greenfield projects.

We keep our forecasts unchanged, as large greenfield projects (SGD42m) secured in 2017 are near completion, and new contracts secured (c.SGD59- 64m) would likely offset the absence of revenue from the oil & gas segment as earlier forecasted.

Overall, we expect 4Q18 and FY18 results to be in line with our forecasts, and do not expect any negative surprises.

Full report here.

(note: What is the infrastructure business of CSE? It encompasses the supply of solutions and services to the Singapore Government, the provision of energy-related solutions and services to the mining and infrastructure sector in Australia and a radio solution and services in Australia. At the beginning of 2015, as part of its business diversification plan, CSE started to build a radio communications business in Australia. That business contributed S$42 million revenue in FY2017, which is a significant progress from the S$5 million revenue in FY2015. This was achieved organically and inorganically through 5 acquisitions of companies in Australia. CSE's infrastructure business grew 68% over 3 years (FY2015 - FY2017) to S$90.5 million in FY2017 compared to S$53.9 million in FY2015.)