Excerpts from CGS-CIMB report

Analysts: Cezzane SEE and LIM Siew Khee


CSE Global Infra bump-up!


■ CSE has announced that it secured a cumulative S$84.8m of infrastructure works in 4Q18, bumping up its FY18 infrastructure wins to S$150.5m.


CSE GLOBAL

Share price:
41 c

Target:
56 c
■ Post the new wins, we lift FY18-20F EPS by 2.0-12% on higher infrastructure revenues and GP margins.

■ We maintain our Add call with a higher TP of S$0.56, still based on 13.5x P/E, as we roll over to FY20F valuations. CSE remains our small-cap pick.

S$84.8m infrastructure wins in the bag
4Q18's S$84.8m order wins were c.3x the average quarterly infrastructure win of S$22m per quarter in 9M18, and takes cumulative FY18 infrastructure order intake to S$150.5m (+43.6% vs. FY17's S$104.9m).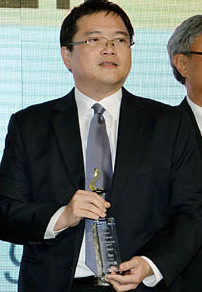 CEO Lim Boon Kheng. NextInsight file photo.We believe the S$84.8m could include some larger contracts that may be executed over the medium-term.

CSE mentioned that the 4Q18 wins include government contracts in Singapore and involve process control solutions and telecommunications systems and security systems and maintenance projects.

Diversified order book mitigates reliance on O&G division
The wins lift cumulative group order intake to S$323.8m (9M18: S$239.0m) and order backlog to S$221m (S$136.5m as at end-Sep 18), before including wins from CSE's other segments.

Assuming O&G and mining and minerals added another c.S$60m order intake in 4Q18F (based on both segments' average quarterly wins for 9M18), cumulative order intake could be S$381m, which is comparable to the S$382m won in FY17.

Infrastructure segment the steady ship
The infrastructure segment's revenue grew to 27.9% of 9M18 group revenue (vs. CY15/16: 13.1%/18.5%) as CSE's diversification strategies have borne fruit. Coupled with healthier margins of >10%, the division's 9M18 EBIT accounted for 54.9% of group EBIT (CY15/16: 20.3%/30.2%).

In CY17, the segment's contribution even spiked to c.78% of group EBIT as the oil and gas division faced a downturn. In CY17-9M18, the segment contributed EBIT of S$10.7m-15m (CY15/16: c.S$8m p.a.).

FY18-20F EPS raised
The new infrastructure contract wins bump up our FY19-20F revenue by 2.3% and 7%, respectively. We also increase FY19-20F GP margins to 27% (from 26.8%). Overall, this lifts FY19-20F by 7.3% and 12%.


Maintain Add
CSE is our preferred small-cap O&G pick due to its
i) earnings recovery (higher GPMs, firmer contract execution) from CY17's doldrums;
ii) its net cash position and
iii) its dividend yield of c.6.8% (on DPS of 2.75 Scts).

Our target price is based on an unchanged 13.5x CY20F P/E (close to its historical 5-year mean of 13.1x). Catalysts are higher order wins and GP margins. Risks are vice-versa.

Full report here.