The share price of Geo Energy Resources has weakened to around 17 cents -- which surprised some observers since Macquarie Bank, as announced on 8 Nov, would be subscribing for a 5% stake at 29 cents.

The subscription was completed on 19 Nov.

Geo Energy

Share price:
17c

Target:
24c

Source: Phillip Securities Research
Macquarie must hold the shares for at least 1 year in accordance with the terms of the Subscription Agreement. The subscription price represents a 28.9% premium over the price of SGD0.225 per share as at 2 Nov 2018.


Macquarie also was issued 74,000,000 non-listed, transferable, free warrants exercisable within 2 years from the date of issue. The exercise price is SGD0.33 per share.


When Macquarie subscribes to the equity and if Macquarie exercises the warrants, Geo Energy's net gearing will be reduced from 38.6% as at 30 June 2018 to 16.4%.


Aside from the equity investment deals, Geo Energy has entered into a coal offtake agreement for life of mine with Macquarie for the entire production of coal from PT Tanah Bumbu Resources (TBR) mine, subject to Indonesia Domestic Market Obligation ("DMO") requirement.

Geo Energy is expected to supply 43.23 million tonnes or an average of 7 million tonnes over a 12 months period for the next 6 years (subject to the Indonesian DMO) of coal to Macquarie over the life of mine of TBR, commencing in January 2019, at an index-linked price less offtake margin.

Macquarie will make available a multi-year prepayment facility for the coal offtake of TBR in three tranches of US$25 million, US$25 million and US$10 million respectively, where only a single tranche may be outstanding at any time. In addition, Macquarie will provide a trade finance facility to support the exports of coal.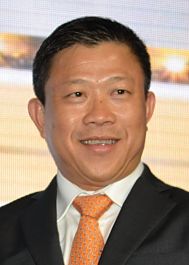 Executive chairman Charles MelatiMr. Charles Antonny Melati, Executive Chairman of Geo Energy, commented, "Considerable interest was shown in TBR's low ash, low sulfur coal with numerous competing parties offering the TBR's life of mine coal offtake. Macquarie was selected based on their scale and international presence and their experience in commodity trading. We will be using Macquarie's expertise and experience to develop a market for TBR's coal.

"The signing of an Offtake Agreement with Macquarie is another significant step forward for the Group. We look forward to building and commencing a focused marketing plan for TBR's coal brand name in the international market, similar to our PT Sungai Danau Jaya ("SDJ") coal that has successfully established its brand name in China and the region.

"This deal will not only secure a coal offtaker with a global presence for our TBR coal mine but also an important substantial investor via the shares and warrants subscription in the Company. We see this strong testament to the value of Geo Energy, our capabilities to deliver high quality coal in the region and to grow our level of profitability going forward."


Mr. Tung Kum Hon, CEO of Geo Energy, said:
"We are very pleased with the comprehensive terms given by Macquarie on TBR's Coal Offtake, prepayment, trade financing and equity investment in the Company. Currently our Group's financial results are driven by our SDJ coal mine, which has an existing life of mine coal offtake agreement with ECTP.

"The transaction with Macquarie will broaden our reach. With Macquarie and ECTP, the Group will have its sale of coal production of both SDJ and TBR secured in the coming years.

"The start of coal production of TBR mine will drive the Group's 2018 overall growth and contribute towards the Group's target production volume of 13 – 15 million tonnes for 2019, higher than the volume of 7.7 million tonnes achieved in 2017.

"The ramping up of TBR's production would build a strong platform for the Group's near-term growth. At the same time, we are working on new investments and acquisition of coal assets to strengthen our portfolio and further drive our growth in the longer-term. We expect to make an announcement on this in due course."

For details, see announcement here.