The outcome of the EGM of Singapore-listed AusGroup last week (15 Nov) will take it to a stronger financial position -- and, especially, equip it with more working capital to win jobs.


Use of Net Proceeds

Minimum Subscription Scenario (S$)

Maximum Subscription Scenario (S$)

1. Partial redemption of Notes

S$21,825,540

S$21,825,540

2. General working capital

S$17,174,460

S$17,174,460

3. Redemption of Notes

S$2,199,236

S$18,809,715

Total
Source: Company

S$41,199,236

S$57,809,715
Shareholders approved all resolutions tabled at the EGM which mainly revolved around fund-raising.

As a result, AusGroup stands to raise up to S$58.3 million in gross proceeds from a rights issue and a placement of new shares.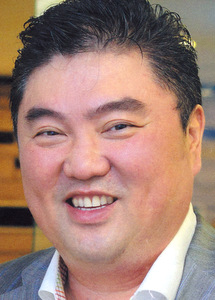 Oxley chairman Ching Chiat KwongFor perspective, this is about equal to the pre-placement market cap of AusGroup, which had work in hand of A$165.1m as at 30 Sept 2018.

(The placement was completed yesterday, 21 Nov, resulting in a slew of new shareholders including Oxley's top duo, and an increase in Asdew Acquisitions' stake in AusGroup).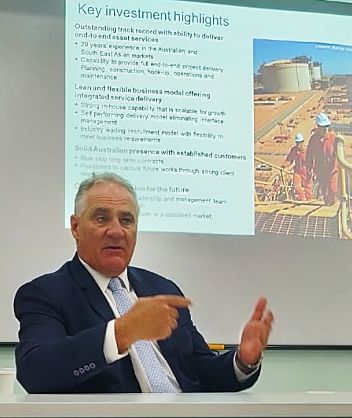 Shane Kimpton, CEO of AusGroup, at the recent 1QFY19 results briefing. Photo by Jonathan Yeoh.AusGroup's A$165 million orderbook as at end-Sept 2018 is not exactly large -- compared to, say, its revenue of A$567 m for the full FY 2018 (ended June).

At its 1QFY19 results briefing last week, AusGroup CEO Shane Kimpton indicated that a stronger balance sheet and lower debt (arising from the redemption of some outstanding notes) would enable AusGroup to win customers who might otherwise be concerned about its financial strength.


There are plenty of jobs that AusGroup is vying for in the recovering resources sector (iron ore, lithium, gold, etc) in Australia, and AusGroup is well placed to fabricate, modularise, construct and maintain the projects.

Notably, there is a lithium mining boom as Australia supplies more than half of the world's growing lithium needs ahead of the advent of the electric vehicle revolution.

AusGroup is at the forefront of two major projects, and counting.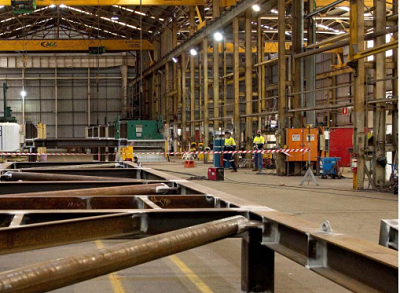 AusGroup's Kwinana facility provides integrated mechanical, fabrication and access services to the lithium market. Photo: Company
Since Feb 2018, AusGroup has been constructing a plant at Greenbushes for project operator Talison Lithium, a JV between Tianqi and Albemarle Corp.

There, AusGroup has a A$38m contract covering structural, mechanical and piping installation as well as electrical and instrumental services.

Work is expected to complete, in Feb/Mar 19, expanding the lithium concentrate production capacity at the Greenbushes site about 250km south of Perth.

The JV has plans for two more similar plants, which could be awarded to AusGroup.

If so, that would be work that would take another two years in all to complete.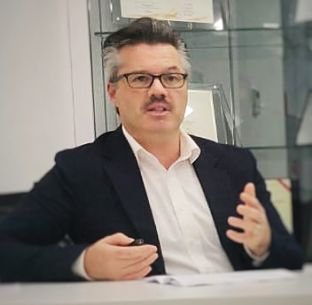 CFO Christian Johnstone.
Photo by Jonathan YeohBecause AusGroup was doing well in Greenbushes, the project contractor MSP Engineering awarded AusGroup an initial parcel of work at another of its site, in Kwinana.

AusGroup's initial work valued at A$9.7 million is for piping and insulation works on a lithium hydroxide processing plant of Tianqi Lithium.


Stock price

3.6 c

52-week
range

3.4 – 5.6c

PE (ttm)

6

Market cap*

S$90 m

Shares outstanding*

2.5 b

Dividend
yield (ttm)

--

1-year return

-10%

*Post-share placement
Source: Bloomberg
More parcels of work on that plant are yet be awarded. And a second plant is being planned, which AusGroup is eyeing.

Adding to that pipeline of work is, among others, Albemarle's massive facility.

The news is still hot: Albemarle last week announced it would build a A$1-billion lithium hydroxide facility at Kemerton, which is expected to be Western Australia's largest lithium hydroxide plant.