AusGroup's core business segment (energy & process) reported A$3.1 million net profit in its 2QFY20 (Oct-Dec 2019) quarter.


Stock price

4.2 c

52-week
range

2 – 6 cts

PE (ttm)

7

Market cap

S$128 m

Shares outstanding

3.05 b

Dividend
yield (ttm)

--

1-year return

11.4%

Source: Yahoo!
Its port and marine business segment, however, continued to bleed, with a A$2.6 million net loss in that quarter.

Thus, at the group level, Singapore-listed AusGroup was left with A$537,000 in net profit.

That dismal situation could reverse if ConocoPhillips and its JV partners make a positive final investment decision in the weeks or months ahead regarding their Barossa Project.

That greenfield gas project potentially would use Port Melville, owned and operated by AusGroup, in the Northern Territory of Australia as a logistics hub and marine fuel base.

AusGroup, which started commercial operations of Port Melville in April 2018, derived A$3.4 million in revenue in 1HFY20 from the port.


Port Melville, a natural deep water port owned and developed by AusGroup, started commercial operation in April 2018. The fuel tanks were designed and fabricated by AusGroup. Photo: CompanyIts main revenue source was selling fuel to various clients such as ships of the Royal Australian Navy.

AusGroup, recognising the potential boom that may come from the Barossa Project, has been engaging subcontractors of the project to utilise Port Melville, including purchase of fuel for their vessels.

The port area also can provide 160-room accommodation for workers and storage laydown facilities.

The Darwin port some 120 km south of Port Melville is likely to compete for some of the business too.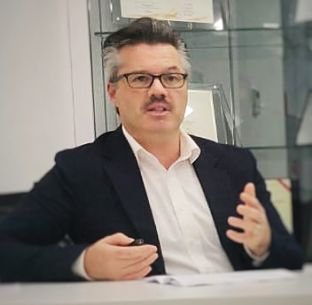 AusGroup CFO Christian Johnstone.
NextInsight file photoLittle additional investment is envisaged to be needed for infrastructure at Port Melville.

Some A$60 million of capex has already been spent on Port Melville assets, mainly the fuel tanks.

AusGroup's lease on the port is long (until 2059), so it stands to benefit significantly if it can capture opportunities arising from the Barossa project which has gas reserves that can be extracted over several decades.


Background:
• In 2014, AusGroup bought Port Melville operations (marine base) and 90% of Teras Australia for SGD55 million from Ezion Holdings.
•

In Sept 2010, Ezion Offshore Logistics Hub entered into a 50-year land lease on 32 hectares, and became the exclusive operator of Port Melville.

The 2QFY20 PowerPoint material is here.