July-Sept 2019 was the first quarter of a new financial year (FY20) for AusGroup -- and it recently put up a very telling graph of its near future.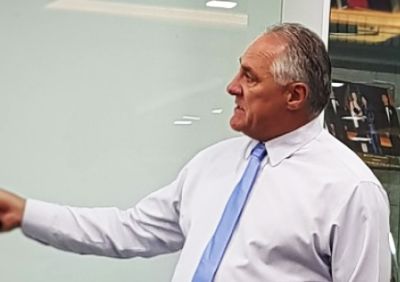 "When I joined the business a couple of years ago, we were scratching around trying to find the next tender to come in. What can we tender? How can we build the business? Now, we can't keep up with the opportunities, the tenders, that are coming in. We are now a bit more selective, and we are converting some of the tenders into long-term maintenance contracts as well."

Shane Kimpton,
CEO since July 2017.
(NextInsight file photo)
This graph (below), slide N0. 18, in its 1QFY20 presentation deck, is titled "AGC & MAS Business Makeup".

• AGC is its subsidiary that
provides a range of fabrication, construction and maintenance services;



•

MAS is its subsidiary that provides a range of construction and asset management services to clients in the natural resource and industrial sectors.

Together, AGC and MAS comprise the core business of Perth-based AusGroup.

(A third business is the nascent port and marine operations on Port Melville, whose losses make many investors cringe. More on that later).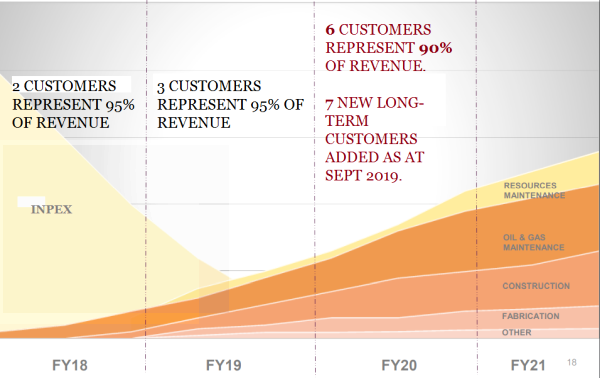 Points to note around the graph:

1. In FY2018 (ended June 2018), AusGroup had great revenue (A$567 million) but that came from only two customers -- Inpex and Chevron.

As the Inpex project headed toward completion, FY19 saw a sharp 49% fall in revenue (A$$287.8 million).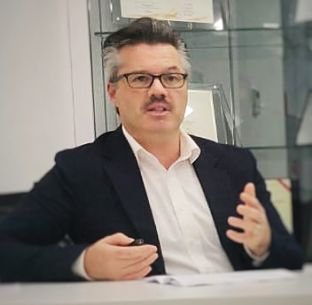 CFO Christian Johnstone.
NextInsight file photo2. AusGroup rebuilt its customer base and by the 1QFY20, it had bagged six customers, and it figures that they will account for 90% of revenue.

They are spread over a broader range of work and industries, especially longer-term contracts for maintenance services.

In addition to the diversity, the number of customers has been bumped up as at Sept 2019, with 7 new long-term customers added.

3. The graph depicts qualititively the business mix and the business trajectory.

It was not drawn to scale for any particular metric, be it revenue or headcount, etc, according to management.

After all, it's now only 2QFY20, and AusGroup continues to tender for work as well as await results of tenders it has participated in.


40% jump in headcount in 5 quarters
There is another telling graph in the 1QFY20 presentation deck.

It reflects rising headcount at AusGroup. This is directly correlated to future revenue.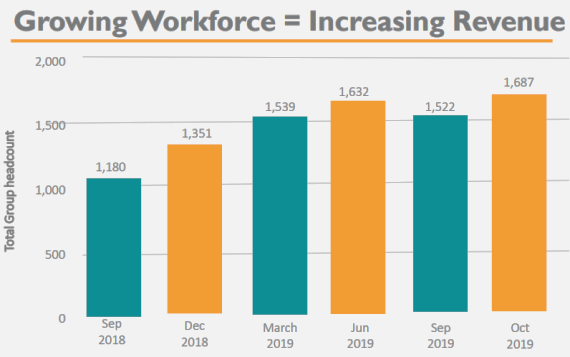 Finally, the port and marine business in the Northern Territory, which continues to suffer losses.

Its loss of A$2.5 million in 1QFY20 all but wiped out the A$2.8 million net profit earned by the rest of the Group (see table).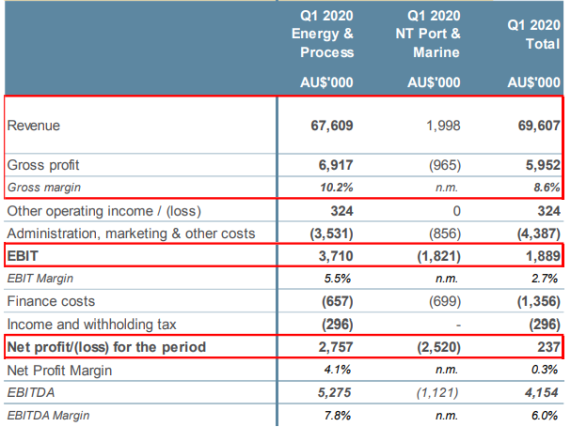 Stock price

3.3 c

52-week
range

2.0 – 3.9 cts

PE (ttm)

5.5

Market cap

S$100 m

Shares outstanding

3.05 b

Dividend
yield (ttm)

--

1-year return

-18%

Source: Yahoo!
Management continues to try to build revenue streams, especially targeting oil and gas operators and the Australian Navy.

Port Melville can be used as a marine supply base and its location is strategic as it is the northernmost port of Australia.

When it comes, a turnaround in the port and marine business would be a huge positive for AusGroup's bottomline.

As background, AusGroup acquired the port business five years ago from two parties, including Singapore-listed Ezion Holdings. See: AUSGROUP forays into marine logistics with acquisition of Ezion port

For details of AusGroup's business, see the 1QFY20 presentation deck here.