A slew of well-known investors will take stakes, or up their existing stakes, in AusGroup, injecting about S$37 million into the business in exchange for 1.05 billion new shares at 3.5 cents per share.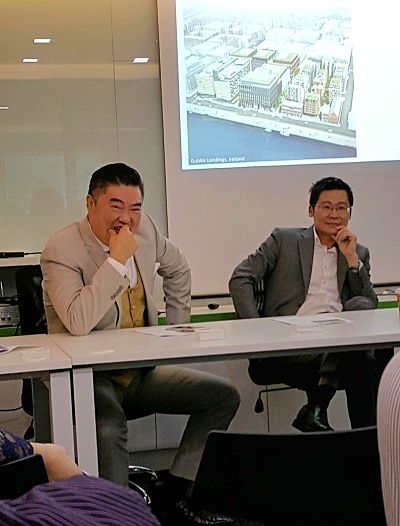 Oxley Holdings' chairman Ching Chiat Kwong (left) with Deputy CEO Eric Low.
NextInsight file photo.They include Asdew Acquisitions, Bernard Toh (formerly founder-CEO of Unisteel Technology) and Melvin Poh, an independent director of AusGroup.

Asdew currently holds 45,551,316 shares of AusGroup, or a 3.03% stake, while Mr Toh, 6.92%.

"The share placement will also result in the participation of other notable investors such as Mr Ching Chiat Kwong, Mr Low See Ching, Mr Han Seng Juan and Mr Loh Kim Kang David, all accomplished executives in their own industries, providing greater confidence for the future of AusGroup," said Managing Director Eng Chiaw Koon.

The 4 investors and Asdew are the shareholders of a company to be incorporated, AOC Acquisitions, with Asdew holding 51%, Mr Ching and Mr Low 15% each, while Mr Han and Mr Loh, 9.5% each.

| | | |
| --- | --- | --- |
| Investors | No. of subscription shares | Value |
| AOC Acquisitions | 750 m | S$26.25 m |
| Bernard Toh | 200 m | S$7 m |
| Melvin Poh | 100 m | S$3.5 m |
The funds will support continued business growth -- AusGroup has reported five consecutive quarters of profit -- and reduce gearing levels.

Since 2016, AusGroup has undertaken steps to significantly reduce its debt, enabling it to define and execute a plan for the future.

The share placement agreements position the AusGroup to commence discussions with its noteholders to extend the notes' maturity date beyond October 2018. The Company is confident it will gain all stakeholders' support in this endeavour.

The Company expects to receive gross proceeds of at least S$37 million.

Up to 30% of the funds raised will be used for partial cash redemption of the outstanding notes and the remainder for supplementing the Company's growing general working capital requirements as it continues to expand.

In addition to the share placement, AusGroup plans to launch a rights issue on the basis of 1 rights share for every 2 existing shares with an issue price of 3.5 cents per share, which is a discount of 25.37% to the last trading day's VWAP of 4.7 cents on 28 March 2018.

CEO and Executive Director Shane Kimpton said: "As we continue to work towards reducing debt, we are now in a solid position to focus on the strategic growth of our business across Australia and South East Asia.

"The injection of capital will allow us to support this growth and continue to deliver for our clients and enter into new contracts. Additionally, it will support our Port Melville facility which is now operational, offering a fuel supply service for customers in the Northern Territory of Australia."