You may say that in Vietnam people keep raising their cups filled with Cafe Pho -- but much further north, the Russian currency is spoiling the party for Food Empire.
Cafe Pho, after 5 years in Vietnam, has won over more and more consumers.
It has driven Food Empire's Indochina revenue to US$39.5 million in 9M18, exceeding the full-year 2017 figure of US$37.9 million.
In Russia, Food Empire continued to record higher sales volume for its instant coffee too, with its key brand being MacCoffee.
But the depreciation of the ruble against the US dollar resulted in a 1.8% lower translated revenue of US$86.2 million for 9M18.

So the story of Food Empire will be one of continued efforts to grow outside of Russia, which is its No.1 market by revenue and profit and has been so ever since Food Empire introduced its own brands of instant coffee more than 20 years ago.


Stock price

53 c

52-week range

49 - 71 c

PE (ttm)

16.6X

Market cap

S$283 m

Shares outstanding

534 m

Dividend
yield (ttm)

1.1%

1-yr return

-24%

Source: Bloomberg
As Food Empire grew in other markets over the years, Russia's contribution naturally eased in percentage terms. In 9M18, Russia accounted for US$86.2 million, or 40%, of Food Empire's group revenue.

The Russian currency didn't cause as much trouble previously as it has ever since the oil price collapse of 2014. And political and economic factors added to the mix.

The ruble started recovering last year but it turned negative this year: At the start of 2018, about 58 rubles could be exchanged for one US dollar. As at end-Sept, 66 rubles were needed.

All told, Food Empire recorded a foreign exchange loss of US$2.7 million in 9M2018 versus a foreign exchange gain of US$1.1 million in 9M2017.

That contributed to a net profit drop of 8.9% to US$15.1 million.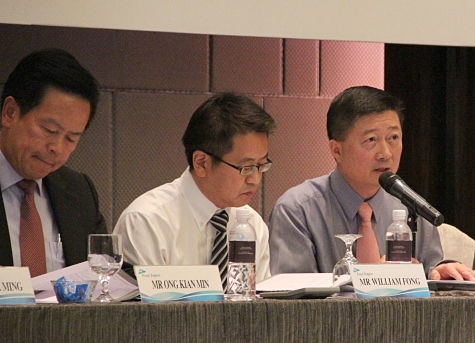 Executive chairman Tan Wang Cheow (far right) with CFO William Fong (centre). File photoExecutive Chairman Tan Wang Cheow said in a press release, "Despite the dip in profitability, the core operating performance of the Group's key markets remains healthy with growth registered in local currency terms.

"Going forward, new product launches and market diversification efforts shall continue to be key focus areas for the Group."

Video of Ukraine's Bicycle Day 2018, an event sponsored by MacCoffee, which is Food Empire's flagship brand, and is the leading 3-in-1 instant coffee brand in the Group's core markets of Russia, Ukraine and Kazakhstan. Food Empire employs sophisticated brand building activities, localized to match the flavour of the local markets in which its products are sold.

Because instant coffee is a very competitive market everywhere, advertising & promotion budgets are key.

While its sales have done well, Food Empire's selling and distribution expenses, coupled with higher manpower costs, have also increased.

They rose by US$8.3 million, or 29.4%, from US$28.0 million in 9M2017 to US$36.3 million in 9M2018.

That's 17% of sales, up from 14% in 9M17.

RHB Research has a target price of 66 cents for the stock. Click here for the report.