Singapore Medical Group (SMG) grew its 3Q18 earnings by a massive 60%, emerging as the fastest growing medical stock on the Singapore Exchange this year.

And going by the "smoke signals" from the management during results briefings, SMG's best days are yet ahead.

"We continue to plan bigger and bigger things," as its CEO, Dr Beng Teck Liang, said at the results briefing on its 3Q18 peformance (net profit: $3.2 million on 19% growth in revenue to $22.1 million).


With each quarter delivering growth, the 9M2018 profit swelled 67% y-o-y to $9.98 million on 27.8% growth in revenue.

Inexplicably, the market has yet to give it due recognition, so SMG is, arguably, the cheapest medical stock currently, as the table shows:
SMG: Trading at a discount on every valuation metric

SGX Listed

P/E

Forward P/E

P /B

Forward P/B

Forward EV/EBITDA

HMI

22.2

18.2

5.4

4.3

11.6

Raffles Medical

27.0

33.8

2.5

2.5

20.6

IHH Healthcare

--

39.2

--

1.8

17.9

Q&M Dental

26.3

24.3

3.6

3.3

17.5

ISEC

17.9

--

2.2

--

--

SOG

14.8

15.0

3.5

3.5

12.6

Talkmed

29.4

30.3

12.0

10.1

20.1

Average

22.7

26.8

5.0

4.2

16.7

SMG

19.3

12.6

1.7

1.4

7.3

But it's not for lack of recommendations by analysts. Their target prices are far above the recent trading price of 41 cents:

♦ Maybank: 70 cents
♦ UOB Kay Hian: 70 cents
♦ DBS: 73 cents
♦ RHB: 56 cents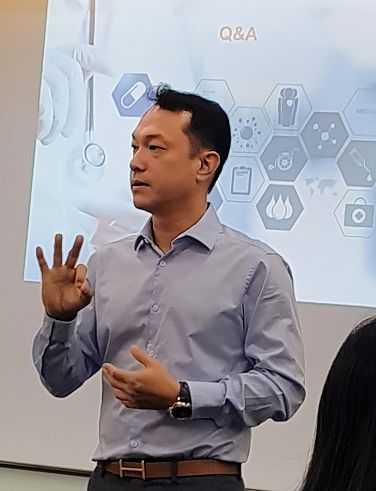 "We continue to plan bigger and bigger things."


-- Dr Beng Teck Liang,




CEO, Singapore Medical Group
While Singapore is the core contributor of business for SMG, the management is clear that it wants to penetrate overseas markets where the growth potential is significant.

SMG invested in 2015 in a JV operating an eye clinic in Jakarta (PT Citputra SMG) and is drawing up plans to "take it to the next level".

SMG in 2017 invested in a multi-disciplinary healthcare operation (CarePlus Clinic Vietnam) in Ho Chi Minh City.

"Our aspiration is to be the biggest ambulatory player in Ho Chi Minh City," said Dr Beng.




It won't stop there: SW1 will have a presence in Jakarta and Malaysia next year.

"I remain excited about SW1 -- it's a very scalable business and there's no shortage of interested parties who want to partner us in SW1," said Dr Beng.



Acquired in April this year,

SW1 is a contributor to the revenue jump of SMG's diagnostic & aesthetics segment in 3Q18 along with a

new imaging centre in Novena

. Its SW1 aesthetics clinic, which will open a second outlet in Singapore's OUE Downtown Gallery by year-end, opens in Ho Chi Minh City this month.


Revenue for the diagnostic & aesthetics segment jumped $3.0 million (+76.6% y-o-y) to $6.9 million. And the pace should continue to be good.

Meanwhile, the other business segment, healthcare, which is already at a higher base, rose 3.8% y-o-y to $15.2 million.

This segment will see more gradual growth from here, with initiatives such as the opening of a paediatrics clinic in Punggol and a dental clinic in Bishan.

Breast surgery will be a new offering from SMG, not just in Singapore but also in the region.

Business growth aside, investors can look forward to SMG implementing a dividend policy and a share buyback scheme.

This return to shareholders will be aided by business positive cashflow and the settlement of the final tranches payable for acquisitions that SMG made in 2016 and 2017.

SMG's 3Q18 results announcement is here.