DISA Limited has a suite of technologies that has earned praise along the lines of "it's the next big thing in retail" from none other than the No.1 retailer in the US and the world, Walmart. (See: DISA: Solution is "The Next Big Thing in Retail," says Walmart)


But mass adoption needs more time and so, to no one's surprise, Singapore-listed
DISA has just reported another year of loss (FY18: S$9.7 million loss).

What surprised was the reported surge in 4QFY18

in the number of anti-theft digital "codes" that DISA sold

: 858,292.


Stock price

0.8 c

52-week range

0.6 – 1.6 c

PE (ttm)

--

Market cap

S$80 m

Shares outstanding

10 b

Dividend
yield (ttm)

--

1-year return

-39%

Source: Bloomberg
This is quite a jump when seen against the total of 1.5 million sold in the first three quarters of FY18.

The buyers (paying about 5 US cents per digital code) are manufacturers of goods sold in Walmart, the biggest company in the world by revenue (FY18 revenue: US$500 billion).

DISA said it has seen "more new suppliers coming on-board to adopt both PoSA and the 3S (single scan serialisation) solutions for their products and expects this momentum to continue."

DISA said two more top US retailers "will be implementing the proof-of-concept of its PoSA and 3S solutions in their US stores."

With more new suppliers, and with existing suppliers ramping up their goods production in 3Q and 4Q for the Christmas season, the volume of codes bought from DISA can be expected to jump further.

(If you are unfamiliar with these technologies, see: DISA: Solution is "The Next Big Thing in Retail," says Walmart
).

Below are excerpts of KGI Research's report, released yesterday (30 Aug), on DISA. Currently, KGI is the only research house covering DISA (perhaps it's intrigued by the real prospect of a small fry company in Singapore becoming the next big thing in retail technology).


Growth plans on track with more retailers expected to come aboard

KGI Research analyst: Marc Tan

Technology Business continues to exhibit strong growth. Sale of Digital Safety (DiSa) codes rose 87.8% YoY to S$169,000 in FY18, becoming the main driver of revenue. Revenue contributions from the tech business are now 71% of total revenue compared to 28% in FY17.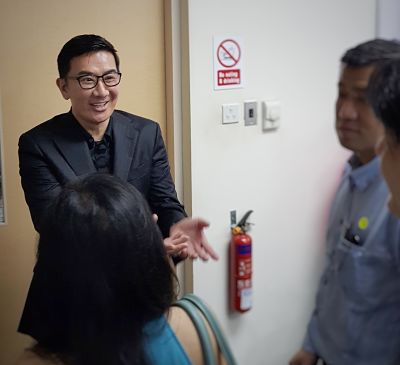 DISA'S CEO, Eddie Chng, speaking with shareholders at the FY17 AGM. NextInsight file photo.As a result, gross margins rose to 72% in FY18 as compared to 35% in FY17 and we expect further margins expansion as momentum in the tech business picks up.

3S growth exceeds expectations with more retailers expected to come on-board. We understand from management that while PoSA code sales continue to gain momentum, sales from 3S (Single Scan Serialisation) has exceeded expectations.

As of 26 August 2018, the company has sold more than 4.5 million of codes and going forward, we expect the momentum to continue given that the company is now expecting 2 of the top US retailers to begin implementing proof-of-concept trials in their US stores.


We believe the latest quarterly earnings are an indication that adoption of the technology is picking up and more suppliers are coming on board as sales of DISA's codes rose 138.5% QoQ to S$74,112.

While momentum has been encouraging, we reiterate that cash burn and execution risks remain high, especially if the company does not get another 2 large US retailers to come on board.

Currently, the firm burns cash at S$6m to S$8m a year and has a convertible bond maturing at the end of 2018 but given its strong cash levels, we do not expect the company to run into liquidity issues in the next 1 to 2 years.

Growth of its tech business however, has to remain strong as its cash burn has not improved. Negative free cash flows worsened to S$8.25mn from S$5.43mn in FY17.


DISA

Share price:
0.8 c

Target:
2.0 c
Valuation & Action: We maintain our BUY recommendation with an unchanged TP of $0.02 after accounting for changes to FCF and increased shares outstanding.

Our target price implies a 19.3x 2021F EPS and is based on a DCF model assuming 14.4% WACC and terminal growth rate at 0%.

Risks: Slow user adoption and a breach in DISA's encryption could lead to reputational damages and a decline in revenue. Going concern could become a problem if DISA fails to scale and cover its burn rate.

Full KGI report here.