After being low-profile for a few years, DiSa returned to investors' radar screen in Dec 2021 with a Covid-test product, catalysing a re-rating of its stock price.

Its indirect subsidiary company, Digital Life Line (DLL), was awarded the licence for a saliva-based antigen rapid test kit IP from Duke-NUS Medical School and SingHealth.

It plans to commercialise, through DLL, the new saliva-based ART kits within the next 6 months, subject to approval from the relevant regulatory authority. (See: DISA: Advances to testing innovative Antigen Rapid Test kiosk)
Meanwhile, Singapore-listed DiSa has just announced that its core digital business continued to progress significantly in 1H FY2022 (ended 31 Dec 2021).

Losses narrowed to $1.03 million, a decrease of 39.7%, from $1.71 million, excluding one-off loss of $205,000 from write-off of office renovation cost in 1H FY2021, thanks mainly to higher revenue and lower operating costs.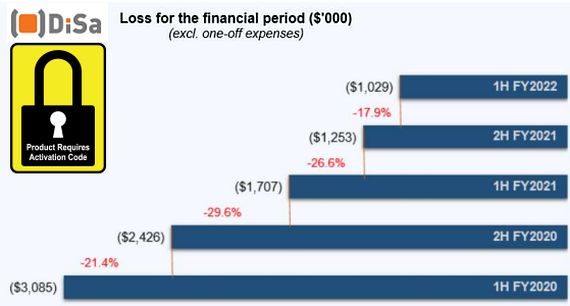 Sales of Goods and Services
The Group recorded revenue of $13.0 million in 1H FY2022 (+113.2% y-o-y) as the number of DiSa-enabled product categories continued to expand.

The number of SKUs has increased from 1,125 as of 30 June 2021 to 1,644 as of 31 December 2021.

DiSa's Point-of-Sale Activation, known as PoSA, is the first Digital Asset Protection solution that fully protects a product from its manufacturing plant through to the point-of-sale, making the device non-functional until purchased and activated.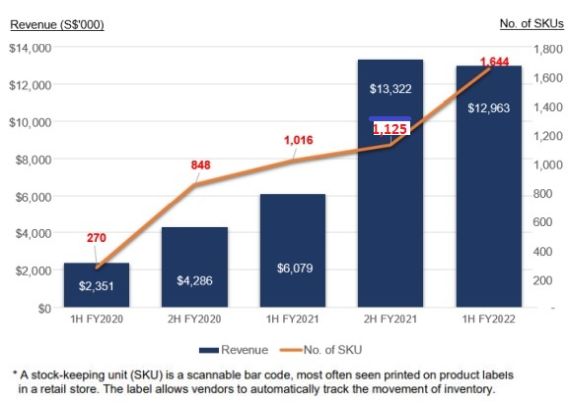 Operating Expenses
Operating expenses for 1H FY2022 was $1,743,000 (-33.4%), excluding one-off loss of $205,000 from write-off of office renovation cost in 1H FY2021. This was mainly attributable to:

(i) lower staff costs of $1,177,000 in 1H FY2022 against $1,785,000 in 1H FY2021 from lower share option expenses as the cost of issuing share options for share options granted prior to FY2017 has been fully expensed off in FY2021;

(ii) lower depreciation charges from lower right-of-use asset as compared to the same period last year; and

(iii) decrease in other expenses from $576,000, excluding one-off loss of $205,000 from write-off of office renovation cost, in 1H FY2021 to $406,000 in 1H FY2022, attributed mainly from loss on foreign currency exchange as USD weaken against SGD in 1H FY2021.

Cash flows

DiSa stock

6.0 c

52-week range

1 - 10 c

PE

-

Market cap

S$60.6 m

Shares outstanding

10.1 b

Dividend
yield

-

1-year return

100%

Source: Yahoo!
Net cash used in operating activities was $1,777,000, an increase of $740,000 as compared to 1H FY2021 from increase in trade receivables. This was in line with the increase in revenue for 1H FY2022.

Cash and cash equivalents, excluding the effects of exchange rate changes of $11,000, decreased by $1,914,000 or 37.4% in 1H FY2022 as compared to the balance as at the end of FY2021 attributed mainly to the payment of operating expenses and the increase in trade receivables.