In 1H18, Food Empire recorded a forex loss of US$1.6 million, compared to a forex gain of US$1.0 million in 1H2017.

This deprived the company from showing growth in its net profit after tax for 1H18, which was flat at US$9.4 million, despite revenue growing 12.9% to US$141.5 million.

"We operate in emerging markets where currencies have been volatile.

As investors, you should view and evaluate Food Empire on a long-term basis

," said CEO Sudeep Nair at a 2Q18 results briefing.

"The most important thing is our diversification strategy. We have, for example, large capex projects which, once operational, will kind of mitigate currency volatility and give us a wider revenue base."

In addition, expanding into new geographical regions remains a key focus for Food Empire.
| | |
| --- | --- |
| 2012 | Sales (US$'000) |
| Russia | 136,875 |
| Eastern Europe & Central Asia | 74,563 |
| Other markets | 26,225 |
| Total | 237,663 |
Food Empire's diversification strategy has produced results in the past five years.

In 2012, revenue from "other markets" stood at US$26.2 million.


| | |
| --- | --- |
| 2017 | Sales (US$'000) |
| Russia | 116,702 |
| Ukraine | 21,844 |
| Kazakhstan & CIS markets | 35,067 |
| Indochina | 37,898 |
| Other markets | 57,939 |
| Total | 269,450 |
Five years on, in 2017, "other markets" had grown big enough for Indochina to be teased out into a category of its own.

Thus, "Indochina" and "other markets" contributed revenue of US$95.8 million, propelled by sales of Food Empire's instant coffee in Vietnam and by the new business of manufacturing non-diary creamer, instant coffee and potato chips.

That's a rapid 266% increase.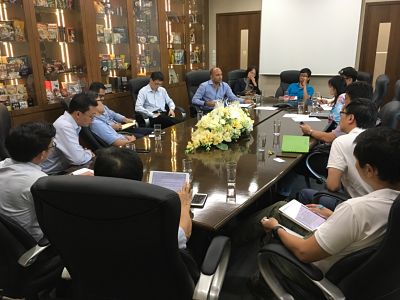 Investors meet Food Empire's Sudeep Nair and Chin Tze Ting. Photo by Ngo Yit SungFood Empire continues to focus on growth in the ingredients business.

It has introduced an additional manufacturing line for potato chips in its factory in Johor and, most significantly, is building a second instant coffee processing plant in Andhra Pradesh, India.

The latter, to cost about US$40 million, will be completed in 2020, and will produce premium coffee (partly for use in Food Empire's products, the rest for sale to third parties).


Stock price

56.5 c

52-week range

53 - 72 c

PE (ttm)

15.6X

Market cap

S$302 m

Shares outstanding

534 m

Dividend
yield (ttm)

1.1%

1-yr return

-12%

Source: Bloomberg
Food Empire's sales in Russia grew

between 2012 and 2017

-- in local currency terms. But the reported sales in

USD

declined 15%.

Forex is to blame.

In that period, the ruble depreciated massively: 30.4 rubles could be exchanged for one USD a

t end-2012

. Five years on, 57.7 rubles were needed.

Given that nearly twice as many rubles were needed to exchange for USD, by inference, in local currency, Food Empire's sales in Russia actually rose substantially.

Sales growth was achieved, said CEO Sudeep Nair, by raising selling prices over several stages (as did its key competitors), and introducing new products into its established distribution network.