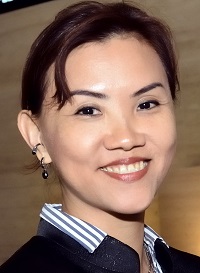 This article by Jennifer Tan (left, Director, Research & Products, Equities & Fixed Income, at the Singapore Exchange) was published in SGX's kopi-C: the Company brew series on 3 August 2018. The article is republished with permission.


For calligraphy buff Wang Tianyi, the 5,000-year-old art of writing Chinese characters with a brush and ink on rice paper, known as 书 法 (shu fa), is not merely a hobby - it's a discipline that hones skills and develops psyches.

"A calligrapher reveals his true character through his characters," the Chairman of SGX-listed China Everbright Water Ltd said with a smile.

"It's an art form that calls for the relentless pursuit of perfection, and incorporates elements like focus, balance, structure and self-discipline - all of which help cultivate principles that are useful in both business and everyday life," he added.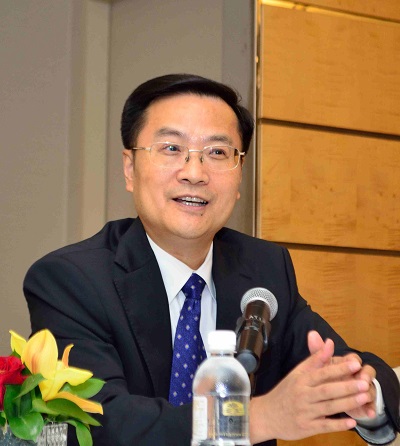 Chairman of SGX-listed China Everbright Water, Wang Tianyi.
(NextInsight file photo)
Wang holds a Doctorate degree in Economics, a Master's degree in Management, and a Bachelor's degree in Electronics from Tsinghua University.

He is also the Executive Director and Chief Executive Officer of Hong Kong-listed China Everbright International Ltd, which held a 74.85% stake in Everbright Water as at end-2017.

Currently a part-time professor of Tsinghua University, Wang was formerly the Dean of Shandong Academy of Sciences, as well as the Vice President, Dean and Professor of the School of Economics and Management of Yantai University in Shandong Province.

"Actually, I have been called an "academic entrepreneur"," Wang admitted, with a twinkle in his eye. "An aspiring entrepreneur with strong academic and research skills."

Everbright Water's principal business activities include water environment management, reusable water, wastewater treatment, sludge treatment and disposal, as well as research and development of water technologies, engineering and construction. It is also engaged in sponge city construction, or sustainable urban development, which includes flood control and water conservation.

Its geographical footprint spans nine provinces, municipalities and autonomous regions - including Shandong, Jiangsu, Beijing, Shaanxi, Liaoning, Inner Mongolia, Henan, Hubei, Guangxi - and covers over 40 locations.

The Group was formed in 2014 when Everbright International conducted a successful reverse takeover (RTO) of SGX-listed HanKore Environment Tech Group - an integrated environmental water services provider - and renamed it Everbright Water.

Between 2013 and 2017, Everbright Water, which has a current market capitalisation of more than S$1 billion, has increased its earnings and revenues by a compounded annual growth rate (CAGR) of 18.9% and 29.2% respectively.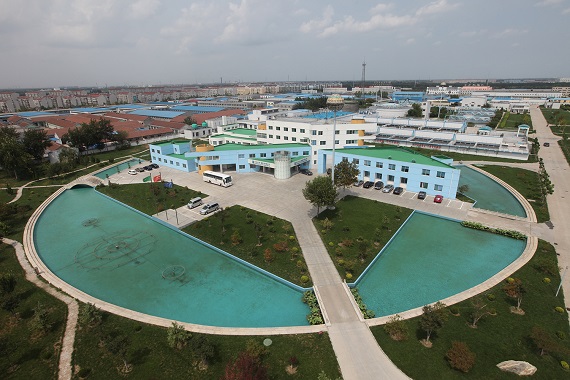 China Everbright Water's Zibo Wastewater Treatment Plant

Fragmented Market

Wang hailed the Group's decision to kickstart operations in China's eastern coastal region - including the provinces of Jiangsu and Shandong - as a smart move.

"That was good for us because of the stronger economic performances of these eastern coastal cities," he noted. "Our operations have since expanded to the central and western regions, in line with the country's changing economic needs."

The Group has also focused on expanding its presence in Tier 1 and 2 cities - which have higher income and industrial production levels, and hence, larger volumes of wastewater - than Tier 3 and 4 cities.

As of 31 March 2018, Everbright Water had secured 95 projects, and its total water treatment capacity exceeded 5 million cubic metres per day. The bulk comprises 78 municipal wastewater treatment projects, with the remainder involving industrial wastewater treatment, water environment management, reusable water, water supply, as well as sludge treatment and disposal. Its total project investment amounted to approximately 16.7 billion yuan.

"We're on track to grow our total water treatment capacity to 10 million cubic metres per day by 2020, which would rank us among the top three water players in China, up from fourth or fifth position currently," Wang said.

China's wastewater treatment market remains fragmented, with the largest player in the industry - Hong Kong-listed Beijing Enterprises Water Group Ltd - holding a share of about 7%.
We're on track to grow our total water treatment capacity to 10 million cubic metres per day by 2020, which would rank us among the top three water players in China, up from fourth or fifth position currently.
- Wang Tian Yi
Chairman
China Everbright Water
The country's wastewater treatment industry is estimated to reach US$58.2 billion by 2022, from US$42.1 billion in 2017, reflecting a CAGR of 6.7%, BCC Research said in a report published in April 2018.

While growth in this sector over the next five years is expected to slow from the double-digit annual expansion seen over most of the past decade, it will still be faster than many other countries globally, the report noted.

Over the years, Everbright Water has continuously emphasised its ethos of "technology leads development", Wang said.

The Group aims to boost its tech research and development (R&D) capabilities through mergers and acquisitions (M&As), adopting an asset-light approach, and focusing on industrial-academic collaborations that would encourage commercialisation of research results.

"Our research will focus on areas such as water environment management, integrated utilisation of water resources, and comprehensive protection of water ecology," he added.

Last year, the Group filed 59 patent applications - a number that exceeded the total sum filed in previous years - and was granted 21 patents. It also expanded its business scope to new areas, such as water supply and standalone pipeline networks.

In February, the Group set up an 80%-owned joint-venture company in Germany to pursue R&D, engineering services, technology transfer, and business development in environmental services. The venture is expected to create overseas business channels, enhance international exchanges, and widen the pool of available talent.

Going Green
Everbright Water will also proactively explore opportunities in both domestic and overseas markets, in line with key national strategic plans such as the Yangtze River Economic Belt, and development of the green Belt and Road Initiative, Wang said.

And with China positioning ecological conservation as one of the country's sustainable development strategies, the water environment industry is expected to continue its robust growth.

Several government policies - including the newly amended "Water Pollution Prevention and Control Law of the PRC" and the "Special Plan on Scientific and Technological Innovation in the Environmental Sector for the 13th Five-Year Plan Period" - are guiding the regulated and systematic development of the country's water environment management industry.

Through these policies, the government has set various objectives and timelines, such as equipping all urban areas with wastewater treatment and recycling facilities by end of 2020, and eliminating all "black and odorous water bodies" in cities by 2030.


Stock price

38.5c

52-week Range

38c to 48.5c

Market Cap

S$1,046.8m

Price/Book

0.716 x

Price/Earnings

9.389 x

Dividend Yield
1.26%
Debt /EBITDA
5.691 x

Source: SGX StockFacts
"In China, pollution control has been named as one of the three tough battles that the country must fight in the coming years," Wang noted.

"This signifies the Chinese government's determination and belief in protecting and managing the environment, which in turn will become a driving force for the future development of the industry," he added.

But despite various challenges in managing the day-to-day operations of the business, Wang loses very little sleep at night.

"I would like to believe that after you have crossed the age of 50, you would have built up a significant store of life experiences contributing to your resilience and character," the 56-year-old said with a smile.

"So there's not much in the way of work that will keep me awake."

Wang's strength of character and sense of responsibility has been ingrained in him since childhood. He picked up critical thinking skills from his dad, a farmer-turned-medical-doctor, and learnt the importance of being kind from his mother, who passed away when he was 11.

His passion for sustainability and conservation is shared by his 28-year-old daughter, who is also pursuing a career in environmental protection. Their conversation topics often revolve around politics and the green movement.

"I would like to think that I, in turn, have passed on the attributes of intelligence, kindness and generosity to my daughter," he smiled.

"These are important values that ultimately define who you are as a person."
Financial results
Year ended 31 Dec
(HK$'000)

FY2017

FY2016

FY2015

FY2014

Revenue

3,591,633

2,494,037

1,815,150

1,050,755

Gross Profit

1,230,587

905,652

824,224

596,471

Profit Attributable to Owners of Company

513,356

349,343

406,242

292,796
| | | | |
| --- | --- | --- | --- |
| Quarter ended 30 Jun (HK$'000) | 2QFY2018 | 2QFY2017 | yoy chg |
| Revenue | 1,319,368 | 868,717 | 52% |
| Gross Profit | 426,423 | 294,528 | 45% |
| Profit attributable to owners | 192,618 | 140,550 | 37% |
Source: Company data

---

Outlook & Risks

---

The Group will continue to boost its technology R&D capability and build up its core technology competitiveness through various methods,including R&D and M&As.
The Group will explore an asset-light development approach through R&D innovation, planning and design, among others.
The Group will adhere to the industrial-academic research collaboration model to encourage commercialisation of research results. Its research will focus on water-related topics, such as water environment management, integrated utilisation of water resource, and comprehensive protection of water ecology.
The Group will closely follow industrial policies and market demands to explore new business models, aimed at improving business diversification and sustainability.
The Group will continue to optimise its funding structure at home and abroad to avoid foreign exchange risks.
It will continue to diversify its investment and financing models, including pursuing further issuance of RMB-denominated bonds, exploring the issuance of asset-based securities, and other channels. It will also strengthen traditional financing channels, such as credit facilities from commercial banks and policy banks.

China Everbright Water Ltd

Everbright Water is an environmental protection company focusing on water environment management, that is listed on SGX Mainboard. Its direct controlling shareholder is HKEx-listed China Everbright International Ltd.

The Group is principally engaged in water environment management, sponge city construction, river basin ecological restoration, water supply, waste water treatment, reusable water, waste water source heat pump, sludge treatment and disposal, research and development of water environment management technologies, and engineering construction.

Its geographical footprint spans East, Central, South, North, Northeast and Northwest China, including Beijing, Jiangsu, Shandong, Shaanxi, Henan, Hubei, Guangxi Zhuang Autonomous Region, Liaoning and Inner Mongolia Autonomous Region. Currently, the Group invests in and operates water treatment projects with a daily treatment capacity exceeding 5.0 million m³.
The company website is: www.ebwater.com
The ccompany's Stock Facts page is here.
For the company's financial results for the 2nd quarter ended 30 June 2018, click here.