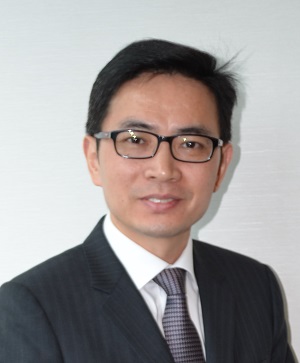 The Group's executive director, An Xuesong, 45, was appointed CEO on 14 August 2015.
Photo by Sim KihCHINA EVERBRIGHT WATER increased its FY2015 Group revenue by a whopping 73% year-on-year to HK$1.8 billion, thanks to its aggressive M&A strategy.

Last year, the Group increased its daily designed water treatment capacity by 1.345 million cubic meters to 4.6 million cubic meters. After its reverse takeover of HanKore at the end of 2014, the Group completed the acquisition of Dalian Dongda in November 2015.

Dalian Dongda has 17 wastewater treatment projects with daily operating treatment capacity of 945,000 cubic meters. Its contracted daily capacity is 1.125 million cubic meters.

The Group's capacity also increased due to new projects secured, as follows.

» Four wastewater treatment projects in Ju county, Jinan and Beijing that add another 200,000 cubic meters to its daily designed water treatment capacity when construction is completed.

» A reusable water treatment project in Nanjing (Pukou) with daily designed capacity of 40,000 cubic meters.

For more information on its latest financial results, click here.


Below are some of the questions raised by Singapore, Hong Kong and PRC analysts at the Group's FY2015 results briefing, and the replies provided by CEO An Xuesong and CFO Chang Song.


Q: In FY2015, 33% of your HK$1.8 billion revenue came from construction. How much came from operating income?
In FY2015, more than HK$700 million of Group revenue was contributed by our operation of water treatment facilities.


Q: How much of the 73% increase in revenue was organic? How much as from water tariff rate hikes?
The completion of our acquisition of Dalian Dongda was effective only in Nov 2015, and contributed only two months of revenue, which amounted to slightly over HK$30 million last year.
Most of our revenue was contributed by the original assets from China Everbright and Hankore's assets.
Most of the adjustment in water tariffs were only effective in 2H2015. So, its impact on our revenue increase was not that significant.

Q: What is your average water tariff rate after the spate of rate hikes in 2015?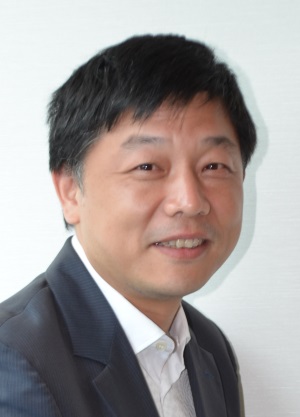 The Group's financial controller, Chang Song, 46, was promoted to CFO on 31 July 2015. Photo by Sim KihThe Group's average water treatment tariff rate is Rmb 1.07, with the following breakdown:

» Rmb 1.70 for China Everbright assets
» Rmb 1.10 for Hankore assets
» Rmb 0.83 for Dalian Dongda assets.

Dalian Dongda has lower rates because more than 60% of its water treatment facilities have achieved only grade 1B or grade 2 water discharge standards.
This year, we are targeting to increase our average water treatment tariff rate by upgrading Dalian Dongda's facilities to achieve more stringent water discharge standards.

Q: What proportion of your water treatment facilities have achieved grade 1A water discharge standards?
This proportion is very small for Dalian Dongda's assets and less than 30% for Hankore's assets.
Currently, different water treatment standards are required for different geographic regions in China. For example, the upgrading and capacity expansion of our Beijing Tiantanghe wastewater treatment project will require a discharge standard of level 4 groundwater, and that is even more stringent than grade 1A.
In other words, the potential for upward adjustment of water treatment tariffs goes beyond reaching the grade 1A standard.


Q: How do you intend to upgrade your water treatment standards?
We are looking into applications for membrane technology. We do not currently own any manufacturing facilities for water treatment applications using membrane technology. However, this is an area that we have done in-depth study on.

We intend to purchase third-party membrane equipment and align our installation process with guidelines from the government's water resource planning and design institute.
China Everbright Water

Stock price

50 cts

Market cap

S$1.3 bn

Dividend per share

0.35 cts

Gearing

0.48x

Current PE

17.8x

Bloomberg data
It is not possible to achieve the likes of level 4 groundwater discharge standards using traditional water treatment applications that rely on filtration and microbes. It requires mechanical applications such as membrane technology.
We have some experience using membrane technology for wastewater treatment, such as our wastewater treatment solution for a power plant.
In Suzhou, there are many third-party suppliers for water treatment equipment using membrane technology.

That is why we have no plans to start manufacturing such equipment in-house. We will continue to monitor trends in the development of water treatment applications that rely on membrane technology.

Q: What is your target for capacity growth this year?
We have said that we want to achieve a total water treatment capacity of 10 million tons a day in 3 to 5 years. Our growth target this year is higher than for 2015. We expect to expand our capacity by between 1 million and 1.5 million tons a day in 2016.
We have singled out a few M&A targets for this year. At the same time, we noticed that various municipal governments have been accelerating their plans for improving local water treatment infrastructure in response to the government's Water Pollution Control Action Plan.
Our capacity expansion plan this year encompasses a few areas: BOT/TOT water treatment projects, tender of projects to build infrastructure for developing sponge cities as well as the upgrade of water discharge standards.

Q: What is your capital expenditure?
Our capital expenditure in FY2015 was about HK$2.2 billion, mainly arising from our acquisition of Dalian Dongda and the construction of new projects. This year, we have budgeted for capital expenditure of more than HK$2 billion, including construction of new projects, the expansion and upgrading of existing projects, as well as M&A.

Q: What is the quantum of your non-Rmb denominated debt?
Currently, the Group's foreign-currency denominated debt is about 30% of our total debt. We have not yet utilized our long-term loan of US$140 million that we secured from International Finance Corp in 2015. We intend to utilize the loan proceeds this year.