Few Singapore-listed companies have done what Q&M Dental has -- invested in two China companies and then spun them off for separate listings. And continued to grow their business.
Stock price

63 c

52-week range

59.5 - 78 c

PE (ttm)

13

Market cap

S$497 m

Shares outstanding

796 m

Dividend
yield (ttm)

2.24%

Year-to-date return

-12%

Source: Bloomberg
Q&M has continued to do well for its shareholders as its China investments have surged in value.
The two companies it invested in are Aoxin Q&M (listed on Catalist of SGX in April 2017) and Qinhuangdao Aidite High Technical Ceramic Co. (listed on The New Third Board in China in Dec 2016).

In 2014, Q&M invested RMB76.5 million for a 51% stake in Aidite, which valued the company at RMB150 million. The implied PE was about 10.

Just two years later, when Aidite was quoted on the New Third Board, Q&M placed out 2% of its holding, valuing the company at RMB500 m.

The PE multiple was 20 and the 2015 profit was RMB25 million.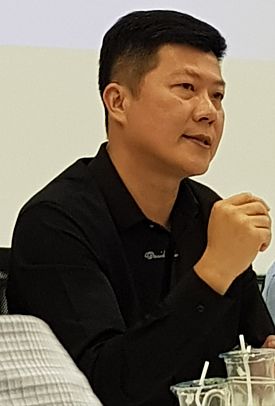 "Q&M shareholders are sitting on very good dentistry-related assets. Whether we sell them and realise some money or not, we will consider seriously any good and strategic proposals."

Dr Ng Chin Siau,
CEO, Q&M Dental

(Photo by Leong Chan Teik)
Aidite continues to grow, with net profit of RMB17 million for 1H2017, up from RMB11 million in 1H2016.

If the 2H2017 is seasonally stronger as in 2016 (Aidite's 2H16 profit was RMB15-16 million), the full-year profit of Aidite would total at least RMB34 million.

Using a PE ratio of 20X, Aidite could be worth at least RMB700 million.

(Post-IPO Q&M holds about 38% of Aidite -- which manufactures zirconium oxide blocks, which are used in dental computer-aided design/computer-aided manufacturing machines to fabricate dental prosthesis. Aidite also distributes dental equipment and supplies specifically to complement the manufacturing business).


As for Aoxin, Q&M bought a 60% take for RMB108 million in 2014. The implied PE was 11.
Aoxin's current market value (stock price: 22 Singapore cents) is S$84 million.
Post-IPO, Q&M's stake of 44% is worth S$37 million, or nearly twice as much as its initial investment.
Q&M CFO Vitters Sim noted that Aoxin, post-IPO, has announced a number of major growth initiatives -- including e

ntering into binding MOUs to acquire

:
♦ 100% of Shenyang Qingaomei Oral Restorative Technology Co., Ltd for RMB 16.9 million.
♦ 100% of

Zhuanghe City Chengguan Street Jiadawei Dental Clinic for RMB 8.4 million.
Aoxin continues to grow, reporting RMB6.5 million net profit
(excluding professional fees and expenses related to its listing) for 1H2017, up from RMB4.5 million in 1H2016.

Following their spin-offs, the revenues of Aidite and Aoxin are no longer consolidated into Q&M's topline. Their profit contributions are reflected in the line item "share of profits from equity-accounted associates".

The spin-offs also created one-off gains and expenses (such as professional fees for the listings) which are reflected in Q&M's 1H2017 results.

Disregarding these one-offs, the core operating profit after tax attributable to shareholders in 1H2017 is $7.8 million, up 21% from $6.4 million in 1H2016.

Next acquisition in China: Q&M, through its wholly-owned subsidiary, Q & M Dental Holdings (Shenzhen), has entered into a binding MOU in June 2017 to acquire an equity interest of 20% in Shenzhen Superline Technology Co., Ltd.

The purchase consideration: RMB 62 million (approximately S$12.65 million). This values Superline at RMB310 million.

Superline is an established manufacturer of NITI endodontic root canal files and orthodontic arch wires, and supplies to more than 50 countries.