Excerpt from Maybank Kim Eng report (19 April 2017)

Analyst: Clement Ho


Aoxin Q & M Stomatology Hospital. (Photo: Company)
Aoxin Q&M Dental will be the latest debutante on SGX Catalist -- it proposed to list 57m new shares at $0.20 each entirely via private placement. The China-based dental provider is expected to commence trading on 26 Apr.

Aoxin provides private dental services and dental equipment and supplies in Liaoning province. Since starting operations in May 2011, Aoxin has expanded at a steady pace, spearheading Q&M's footprint in China.


"At $0.20, Aoxin is valued at an annualised core 9M16 P/E of 35.9x (excluding listing expenses). This compares to the closest dental peer Shanghai-listed Topchoice Medical of 57.3x, and Singapore-listed healthcare peers of 40.6x."
-- Clement Ho, Maybank Kim Eng
The primary healthcare segment constitutes the bulk of Aoxin's business, or 75% of sales. Its operations are located in 7 dental hospitals and 4 polyclinics in four Liaoning cities.

Aoxin's dental equipment and supplies segment accounted for the remaining 25% of sales. Its distribution network covers the Liaoning, Heilongjiang and Jilin provinces in NE China.

Strong Earnings Growth
Over the past three years, revenue has surged from Rmb0.5m to Rmb46.5m, mainly on the back of strong M&A activity, as well as increased patient visitorship. It turned around from a Rmb4.1m loss in FY13 to a Rmb4.8m profit in FY15.

In the latest 9M16 results, core net profit jumped to Rmb4.9m (+148%) on an 85% surge in revenue to Rmb61.5m. The bulk of sales growth was led by maiden contribution from dental equipment and supplies distributor SY Maotai, purchased in Jan '16, as well as the acquisition of five dental centres in Panjin and Gaizhou, and organic growth from existing dental centres.

Acquisitions add to physician pool
Post-placement, Q&M Dental will retain a 43.9% stake in Aoxin, followed by Aoxin's CEO Dr Shao (29.4%) and key executive officers Dr Ren (2.8%), Mr Cui (2%) and Dr Zhang (1.5%), who all joined the Aoxin group via recent acquisitions.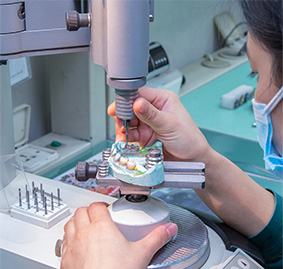 Aoxin Q & M Stomatology Hospital is equipped with world class facilities. It uses well-known brands of dental chairs and machines for CBCT, microendodontics, erbium lasers, etc. (Photo: Company)While the public float is relatively low at 15.3%, the high ownership interests held by key stakeholders will ensure that objectives are aligned between management and minorities, to maximise shareholder profits.

Net proceeds of $9.1m from the placement are intended for business expansion to meet the rapidly growing demand for accredited dental centres in China, which is underpinned by the rise in corporate staff entitled for public medical insurance.

At listing, Aoxin will have a market cap of $74.4m, with an enlarged share base of 372.2m.