But, in the face of signs of a recovery in the Singapore property market after the government tweaked its cooling measures in March 2017, Oxley has recently issued Previously, Oxley Holdings' CEO Ching Chiat Kwong expressed hesitation about issuing further debt to grow the company.

US$300 million 6.375% notes due 2021.





In Singapore, Oxley has completed and sold practically all its 30 projects.

What's new is a JV with a clan association to develop the latter's land parcel in Geylang into (a) a new complex for the clan's own use, and (b) residential apartments which Oxley will launch for sale later this year.
This expands its war chest for acquiring land sites whose tenders are coming up, said Deputy CEO Eric Low at a 3QFY17 results briefing this week.

There is a lot of information on Oxley's various projects overseas in its presentation slides.

Here we share insights (from the 3QFY17 briefing) into two projects which are enjoying significant upside from macro events: First, the Gaobeidian project which is near the newly-announced Xiongan New Economic Zone and, secondly, the Dublin project which is seeing rising interest from investors and companies in the wake of Brexit.


| | |
| --- | --- |
| Singapore consortium | Interest in Gaobeidian Project |
| Oxley Holdings | 27.5% |
| KSH Holdings | 22.5% |
| Lian Beng Group | 10% |
| Heeton Holdings | 7.5% |
Oxley has the single largest stake of 27.5% in the Gaobeidian project which a Singapore consortium it is part of has sunk in about S$100 m.

Gaobeidian will benefit from hot property demand as state-owned enterprises and large companies in Beijing (about 100 km away) relocate to the Xiongan New Economic Zone.

Mr Low said property prices, which used to hover around RMB4,000 per sq m four years ago when the Singapore consortium ventured into the project, have shot up to about RMB 8,000 psm last year, thanks to a high-speed rail connection.

After the recent announcement on the setting up of the Xiongan Special Economic Zone, some new properties in Gaobeidian are going for RMB15,000-20,000 psm.

In comparison, said Mr Low, the Singapore consortium's land cost is only around RMB750 psm.

This project, not surprisingly, is set to deliver the widest profit margin that Oxley has ever enjoyed, even after taking into account an expected sharp hike in land value appreciation tax.

Its contribution to Oxley's bottomline will be evident over the next couple of years. The initial launch of the project will be within the next few months. (For more, see: Investor: "My take on KSH's share of Gaobeidian profit: S$1 billion over 10 years")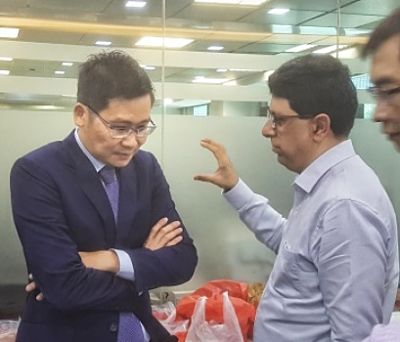 Deputy CEO Eric Low chats with fund manager Jamshed Desai of River Valley Asset Management after the briefing. Photo by Leong Chan Teik Another significant contributor to Oxley will be Dublin Landings, the largest mixed-use development in Dublin's business district, part of which is expected to achieve TOP by this year-end.

It is benefiting from a surge in prices of commercial property as businesses relocate out of London after Brexit. "We are talking to international banks and nearer to the completion date, we are confident of leasing most, if not all, of our office space," said Mr Low.

If Oxley decides to divest the office building, it is looking at market rates of €1,100-1,200 psf , which is much higher than Oxley's construction cost of about €300 psf.

User and investor interest have, similarly, sprung up for residential properties in its Dublin Landings project which will benefit Oxley in the 2H of this year, or 1Q next year, when it launches the residential portion comprising 273 luxury apartments.

Surging residential property prices have reached about €700 psf for waterfront units.

(See also: OXLEY: Gearing up for the next big and profitable project, in Dublin)
| | | |
| --- | --- | --- |
| S$'m | 9MFY17 | Change (%) |
| Revenue | 1,119 | 37 |
| Gross profit | 342 | 43 |
| Profit after tax attributable to equity owners | 184 | (13) |
Some highlights:

♦ 9MFY17 gross margin of 31%.

♦ Net gearing dropped to 1.9 times as at 31 March 2017, compared to 2.2 times and 2.6 times as at the end of FY2016 and 2015 respectively.

♦ 3QFY17 interim dividend of 0.3 SG cents. (1HFY17 interim dividend: 0.5 SG cents)