Mervyn Sim, a vice-president of equity sales at Maybank Kim Eng, contributed this article to NextInsight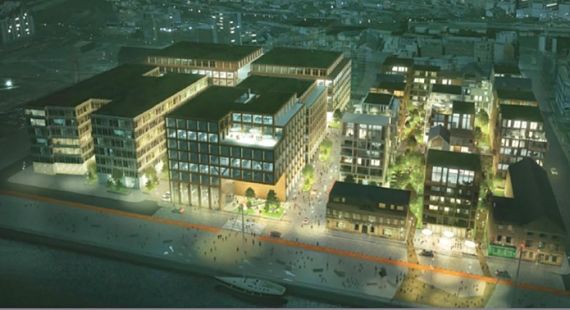 Oxley's project in Ireland: A commercial site at 72-80 North Wall Quay in Dublin, next to the proposed HQ of the Central Bank of Ireland. Artist's impressionWhile Oxley's massive Royal Wharf London project has made headlines, and chalked up S$1.6bn in unbilled sales so far, its upcoming project in Dublin, Ireland has largely gone under the radar.

However, its potential can be deduced from Oxley's recent FY2016 (ending June 2016) results announcement.

At a recent FY16 results briefing, when queried about the S$76m fair value gain on investment properties in its financial statements, Oxley's deputy CEO Eric Low said that this was attributable to the Dublin project.

In June 2014, Ireland's National Asset Management Agency (NAMA) launched "Project Wave", a competitive tendering process for a 2.35 hectare site at 72-80 North Wall Quay. This is just next to the new headquarters of the Central Bank of Ireland.

In Dec 2014, Oxley was selected as preferred bidder, beating 5 other contenders.


Based on 5-6% yield, new office space in the vicinity is going for
€
1,000-1,100 psf.
Construction cost is roughly
€3

00 psf. Thus, Oxley is sitting on
€
700 psf of upside on the finished product

."
-- Eric Low, Deputy CEO, Oxley Holdings
NextInsight file photo
The proposed project comprises about 650,000 sqft of Grade A office space and 270 apartments. NAMA retained the freehold interest in the land and granted Oxley a 300-year lease, for which it will receive an annual license fee of €10m.

NAMA is also entitled to 20% of the rental revenue from the development and a percentage of any future sales proceeds.

This structure requires relatively little equity from Oxley, compared with traditional projects where a big lump sum payment is needed for land acquisition.

Like Royal Wharf, Project Wave is fully owned by Oxley, with Ballymore acting as development manager.


Stock price

42 cents

52-week range

37.5 – 46 cents

PE (ttm)

5.86

Market cap

S$1.2 billion

Shares outstanding

2.93 billion

Dividend yield
(FY16)

4.52%

Revalued Net Asset Value/share

$1.14 (RHB Research estimate)

Source: Bloomberg, RHB
Ireland's National Treasury Management Agency (NTMA) has already taken up a 15-year lease for 80,000 sqft of office space and Oxley is in negotiations with several financial institutions to lease space.

Construction began in Dec 2015 and NTMA is expected to move to the new premises in late 2018.


Oxley Holdings

Share price:
42 c
Target:
85 c


Source: RHB
Based on the market rate of €60 per sq ft per annum for prime Dublin office space, Project Wave could generate rental revenue of over €30m per annum, of which 80% will accrue to Oxley.

This will contribute to Oxley's growing recurrent income.

Meanwhile, the launch of the residential component will add to Oxley's unbilled sales, which currently stands at S$3bn.