"Portuser" contributed this article to NextInsight
China Sunsine Chemical has reported a record profit of RMB 222m for 2016: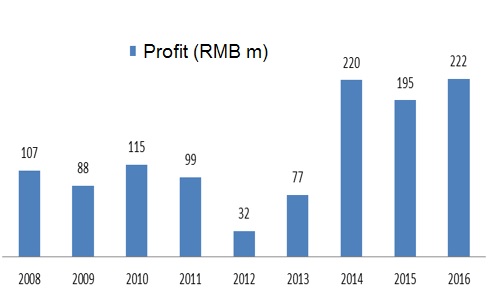 Earnings per share was 9.7 cents, or a historical price-earnings ratio of less than 6, based on the last traded share price of 56 cents on Friday (10 March).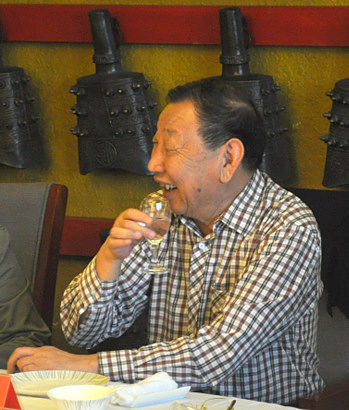 Xu Cheng Qiu, executive chairman of China Sunsine. NextInsight file photoSunsine is the world's biggest rubber accelerator producer and China's biggest insoluble sulphur producer. It also produces anti-oxidants.

Accelerators account for 72% of its revenue. Sunsine serves 48 of the top 75 tyre makers like Bridgestone, Michelin, Goodyear and Pirelli.

Production of rubber accelerators generates harmful waste. Stricter enforcement of environment laws in China since 2014 has led to the closure of accelerator factories found to have skimped on waste treatment. In May 2016, the central government joined local authorities in enforcement.

Such government actions have indirectly helped to lift Sunsine's profit, which used to be around RMB 100m, to around RMB 200m since 2014. (The lower profits in 2012 and 2013 resulted from the company's deliberate price cuts in late 2011 to gain market share. As a result, 2013 sales volume was 45% higher than 2011's.)

After raising RMB 260m in an IPO in 2007, Sunsine's production capacity has increased six fold, and revenue four fold. A fuel-efficient steam generation system was also built. These investments cost RMB 1,000m. Higher sales entailed RMB 520m more in working capital.

Sunsine did not resort to rights issues or share placements to fund its growth. It has paid dividends right after the IPO for nine straight years (one cent a share between 2008 and 2014, 1.5 cents in 2015 and 2016). For FY2016, an unchanged 1.5 cents as final dividend has been proposed to be paid this year.

Dividends paid all these years amounted to RMB 229m. Sunsine also bought back 5.5% of its own shares for RMB 28m. At end-2016, it still had RMB 276m in cash and was debt-free.

Capacity

Sunsine is now equipped to produce 162,000 tonnes of rubber chemicals, with 10,000 tonnes being added in late 2016. Utilisation of its operating capacity was 88% in 2016:
| | | | |
| --- | --- | --- | --- |
| | Op. capacity (tonnes) | Sales (tonnes) | Utilisation |
| Rubber accelerators | 87,000 | 82,767 | 95% |
| Anti-oxidants | 45,000 | 31,214 | 69% |
| Insoluble sulphur | 20,000 | 20,031 | 100% |
| All rubber chemicals | 152,000 | 134,012 | 88% |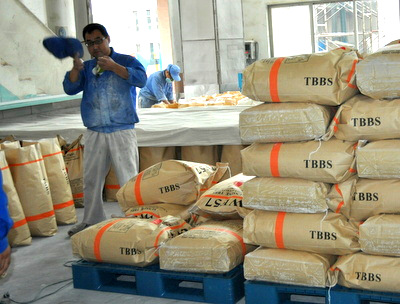 @ China Sunsine: Bags of TBBS, a type of rubber accelerator which commands a high price as few companies have the requisite technology to produce it. NextInsight file photo.The 10,000-tonne capacity installed in late 2016 is for TBBS, a high-grade accelerator used in the manufacture of radial tyres. As production of high-quality radial tyres is encouraged by the Chinese Government, Sunsine plans to add another 20,000 tonnes in the near future, subject to demand, bringing its TBBS capacity to 55,000 tonnes.

Sunsine will also increase its insoluble sulphur capacity to 30,000 tonnes this year.

There is still space for another 54,000 tonnes for rubber chemical capacity. Capacity expansion can be executed expeditiously as the required infrastructure is available. (Sunsine built the full infrastructure upfront because it was cheaper to do so and the installation of equipment subsequently would not affect on-going operations.)

Utilisation of anti-oxidant capacity was on the low side as tyre makers take time to accredit the newly-introduced 6PPD. Nevertheless, anti-oxidant sales have grown strongly, from 5,183 tonnes in 2012, when 6PPD made its debut, to 31,214 tonnes in 2016.

Incurring capital costs ahead of demand has resulted in high fixed costs. Despite this, gross profit margin and return on equity (ROE) have been strong, except in 2012 and 2013 when a price cut took its toll: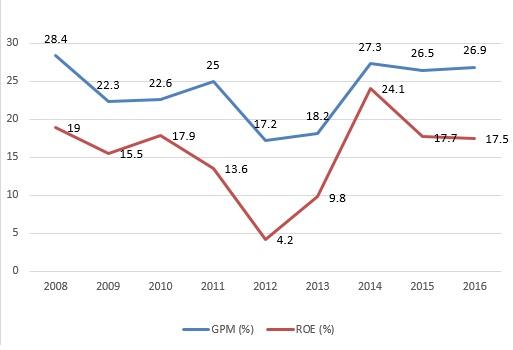 Favourable accelerator prices

Accelerator prices are pegged to those of raw materials. Tyre makers accept this because accelerators are essential items and account for a tiny fraction of tyre production cost.

As aniline, the main input for accelerators, is derived from crude oil, its price is affected by crude's price movement. Recent stricter factory inspections have also lifted aniline price: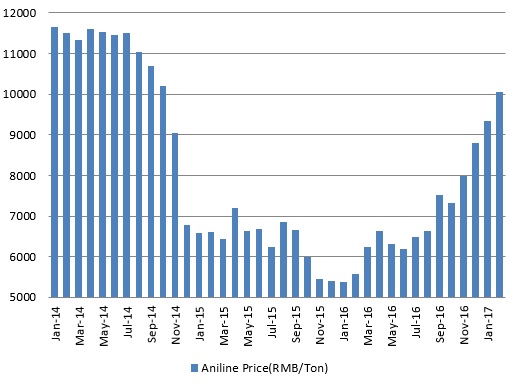 Sunsine's accelerator ASP has edged up lately, reacting to rising aniline price: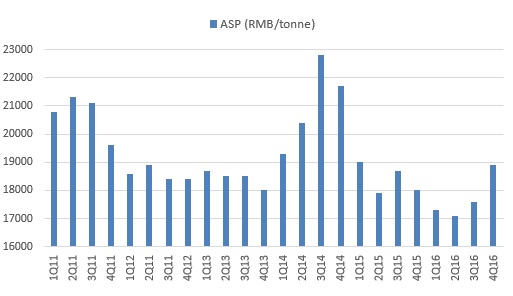 With ready cash and ready infrastructure, Sunsine will be ahead of its rivals in organic growth, or to pounce on investment opportunities.

One of its rivals is Tianjin Kemai, which filed in 2015 for a listing on the Shanghai Stock Exchange to raise RMB 890m for expansion (see article). The application has lapsed and there has been no news on alternative funding.

Shenzhen-listed Yanggu Huatai had planned to issue new shares for RMB 1,200m to build new facilities. According to a report, the fund to be raised is to be halved as directed by the regulators.