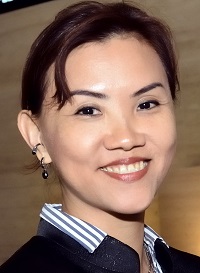 This article, written by Jennifer Tan (left, Director, Research & Products, Equities & Fixed Income, at the Singapore Exchange), originally was published in SGX's kopi-C: the Company brew series on 11 December 2015. The article is republished with permission.



Andrew Tjioe, founder of the Tung Lok chain of restaurants, has a sophisticated palate, having grown up on his mother's delectable Hokkien cooking.

He remembers the rich flavours of her Heng Hwa noodles, silky texture of her tang hoon (winter vermicelli), and biting into firm yet fluffy wontons stuffed with shrimp and pork, known as pangsit in Heng Hwa dialect.

"No one can beat my mum's pangsit. The skins of her dumplings are so translucent, yet they don't disintegrate in the soup after cooking," recalls Tjioe, the only son in a family of four sisters.

The 57-year-old gourmand, who was appointed Executive Chairman of Tung Lok Restaurants (2000) Ltd in July 2006, tried to introduce those wontons in his menu, but failed.



I told my chefs the missing ingredient was love – my mum's love for us. Without love, you can't make good wonton skin.


- Andrew Tjioe
Executive Chairman
Tung Lok Restaurants (2000)

"The skin was either too thick or so thin it broke easily. None of my chefs could do it properly. Having tasted my mum's quality, I didn't want to settle for less, so I gave up the idea," he said.

"I told my chefs the missing ingredient was love – my mum's love for us. Without love, you can't make good wonton skin," he added, with a laugh.

Tjioe's message to his chefs is consistent. "I always tell them, for every dish you cook, you must imagine you are cooking for someone you love, because that will make all the difference in the flavour."

His mother, now 85, still dabbles in the kitchen occasionally, focusing on simpler recipes.

Gastronomical Passions

Tjioe's father also played a key role in enhancing his passion for gastronomy. After moving to Singapore from Jakarta in the 1970s, the elder Tjioe brought the family out every weekend to explore new dining options. The scholar and businessman eventually opened a restaurant – Charming Garden, specialising in spicy Hunan cuisine – in 1980.

"Back in the '70s, there were not many good Chinese dining places. My dad was in the textiles business and entertained a lot, so it made sense to set up a restaurant. Since he travelled to Taiwan to buy yarn frequently, he was able to hire good chefs from Taiwan," Tjioe said.

The success of Charming Garden spurred the son to follow in his father's footsteps. Tjioe opened his first outlet – Tung Lok Sharksfin Restaurant – in 1984 at Liang Court, this time with six Hong Kong chefs.

"In the late '80s, ahead of the 1997 handover of Hong Kong to China, there was a heavy influx of Hong Kong chefs to Singapore. This helped to establish Singapore as a centre of good Cantonese cuisine," he said.

Subsequent restaurants – Lao Beijing, LingZhi, Tung Lok Seafood, TungLok Signatures in Singapore, and My Humble House in Indonesia, Japan and China – specialised in different styles of Chinese cooking.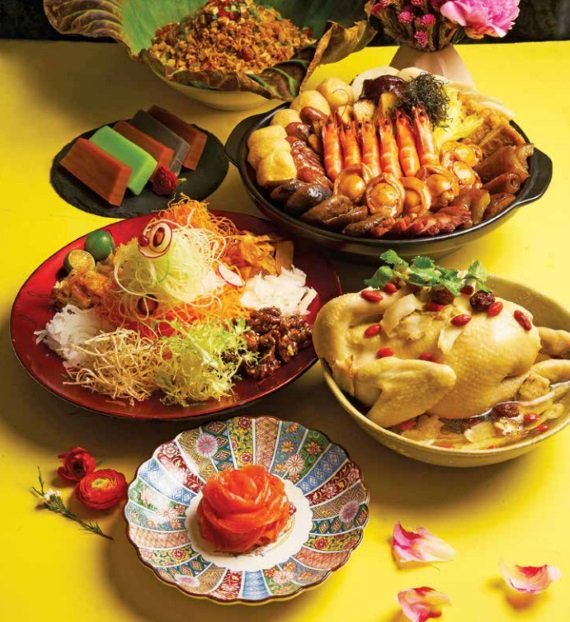 Tung Lok's Take-Home Feast assembles a delectable feast for Lunar New Year dining at home. (Photo: Company)
The Tung Lok Group now owns, manages and franchises more than 40 restaurants across Singapore, Indonesia, China, Japan and Vietnam. The Group pioneered and eventually re-engineered the concept of contemporary Chinese cuisine, which is now dubbed Global Chinese.

The choice of "Tung Lok" (同乐) as a brand is significant. "It means being happy together, and we are in the business of selling happiness," Tjioe said. "We need to make sure our customers are happy – only then, shall we be happy."

The Group, which listed on the Singapore Exchange in March 2001, has averaged revenues of about S$80 million over the last 10 financial years. It reported three consecutive annual net losses between FY2007 and FY2009, before returning to the black with S$574,000 in net profit for the year ended 31 March, 2015.

Our Word, Our Bond

Apart from culinary know-how, Tjioe also inherited strict core values from his father, who passed away last year at the age of 86.

"My dad was very upright. Anything that was not in line with his scholarly upbringing was frowned upon," said the Business Administration graduate from Oklahoma State University.

"For example, gambling is a big no-no. And our word is our bond – whatever we promise, we must deliver."

As a result, Tjioe doesn't believe in cutting corners, such as compromising quality for better margins.


"Restaurateurs must have a conscience."
- Andrew Tjioe
Executive Chairman
Tung Lok Restaurants (2000)
"Restaurateurs must have a conscience," he said.

"It's not in my blood to search for the cheapest ingredients to achieve a high profit margin. I would rather use quality ingredients, sell at a slightly higher price, and try to convince the customer of its value."

That strategy, however, doesn't always succeed, he admitted. "The market is always chasing after something cheaper. The question is, what do you get for that price?"


♦ Discriminating Taste Buds
Tjioe's sons, aged 16 and 13, whom he calls his taste-testers, are expected to be equally discerning.

"My kids have been brought up not to eat junk food, and to know what they are putting into their mouths – after all, you are what you eat," he said.

His children's opinions of the menu – whether in a Tung Lok or non-Tung Lok eatery – are useful reference points. "Their taste buds have been trained from young. If they like the dish, chances are, other customers will also like it," he added.

Chinese fare, however, is facing an unprecedented onslaught from Japanese, Korean and Western cuisines, said Tjioe.

"Nowadays, you might find only one Chinese restaurant among 15 new outlets that open. Personally, I think it's time for Chinese food to make a comeback."


Tung Lok

Stock Price

10c

Market Cap

S$27.4m

52-week High Low

8.5c-11.7c

Price/Book

1.7

PE

27.8

Source: SGX StockFacts
(data as of 28 Dec 2016)
The food and beverage business, often seen as "sexy", has enticed many amateurs to set up shop. But these establishments go belly up almost as quickly as they open, stymied by lack of experience and industry knowledge.

Basically, you need to do your homework, Tjioe said.

"Singapore offers a multitude of dining concepts and a potpourri of global cuisines. If you want to open a restaurant, you need to be well-informed, well-exposed, and understand what your customers want."

Tjioe, who was named Ernst & Young's Entrepreneur of the Year in September 2011, spends a few months every year traipsing from Japan to Spain, China and Australia, sampling new dishes to get inspiration for menus at home.

He also clinched the regional Restaurateur of the Year title at the World Gourmet Summit Awards of Excellence four years ago.
Rebrand, Refocus
Apart from research, knowing when to cut your losses is important. The Group has not shied away from shutting non-performing outlets, he said.

Tung Lok closed two of four Lao Beijing branches, due in part to the labour crunch in the F&B sector. Noodle Stories, which served traditional comfort food with a modern, flavourful twist, was also shuttered within a year of operations, and replaced by Dancing Crab.

Dancing Crab, a successful rebranding of the former Modern Asian Diner (MAD), serves Louisiana-style, Cajun seafood. It has since expanded with three restaurants in Singapore, and another two in both Japan and Indonesia.

The restaurant bagged The Food Journal's awards for Best Dining Experience and Best in Fuss-Free Seafood last year, and recently, the coveted Promising Franchisor of the Year 2015.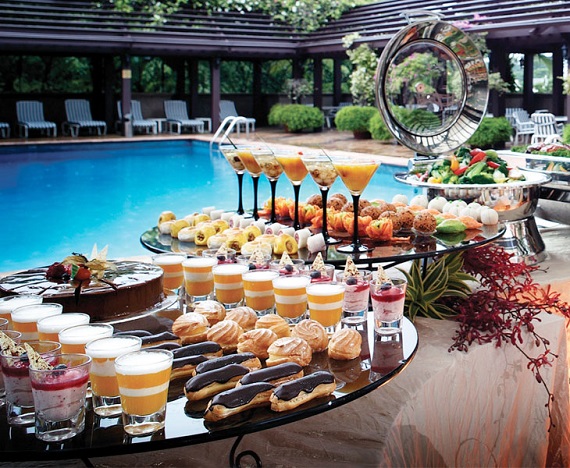 Revenue for 1HFY2017 was lifted mainly due to an increase in catering sales. (Photo: Company)

"MAD was the original concept, but it didn't work, while Dancing Crab became a hit. It's like a game of darts – sometimes you hit, sometimes you miss," Tjioe said. As a testimony to Tung Lok's foothold in the local dining scene, the group clinched nine accolades in the Restaurant Association of Singapore (RAS) Epicurean Star Awards this year.

Tong Le Private Dining was named Best Chinese Fine Dining for two years in a row, while Dancing Crab and Tung Lok Signatures won the Best Western Chain Restaurant and Best Chinese Chain Restaurant titles respectively.

Having a focused strategy is also critical, Tjioe said.

"We target the millennials, who account for 60% of spenders. They eat out and entertain a lot, but spend little each time. That's why many casual dining outlets have sprouted up in Singapore, and most of our new restaurants are casual."

Lokkee is a prime example. It serves American-style Chinese food, a concept popularised in London, Australia and the US. The playful juxtaposition of east and west dominates both the décor and food – Chinese brush paintings of Star Wars AT-AT walkers adorn the walls, while the menu entices with Poké Salad, Chow Mien, Mongolian Beef, Orange Chicken and London Duck.

These dishes encompass the range of tastes that millennials go for, Tjioe said.

In particular, Poké – diced salmon and tuna sashimi served with house sauce in a tortilla bowl – is a Hawaiian- and Japanese-inspired dish that resonates with the Gen-Y, most of whom have studied or lived abroad.

Adapt and Evolve

Smaller, cosier dining concepts with good music are also all the rage.

"Twenty years ago, the first Tung Lok restaurant was 8,000 square feet in size. Subsequent outlets were larger – 13,000 or even 16,000 square feet. I used to tell my property agent, 'Don't come to me for anything smaller than 8,000 square feet'," he said.

"Now, I tell him, 'Don't look for anything bigger than 4,000 square feet' – that's the difference."

Keep a lid on construction costs, and major on the décor.

"Customer preferences keep changing, and the millennials do not stick to one place. So if you limit construction spending, and perform minor renovations every two years, your return on investment will not be stretched out," he added.



Customer preferences keep changing, and the millennials do not stick to one place. So if you limit construction spending, and perform minor renovations every two years, your return on investment will not be stretched out.


- Andrew Tjioe
Executive Chairman
Tung Lok Restaurants (2000)

The Group has adopted a "manpower-lean" concept amidst the industry's ongoing staffing crunch. Tung Lok uses two central kitchens – both about 15,000 square feet in size, and one Halal-certified – to prepare its meats, sauces and stock.

It has also invested in state-of-the-art machines and robotics, which can auto-cook a variety of quality dishes for its catering operations.

While the Group's catering business currently accounts for less than 10% of total revenues, this segment has expanded by 30% year-on-year over the last two years, Tjioe said.

Essentially, the key to survival is agility – knowing when to re-engineer in line with changing trends, he added.

"We have been evolving all along. We would not have survived the past 30 years and still be making waves otherwise. Many restaurateurs of my generation have disappeared, and are already forgotten."
Financial results
Year ended 31 March
(S$ 000)

FY2016

FY2015

FY2014

FY2013

Revenue

86,065

84,985

77,921

81,545

Profit/loss before tax and share from JV & associates

14

-1,733

-10,287

-4,515

Profit/loss attributable to shareholders

611

574

-6,777

-3169
Half year ended 30 Sep
(S$ 000)

1H2017

1H2016

% Change

Revenue

39,728

38,846

2.3

Profit/loss before tax

-1,625

-2,148

N.M.

Profit/ loss attributable to shareholders

-989

-1,376

N.M.
---

Outlook & Risks

---

The challenging operating environment for the food and beverage industry is likely to persist.

Stiff competition, escalating business and manpower costs, coupled with tight manpower supply will continue to exert pressure on the Group's performance.

In response to the challenges and weaker consumer sentiment, the Group will remain focused on cost controls, as well as improving operational efficiency and productivity.

Tung Lok Restaurants (2000)
Tung Lok Restaurants owns and manages restaurants in Singapore, Indonesia, Vietnam, Japan and the People's Republic of China. The company also operates cafeterias and offers central kitchen support function services, as well as engages in catering and franchise businesses. As of March 31, 2015, it runs 45 outlets.

The company website is: www.tunglok.com

Click here for the company's StockFacts page.


For its results for 1HFY2017 ended 30 Sep 2016, click here.