S$2.2 m
(grant from SPRING SINGAPORE)
Trendlines Group today said that its newly set-up incubator programme in Singapore will receive a grant of up to S$2.2 million from the "Incubator Development Program" administered by SPRING Singapore, the enterprise development agency under the Singapore Ministry of Trade & Industry.

The funds will support up to 70% of the qualifying expenditures incurred during the 3-year qualifying period in connection with the operating activities of Trendlines Medical Singapore, the focus of which is to develop and nurture early-stage medical technology companies.


Since its IPO in Dec 2015, Trendlines has attracted more partners and investors. Trendlines has actively reached out to them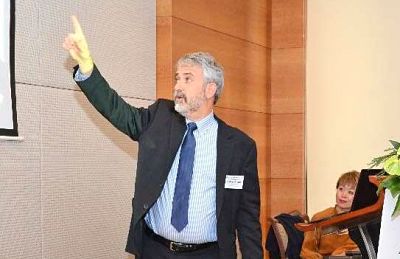 Steve Rhodes, co-chairman of Trendlines, presenting to investors in China.
Photo: CompanyIn a recent development, in Dec 2016, Trendlines took eight of its portfolio companies on a road show in China, just five months after a similar road show in China in July.

With its large number of deep-pocketed investors, China, clearly, is a magnet for Trendlines.
Trendlines China Road Show presenters and staff in Beijing, China, on 18 Dec 2016 (front row, l to r): Andi Chai (Trendlines Medical), Todd Dollinger (Trendlines), Moshe Katzenelson (Trendlines), Yosi Hazan (sZone), Assaf Livne (LapSpace Medical), Nissim Chen (AquiNovo).
Back row (l to r): Igal Magen (BioFishency), Eddy Wang (Trendlines), Noam Hassidov (Tandem Technologies), Sarai Kemp (Trendlines), Ran Oren (Arcuro Medical), Shai Ufaz (ViAqua Therapeutics). Photo: Company

Just before the roadshow, Trendlines announced the outline of a plan to establish a venture capital fund with China's Shoushan Wealth Holdings.


US$30 m
(VC fund -- Shoushan Wealth and Trendlines)
The fund, for which US$30 million is targeted to be raised, will invest in portfolio companies in the field of medical technologies. About 40% will go to selected portfolio companies of Trendlines.

Trendlines, as the general partner, will hold 51% of the fund and Shoushan, 49%.

The fund will make equity and equity-related investments in Israeli, Israeli-related, Singaporean and other Asian-related companies with innovative medical technologies.

The emphasis is on companies which are planning to launch commercialization and marketing activities of their products and services, and whose business model considers entry into the Chinese market.


Shoushan is the latest among a number of investors that are attracted, since Trendlines' IPO in Dec 2015, to Trendlines and its portfolio companies:
US$10 m
(investment by Bayer in fund managed by Trendlines)
♦ Bayer (a global enterprise with core competencies in the health care and agriculture) and Trendlines have established the
Bayer Trendlines Ag Innovation Fund
to invest in agricultural technologies. Bayer has put down US$10 million in the fund managed by Trendlines.
US$2.8 m & €1 m
(investment by B. Braun in 2 Trendlines portfolio companies)
♦
German medical device company B. Braun Melsungen AG invested €1 m in Trendlines portfolio company Gordian Surgical and US$2.8m in ApiFix.
♦
B. Braun Singapore is a 20% investor in newly-created Trendlines Medical Singapore incubator. PrimePartners Corporate Finance Holdings holds 3.57% while Trendlines, 76.43%.

For more on the Trendlines roadshow in China, click here.