Turbulent though the year has been, our nasi lemak portfolio ended 2016 tasting better than ever with a 71.8% gain on average for 17 stock picks.
No. of stock picks:
17
Gainers: 11
Losers: 6
Average $ gain: + 71.8%

The portfolio, for those who are new to this, was initially cobbled together after a meal of nasi lemak in MacPherson by six investors.

There was no major pow-wow -- just each investor throwing out a name or two along with a brief elevator pitch.

Since then, the portfolio, which began life in Aug 2015, has seen several stock purchases and sales along the way. It looks as follows now: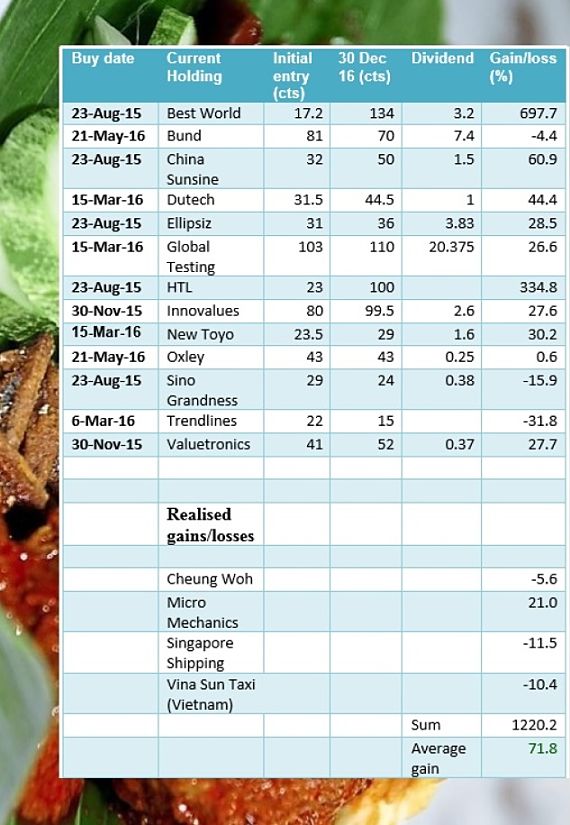 Notes: Data adjusted for bonus issues, where applicable.
Dividends are cumulative from the time the stock picks were made.
For simplicity, the portfolio's average gain of 71.8 % is based on each stock's current price (or realised price) and initial entry price, and dividends received, if any. That is, each stock has equal weightage in the portfolio and the stock's holding period is not a factor in calculating the gain/loss.

Out of the 17 stock picks, 11 has made gains. That's a 65% hit rate.

There were outsized individual gainers without corresponding outsized losses.

The portfolio gain is far and away superior to the Straits Times Index, which closed 2 points lower than at the start of this year. Add in, say, 3 percentage points for dividends, and the index was up 3% for the year.

Which goes to show that there are gems in the market (particularly small caps) that individual investors can suss out and obtain good returns from. But we are not saying it is easy.


♦
Super stocks with triple-digit percentage gains
» Best World International: This direct-selling company has chalked up gains of a size rarely seen on SGX. It became a market darling on strong earnings in FY15 and 9M of this year. The prospects are expected to be even better as it has just launched its direct-selling business in China (for more, see: BEST WORLD: At inflexion point as China direct-selling market opens up )

» HTL International: This leather sofa manufacturer was a hefty gainer in the run-up to being taken over by Chinese company Yihua Timber in Sept 2016.
What's new to the portfolio? Investor-participants made two additions in the last couple of days: ASL Marine (12.5 cents) and AEM Holdings (83 cents).

ASL Marine stock has sunk deeply since early 2014 (when it traded above 70 cents), and potentially could be a recovery play, according to the investor who picked it. (For insights into its challenges and situation, see its Powerpoint presentation for its consent solicitation excerise involving its noteholders).

AEM Holdings is already a recovery play and, to the investor who picked it, there is much upside for AEM's equipment business sales to Intel. (For more, see AEM: Fast-growing; Trailing 12 months profit is highest in more than 10 years).

We are locking in gains on two stocks, Valuetronics and Global Testing. The rest of the portfolio stays -- ie, Best World, Bund Centre, China Sunsine, Dutech, Ellipsiz, Innovalues, New Toyo, Oxley Holdings, Sino Grandness and Trendlines.

We will update the performance of the portfolio several months from now. Wish us well....

Cautionary note: The portfolio reflects the diverse investment interests and perspectives of 7 investors, each of whom has other stocks not revealed in this article. The point is, these investors' risk profiles and investment objectives are not fully known and may differ from yours.