TIME FOR an update on the Nasi Lemak Portfolio, as promised in our previous article (Nasi Lemak Portfolio: Will it turn out spicy and nice?)

To recap, six investors, after a hearty meal of nasi lemak and mee rebus somewhere in MacPherson, responded to a spontaneous question by one of them: "What is your best stock idea(s) currently?"

Thus the Nasi Lemak Portfolio came into being. Now, let's see how the stocks have done: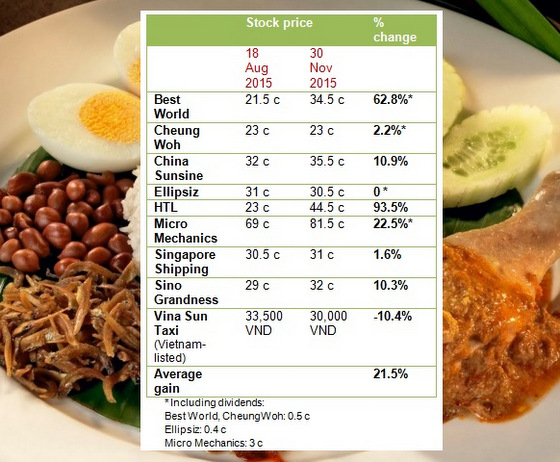 The portfolio earned an average of 21.5% -- wow! -- beating by a mile the STI which suffered a 6% loss over the same period. The portfolio outdid the STI by 27.5 percentage points!

The spiciest performer was HTL International, which the picker had persuaded us had been grossly undervalued for too long.



HTL share price has rocketed on news that a Chinese listco is interested in making a general offer for the company. Chart: FT.com
It took a Chinese listed company to signal that HTL was indeed worth a lot more than its market price then.

In late October, HTL said its controlling shareholder had entered into a MOU with Guangdong Yihua Timber Industry Co. "which may be assets/shares related, aimed at realising value for all shareholders" of HTL.

That's vague. But the stock price shot up from 22 cents to 47.5 cents the next day. It recently traded just below that level. There was an announcement on Nov 18 that the Chinese company "may possibly acquire all the shares" of HTL.


DR's Secret skincare range is among the best-selling in Best World's stable of products. Photo: CompanyAnother solid gainer in the Nasi Lemak Portfolio was Best World International, which has risen 62.8%.

Its solid 3Q profit ($4 million, up 259% y-o-y) was probably the catalyst for the run-up on rising volume. There is also an anticipation that the company is close to being granted a direct-selling licence in China. The company had applied for this some time back.

The other stocks in the portfolio (except two) have chalked up varying gains but their turn to win the market's fuller recognition could come, sooner or later.

Of course, it's not a sure thing, so do your own research and be mindful of risk management.

Most assuredly, some, if not all, of the Nasi Lemak Portfolio stocks weigh heavily in the respective stock pickers' real-life portfolios.

Stay tuned for the next update on the portfolio performance at the end of Feb 2016.

(Meantime, one of our stock pickers is taking Vinasun Taxi off because Uber has entered Vietnam and posed stiff competition to traditional taxi businesses there. And, an additional stock picker is giving the portfolio new members -- Valuetronics @ 41 cents and Innovalues @ 74 cents).

Now, here's the HTL stock picker's generous sharing of the HTL story:

HTL's founders are in talks with Yihua (宜华木业)on the possible sale of 100% of shares in HTL via a scheme of arrangement. The parties target to sign "the relevant conditional definitive transaction agreement(s)" by 5 Jan 2016.

Yihua is a listed company in China whose business is the manufacturing and selling of wooden furniture. Yihua owns about 5 million mu of forest assets in Africa and China and has 8 manufacturing plants capable of churning out 3 million sets of wooden furniture and 8 million sq m of wooden floor board per year. Its market cap is about USD5b before it suspended its shares in late August over possible acquisition of new businesses. Its mainly exports to the USA.

The controlling shareholder is a prominent businessman, Liu ShaoXi (刘绍喜). He was one of fifteen businessmen who accompanied Chinese President Xi Jinping when he visited the U.S.A in 2012. He has businesses in healthcare, property and furniture and has a net worth of over USD2b according to Forbes.

Yihua has a vision of creating an integrated furniture business which encompasses the entire value chain, from raw materials, manufacturing, retail, online retail, consumer financing, distribution logistics etc. Last year, it acquired about 15% of Haier, a home electronics company with extensive distribution capabilities, and 18% of Meilele, a leading online furniture retail shop formerly invested in by a subsidiary of Temasek Holdings.


Photo: Company
Why acquire HTL?


1. HTL has since 2014 started to invest in a retail presence (both online and physical retail stores) in China. So far this is loss-making, but it would make perfect sense to combine it with Yihua and Meilele to achieve economies of scale. Both to drive sales and reduce distribution cost in China. This would fit in with the overall vision of Yihua.

2. Yihua's customer base is in US while HTL's are mainly in Europe and other parts of Asia (excluding China). How much would such a distribution network (customer names, logistics and transportation capabilities) be worth? The most valuable part of HTL is actually this distribution network which has been built up over many years. HTL has the ability to deliver made-to-order sofa directly from its China plants to the doorstep of the end customer in Europe.

3. Cost savings to HTL and new sales to Yihua as they can sell wood to HTL for the sofa manufacturing. Currently, HTL imports from USA, Russia etc.

4. The core business of HTL (sofa business unit) is becoming more profitable. Raw material prices (leather hides) have taken a tumble since end of last year. In the latest 3Q15 results announcement, the sofa business unit's 3Q15 net profit was about USD4.5m (or USD18m annualised), improving from USD2.4m in 1Q15 and USD1.4m in 2Q15.

What is HTL's worth to Yihua if the above 4 factors are valid? This is the question that all who have a vested interest hope to have an answer for.

Currently, HTL is trading at 45 cents, reflecting market expectations that the offer price of a loss-making company should not be too far from its book value (41 US cents or 57 S$ cents as at 3Q15).

Note: The above portfolio reflects the diverse investment interests and perspectives of 7 investors and are not a recommendation for investment by any reader. Your risk profile and investment objectives could differ, and are likely to differ.