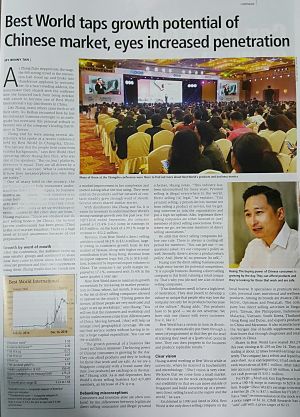 Best World aims to be among the top 20 direct-selling companies in China in 3-5 years. To achieve this, Maybank KE estimates that China would have to contribute RMB2 billion in revenue. China contributed about RMB210 million in 9M2016.Best World International is at an inflexion point, as it has just been awarded a licence to conduct direct selling in China. This comes on the heels of strong growth in Taiwan, its No.1 market.

The company's moves to scale up in China were featured in the Dec 19 edition of The Edge Singapore. Being a direct-seller, unlike conventional retail plays, Best World is not hampered by rental and staff costs as it expands.

In other words, it does not own retail outlets and its distributors are not employed as staff but are, instead, incentivised by sales commissions.

Here, we distill key figures and quotes from the report:

Best World traded at $1.26 yesterday for a trailing PE of 13 and a market cap of S$348 million. The 2016 PE is expected to end lower as 4Q is usually the strongest quarter for Best World.


→ The makeup of Chinese distributors:
"You can see that the people here come from various backgrounds. On our platform, everyone is equal. They are all driven by a strong will to succeed."



-- Best World executive director Huang Ban Chin

(photo)




"Since we obtained our direct selling licence in China, the turnout at our conferences has been great. This is the real market situation. There is a high level of brand awareness because of our preparation.

"All these people are very motivated and eager to set up workshops. You will see that the customers and workshop and service outlet owners come from different parts of China. This will help us enlarge our geographical coverage. We can tap their service outlets without having to incur huge capital expenditure. You can see the scalability."




"The growth potential of a business like ours in China is immense. The buying power of Chinese consumers is growing by the day. They can afford products and they're looking for those that work and are safe. As we are a Singapore company with a brand name they trust, our products are catching on in the market.

"Our products have to be good -- we do not advertise. We have only one chance with every customer. Use it, like it."



→ Financials:
9M2016 results



• Revenue: S$138.9 m
(+128.8% y-o-y)

• Net profit: S$22.3 m
(+248.4% y-o-y)

• Net profit margin: 16%


•

Net cash (end-Sept 2016): S$30.1 m

• Recent share price: $1.26



•

Target prices:
Maybank Kim Eng: $2.16


CIMB: $2.21