The Business Times today published its "10 Stocks to Watch" in 2023, among which are Geo Energy and Best World. Here's what BT said:


Geo Energy Resources
Coal miner Geo Energy Resources is standing its ground, with chief executive Tung Kum Hon saying it will not follow in the footsteps of competitor Golden Energy and Resources in exiting the coal sector.

Today, more investors and banks are scrutinising environmental, social and governance factors. This means coal miners such as Geo Energy might find themselves in a difficult position to secure funding or make new investments.

Geo Energy, however, is debt free. The company had US$214.7 million in cash at end-September, which might come in handy for acquisitions at a time when the valuations of coal assets are down.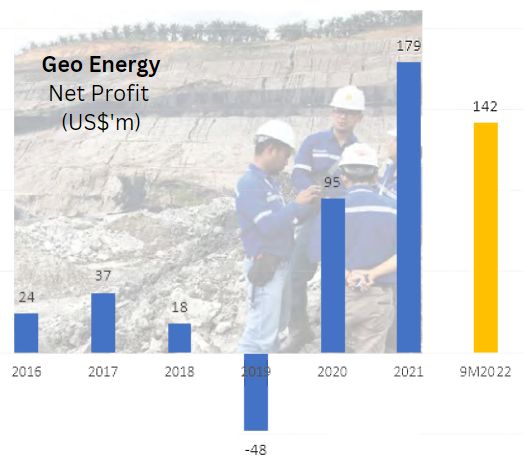 Coal prices have been hovering at elevated levels, offering attractive margins for companies that know how to keep their costs under control and capitalise on operational efficiencies. Geo Energy might surprise investors, even as its competitors exit the industry.
Best World
Best World resumed trading on Nov 14, 2022 after a 3.5-year suspension. Shares of the beauty products distributor had been suspended amid regulatory concerns about its business model in China. On resuming trading, the counter surged 33.8 per cent to close at S$1.82.

It has remained near those levels. Best World's valuations appear undemanding, at about six times earnings – lower than the average in the past decade – and 1.7 times its book value. It has no debt, and the company has also been buying back shares.



The company has obtained legal opinions citing minimal risks that its current model will contravene Chinese regulations, but it has also noted that any changes in China's policies or regulations may have "wide-ranging implications and cast long-lasting impact for the group's business performance".

How investors weigh Best World's valuations and risks will be something to watch for in 2023.

The BT full-page article featuring the other 8 picks -- Sembmarine, UOB, SIA, Mpact, SingPost, SATS, AEM Holdings and UG Healthcare -- is here.