I felt a thrill when I recognised it as belonging to Singapore-listed Hotel Grand Central Limited -- mainly because I hold a small number (just under 20,000) of its shares.

The listco owns 13 hotels in five countries. It also has five associated hotels in Malaysia and three investment properties in Australia and New Zealand.

During my recent holiday in Tasmania, our tour group checked into Hotel Grand Chancellor Launceston. I have held the shares for nearly four years, during which time I have not paid much heed to the price movement nor Hotel Grand Central's business performance.

My "buy-and-forget" approach stems from my view that this is a relatively stable business, and I expect it to reliably yield a decent return under a seasoned management (the company listed on SGX in 1978).

I have just discovered that my expectations have been met, as reflected by recent developments of the company (below).

I reckon the business outlook is challenging, though: Airbnb and its peers will increasingly exert competitive pressure on hotel operators everywhere (see stories such as The Airbnb effect: tourists shun hotels for private stays).


1. In 9M2016, Hotel Grand Central achieved S$39.4 million in net earnings, boosted by a S$28.1 million gain from the sale of a hotel in Gold Coast.

Its 9M2015 earnings (S$80.5 million) was enlarged also by one-off gains from the sale of assets.


Stock price

$1.345

52-week range

$1.12 - $1.395

Market cap

$892 m

PE (ttm)

20

Dividend yield

3.72%

NAV

$1.95

Data: Company, Bloomberg
2. Revenue was up 18% in 9M2016 to S$104.5 million, thanks to contributions by the redeveloped Hotel Chancellor @ Orchard and Hotel Grand Central which soft-opened in May and October 2015, respectively.

3. The 79-year-old chairman-cum-MD's deemed interest in Hotel Grand Central has been rising. It now stands at 409,118,833 shares, or a 61.703% stake.

The most recent change in Tan Eng Teong's interest took place from early June through early Aug 2016, when it rose by 250,500 shares.

4. Hotel Grand Central has been a reliable deliverer of dividends. For example, for FY11, 12, and 13, it paid out 5 cents a share. It gave shareholders the option to receive the dividends in cash or in scrip (at a certain discount to the market price).

In FY14, it paid out 10 cents a share (with a scrip option) before reverting to 5 cents a share (in cash only) for FY15.

5. The share price has done well, delivering a nearly 100% return over the past five years. Add the 30 cents a share in dividends ....and, not forgetting, a pleasant one night's stay in its Launceston asset.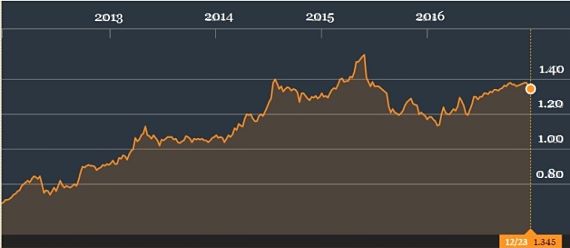 From 69 cents on 23 Dec 2011 to $1.345 currently, Hotel Grand Central has delivered capital gains of nearly 100%. In that period, the dividends totalled 30 cents a share. Thus, total shareholder return: 138%.
Chart: Bloomberg
See past stories by various shareholders: