Event:

Riverstone 3Q2016 briefing


Date:

Thu, 10 Nov 2016


Time:

10am


Venue:

House of Eden
Riverstone Holdings has posted a 3Q2016 revenue growth of 10.9% year-on-year to RM167.0 million, boosted by increased demand in the U.S. and Japanese markets for its premium healthcare and cleanroom gloves.

However, lower forex gains during the quarter contributed to a 15.6% yoy decline in net profit to RM29.8 million.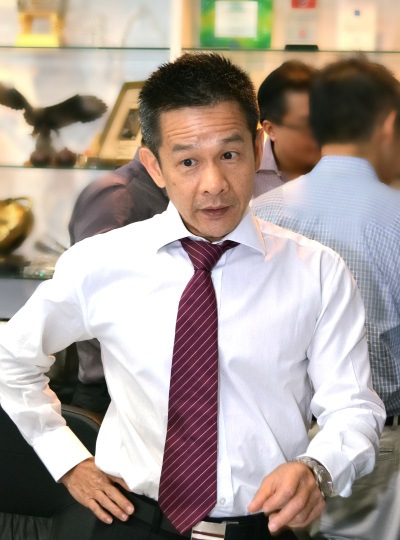 "There is a backlog of glove orders from the healthcare sector. The problem is, the industry structure is resistant to price increases."


- Wong Teek Son
Executive Chairman
(Photo by Sim Kih)
At its results briefing, Executive Chairman Wong Teek Son said that he expects the Group's 4Q performance to better 3Q because of new customers.

"We are seeing greater acceptance of cleanroom gloves from automotive parts manufacturers and pharmaceutical companies," he said.

The Group has already received orders to fill capacity for phase 3 of its capacity expansion.

Phase 3 will add another billion of annual glove production capacity and lift its total capacity to 6.2 billion gloves by the end of this year.

Its capacity utilization under phases of 1 and 2 remains healthy, in excess of 90%. It has also commenced phase 4 of its expansion plan, which will further lift its capacity to 7.2 billion gloves a year by the end of December 2017.

Highlights for 3Q2016:
Gross profit margin recovered to 26.1% (2Q2016: 24.4%).
Strong positive operating cash flow of RM34.3 million.
Strong net cash position of RM110.1 million.
Capacity expansion for phase 3 on track for completion by year-end.
For more information, refer to its 9M2016 financial statements here.

Below is a summary of the questions raised at the meeting, and the replies provided by Mr Wong and CFO Tan Wang Thing.


Q: How many of your production lines for phase 3 have commenced operation?

Six production lines will be operational by the end of this month. We are still resolving issues related to electricity, water, and labor supply.

The Malaysia government recently changed its guidelines on the employment of foreign workers and this policy remains unclear. We are not able to operate at full capacity because of labor shortage issues on Saturdays and Sundays.

Our revenue would have increased by a greater amount if not for this bottleneck.


Stock price

90c

52-week range

86.5c - S$1.30

Market cap

S$674.4 million

PE (ttm)

16.43x

Dividend yield

2.45%

Source: Bloomberg
Q: Will your labor shortage problems increase with phase 4 of your production expansion?

70% of our factories are staffed by locals and another 30% by foreign workers. Currently, we have hostel facilities only for foreign workers.

Some of our local workers stay quite far away from our factory. They may travel for two hours to-and-fro from home to our factory. If there is a traffic jam, they may have to spend 3 hours on the road in one day.

We are constructing a hostel to cater to our local workers so that they too have a convenient place of accommodation. The hostel will be ready next year. It is equipped with amenities such as a cafe, entertainment facilities, and a convenience store within its compound.

Not only will our new hostel lower the rate of absenteeism, it will also enable us to recruit workers from other states such as Kelantan or Terengganu.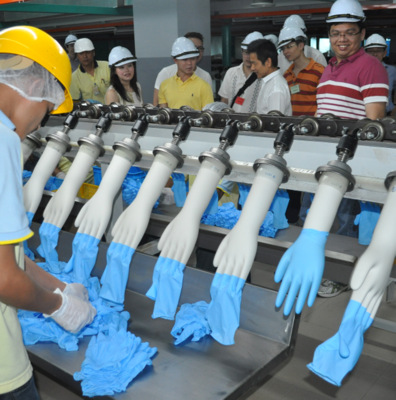 Gloves being stripped off a production line at Riverstone's factory in Taiping, Perak.
(NextInsight file photo)
Q: How much further can you mechanize your production process?

Customers are demanding neatly stacked gloves. Also, gloves that are stacked can be directly packed, and that will cut down manual labor.

We need as many as 6 to 8 workers per line to strip gloves from molds, and to manually stack them. This is a critical process that we have tried many machines for. We have yet to find a suitable machine. We are still trying.

Q: Why is there pricing pressure when there is an order backlog from the healthcare sector?

It is difficult to pass on increases in prices of gas and labor to customers. Even with increases in prices of raw materials, it is difficult to pass on 100% our cost increase.

The reason is: Distributors who supply to hospitals would have locked in their selling price for a few years. The second source of pricing pressure comes from new entrants to the glove manufacturing business. Glove distributors are usually risk-averse to trying out new manufacturers unless they offer a significant discount.