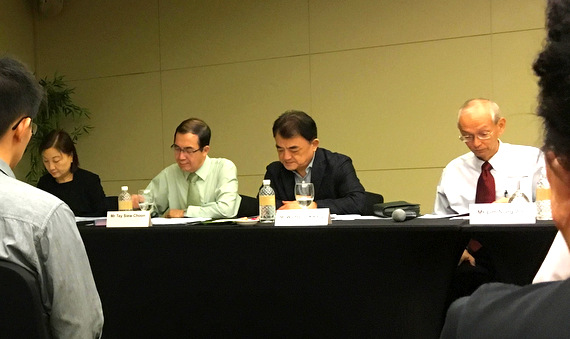 L-R: Lotus Isabella Lim (company secretary) | Tay Siew Choon (independent director) | Wu Hsioh Kwang (executive chairman) | Lim Song Joo (independent director)


Time & date: 10 am, 29 April 2016.
Venue: Amara Singapore.


Photos by Kenny Chia

STRACO'S AGM was attended by many happy shareholders who applauded the management for producing record profits as well as successfully turning around the Singapore Flyer. Here are some of the Q&As during the AGM:

Question 1: What is the average utilization rate of the Singapore Flyer? Are there initiatives to boost the utilization rates?

Management shared that the occupancy rate of the retail space at the Singapore Flyer was around 70% last year, and that there are plans to spend S$20-30m over the next 2-3 years to revamp the Flyer, including increasing the F&B space and reducing the retail space.


Question 2: Why has there not been a ticket price increase in the tourism assets in China?
CFO shared that any ticket price increase would not go well given the current economic environment. Management also mentioned that they want to align themselves with the Government before doing any price hikes.


Question 3: Referring to Page 84 of the 2015 Annual Report, why is management issuing so many stock options? Wouldn't the dilution be significant?

Management replied that the issuing of stock options is cumulative and Straco has actually been buying back shares consistently so there's no dilution. Management felt that giving options is better than giving stock because it requires the holder to come up with money from their own pockets.


Question 4: When is the grand vision for Singapore Flyer 2.0?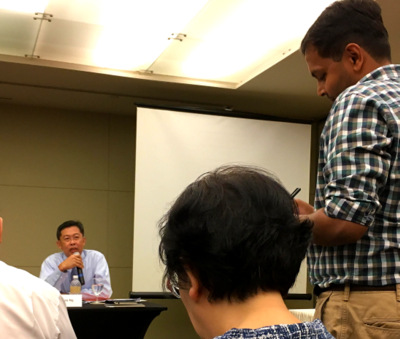 CFO Amos Ng takes a shareholder's question.CFO shared that they already have a pre-concept approval and work should begin in 2016. It should not take more than 24 months and whatever they do, the wheel must not stop spinning.

Question 5: Is management confident of further growth of Straco?

Management expects ticket price revision for its aquariums only after 2016 and doesn't expect any macro trend reversal. Management also felt that the current asset utilization rates could be improved from the current 30% to 35-50%.


A JV which is 90% owned by Straco bought the Singapore Flyer in Nov 2014 for S$140 m, and has turned it profitable. Photo: Company
Question 6: What is the Chairman's vision of the Singapore Flyer? How did you start?

Chairman shared that he loved tourism as it combines his passion for history, philosophy, architecture, and economics. He shared that our lives are too short to do many great things so it was better to focus on doing one thing great, and he chose tourism.

Chairman mentioned that the management fought long and hard for the tender of the Singapore Flyer. While many doubted that the Singapore Flyer could be profitable, Straco proved to everyone that it could be done after acquiring it in late 2014.

Chairman shared that Singapore Flyer 2.0 will represent Singapore's heritage, and not just let out space to MNCs. Chairman also pointed out that he is not in a rush to revamp the asset until it benefits society. It will take abit longer but Chairman feels that it will be worth the wait.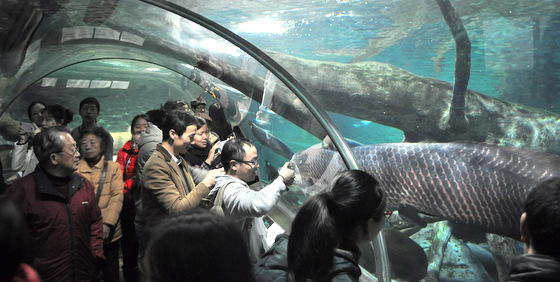 @ Shanghai Ocean Aquarium. NextInsight file photo.

@ Shanghai Disney theme park: Welcoming thousands of people during trial runs. Photo: Xinhua
Qestion 7: How will the opening of Shanghai Disneyland affect the Shanghai Ocean Aquarium?

Management believes that the opening will be net positive for the SOA as tourists are unlikely to visit one attraction within an area and leave for home afterwards.

Conclusion

While there seems to be a lack of near term share price catalysts, it seems that the long-term prospects of Straco remain bright.

This article is republished from www.thelittlesnowball.com with permission.