Excerpts from analyst's report

UOB Kay Hian analyst: Loke Chunying

Weighing The Risks And Rewards

INVESTMENT HIGHLIGHTS

• Increased crackdown on unauthorised dormitories…From Dec 14-Mar 15, the Singapore Civil Defence Force cracked down on 68 unauthorised dormitories that either failed to meet fire safety standards or were illegal. This came on the back of two fire accidents at Geylang in Dec 14 and Apr 15 that killed six foreign workers.

• …and freeze on temporary dorms in 12 estates… To recall, URA issued a circular in Nov 14, stating that it will no longer allow new temporary dormitories to be built in 12 industrial estates, due to the "significant strain on existing infrastructure".

• …May see increased demand for purpose-built dormitories. Based on land tenders, about 100,000 new dormitory beds are expected to enter the local market from 2H14 to 2016. However, we believe the severe crackdown on unauthorised dormitories and freezing of temporary factory-converted dormitories will help boost demand for purpose-built accommodation and absorb part of the incoming supply.

• Tuas: The baby of uncertainty. While the lease of Westlite Tuas is expected to expire in 2017, we believe it will be extended for at least 5-6 years as the construction of the Tuas mega port is underway. Being the current owner/operator of the dormitory, we believe Centurion will be the strongest contender should the dormitory be retendered. However profit contribution from Westlite Tuas will likely to be affected from 2017 regardless, as current renewal rates (from authorities such as BCA and JTC) are unlikely to be as attractive as they were nine years ago.

• We raise our net profit forecast for 2015 and 2016 by 6-8% as we had previously factored in more conservative rental rates and margins for the local dormitories. Dormitories at Toh Guan and Mandai continue to operate at near full occupancy with rental rates having been sustained at S$280-300/bed per month. Occupancy rates at Tuas are also in excess of 90%, although rental rates have softened slightly.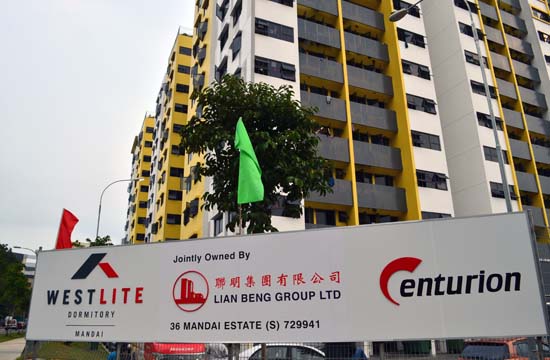 Westlite Mandai: A 6,300-bed workers' dormitory 55% owned by Lian Beng Group and 45% owned by Centurion Corp. NextInsight file photo

• Our view.The influx of the supply of new beds is balanced by the increased push from the government towards purpose-built dormitories through more inspections and the freeze on temporary dorms supply in industrial estates.

While Westlite Tuas remains a source of uncertainty in the near-term, Centurion has prepared itself for the inevitable through investments in new dormitories at Woodlands and Jalan Papan which will come on stream by 2015 and 2016. Centurion is ultimately still a business with high recurring earnings and strong cashflow generation that is backed by a highly sought-after property asset class.

VALUATION

• Maintain BUY,but with a slightly lower target price of S$0.725, as we factor in the lower profit contribution from Tuas from 2017 with an assumption that the lease will be renewed for another six years from 2017 to 2022.
Full report here.