Page 1 of 2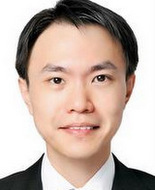 This article was recently published on Ernest Lim's (left) blog and is republished with permission.
SINCE MY my introductory writeup on ISOTeam dated 17 Jan 2014 (see article),ISOTeam has soared 51% from $0.390 on 17 Jan 2014 to $0.590 on 27 Feb 2015.

Inclusive of the dividend of S$0.01 / share payable on 14 Nov 2014, ISOTeam has appreciated a total of 55%.
Having jumped significantly in the course of 13 months, the next question which naturally comes to mind is whether ISOTeam is overvalued.

Let's take a look at the company's developments since my last writeup.
Record 1HFY15 results
ISOTeam released a sterling set of 1HFY15 results on 12 Feb 2015. 1HFY15 revenue and net profit rose 22% and 92% respectively to S$39.0m and S$4.1m respectively. Gross margins improved sharply from 16.8% in 1HFY14 to 22.1% in 1HFY15 due to a better profit margin of R&R completed projects. Management believes that gross margins are likely to stay around these levels in the near term. (See Table 1 below)





2HFY15 results likely stronger than 1HFY15
2H results contributed 55% - 65% for the past two financial years. In addition, ISOTeam has completed four acquisitions in Jan 2015 which are likely to post their maiden contributions to 2HFY15F results. According to UOB Kayhian, these four acquisitions have a total adjusted net profit of about S$1.5m/year at the time of acquisition.
Strong order books and positive outlook
As of 8 Jan 2015, ISOTeam has an order book of S$70.4m, to be progressively delivered over the next two years. It is currently the lowest tenderer for four other projects collectively worth a total of S$30.9m.
Positive outlook
Its outlook continues to be bright as there seems to be more projects to be awarded. For example, according to a Straits Time article dated 10 Jan 2015, the Ministry of National Development (MND) will set aside $20m to upgrade another 9 private estates under its Estate Upgrading Programme (EUP). EUP includes landscaping, construction of ramps for wheel chair uses and enhancing parks and playgrounds etc.
According to another Straits Time article dated 11 Sep 2014, the government will expand its neighbourhood renewal program ("NRP") to include HDB blocks built between 1990 and 1995. Previously, only HDB blocks built in and before 1989 are entitled for NRP. In other words, another 100,000 households in more than 1,300 blocks will benefit from the programme. There will also be more features included in the NRP such as block repainting and other repairs.

The above measures bode well for ISOTeam's business prospects.

Potential beneficiary of general election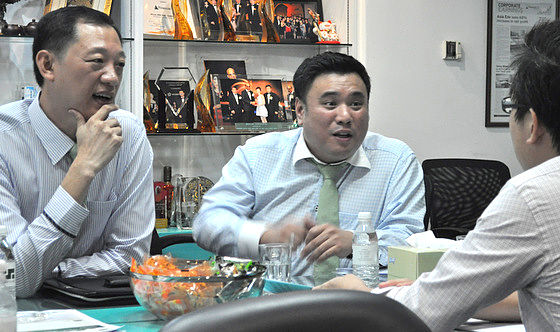 Anthony Koh (left), CEO of ISO Team, and the GM, Richard Chan, speaking with an analyst. NextInsight file photoMost market watchers are expecting Singapore's general election to be held in late 2015 or 1H2016. It is not unreasonable to assume that more of the aforementioned projects (i.e. NRP, EUP, upgrading of hawker centers etc) may be rolled out in the near term which should benefit ISOTeam to a certain extent.

A greater following & emergence of anchor shareholders

ISOTeam has come a long way since my first writeup in Jan 2014. Besides UOB Kayhian, it has since attracted DMG coverage. In addition, it has been featured more frequently in the media with the latest media release dated 23 Feb 2015 (See article)

Besides a greater following from the media and analysts, some reputable names have emerged as substantial shareholders of ISOTeam. For example, Nippon Paint (Singapore) has increased its stake from 2.6% to 5.9% in Dec 2014.

It is noteworthy that ISOTeam is the exclusive applicator for Nippon Paint (Singapore). (You may have read that Mr Goh Cheng Liang, founder of Nippon Paint South-East Asia Group (Nipsea), is Singapore's richest man with a US$8.2b fortune, ahead of Mr Wee Cho Yaw, second richest man in Singapore with a US$6.9b fortune.)

Besides Nippon Paint (Singapore), Singapore Tong Teik (Private) Limited, a natural rubber trading company founded in 1964 and based in Singapore, took a 6.4% stake in ISOTeam in May 2014. Readers who have followed the news on UE E&C, a construction / property developer, would be familiar with Singapore Tong Teik (Private) Limited which has acquired a significant stake in UE E&C.

Thus, its acquisition of a substantial stake in ISOTeam is likely to be in line with Singapore Tong Teik (Private) Limited's long term business interests.