Page 1 of 2
This article was first published on Tom K's blog, and is reproduced with permission

GLOBAL YELLOW PAGES reported net profit of S$3.1 million for the nine months period ended 31 December 2014, compared to S$5.2 million for the corresponding period last year. This is 39.4% lower.

I think this result will not cheer its investors, especially when the reduced profits arose due to lower revenue (S$21.1 million, a 8.8% y-o-y decrease) coupled with a higher expense of $21.4 million (3.9% higher y-o-y).

Global Yellow Pages' investment in Yamada Green Resources, a company which it holds almost a 20% stake in, as well as other companies, returned almost a similar figure of $1.8 million. There were other gains of S$2.1 million (S$0.4 million higher than corresponding period last year), which though helpful is just a small contribution to the bottom-line.

In Global Yellow Pages' latest financial results, the company's main business in advertising is not doing as well as its newer businesses - Singapore River Tour and Taxi services and ice-cream chain Wendy's in Australia and New Zealand.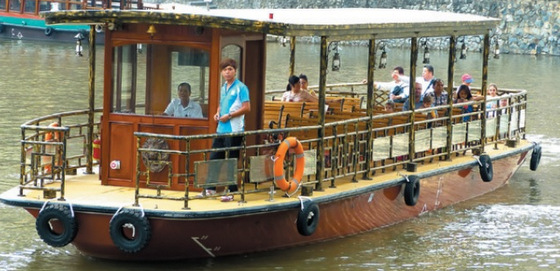 GYP's bumboat river tour services 13 landing points along its route, and passes major tourist attractions that include Clarke Quay, the Raffles Landing Site, the Merlion, Marina Bay Sands and the Singapore Flyer. Photo: Company



Hence, I am supporting the three strategies of growth for Global Yellow Pages, which are to:

a) continue to actively enhance its digital offerings (as noted from my analysis of the company's FY2014 annual report, this is one main business segment of the company which is doing well);

b) pursue opportunities to diversify its business into the food & beverage sector. The company has completed the acquisition of Wendy's in September 2014, a move deemed income accretive due to royalty fees from master franchisee Asia Food Retail Group Pte Ltd to the company to use or sub-licence the use of the intellectual property rights of Wendy's in Australia, New Zealand and other agreed territories; and

c) diversify its business into the property sector (Global Yellow Pages is proposing the acquisition of Pakuranga Plaza Limited which owns a similar name property in New Zealand.