Global Yellow Pages (GYP), after struggling to overcome the deterioration of its legacy business, looks poised to recover on the wings of a new core business – real estate ownership and development in New Zealand.

For decades, GYP was synonymous with its Yellow Pages directory business.

But that became disrupted by the Internet, and GYP stock crashed from a high of 90 cents in mid-2013 to 13 cents in early 2015.

Since then, it has been trading mainly in the 16-18 cent band with dwindling investor interest and trading volume.

GYP's real estate business -->
| | | | |
| --- | --- | --- | --- |
| Project | Nature | When purchased | Cost |
| Pakuranga Plaza | 3.9 ha/ shopping mall | May 2015 | NZ$95 m |
| Remarkables Residences | 3.84 ha/vacant land | Nov 2016 | NZ$19.2 m |
| Papakura | 21.8 ha/vacant land | Deal yet to be completed | NZ$36 m |
| Pauanui | 1.99 ha/vacant land | Deal yet to be completed | NZ$6 m |

In trying to create a new chapter, GYP ventured into F&B in 2014 – by buying the Wendy's franchise in Australia and New Zealand, which it still owns.

(GYP's search for a new breath of life has had ups and downs, as the story links below will tell in greater detail, including: GLOBAL YELLOW PAGES: Still awaiting fruits from growth plans )

GYP then decided that real estate would became its core business, and that is shaping up meaningfully. Earnings have yet to flow through convincingly but it is probably only a matter of time.
Global Yellow Pages

9M2018

9M2017

Change
(%)

Revenue

$16.8 m

$21.6 m

(22.3)

Net profit attributable to shareholders

$2.4 m

$3.0 m

(21.4)

Operating cashflow

$0.16 m

-$16.5 m

Net asset value

30.01 c/share

30.13 c/share
(end-June 2017)
Its property segment had pre-tax earnings of $391,000 in FY2017 (ended June 2017). In contrast, F&B's was $1.5 million.

The numbers, taken from the FY2017 annual report, are rather outdated as it's 12 months old.


4 real estate deals in NZ so far


Its first deal was a relatively safe one, targeting recurring rental income. It bought an established shopping mall in Auckland in 2015.

The next deal probably would be more earnings accretive -- the purchase of a vacant plot of land in the tourist hub of Queenstown in 2016.


The land is being developed, in phases, into residential homes. Phase 1, comprising 56 townhouses, is more than 80% sold.

Phase 2 sales of the Remarkables Residences project, comprising 46 townhouses, will be launched by the third quarter of 2018.

GYP took a big bold step next: It entered into, this year, a deal twice as large as the Queenstown one.

And it is the biggest of the three in purchase value – to the extent that it is considered a "very substantial acquisition" by SGX rules and needed shareholder approval at an EGM.

The deal was for GYP to buy 21.8 hectares of vacant land in Papakura, about 33 km south of Auckland CBD for NZ$36 m (S$35.3m).

It was approved at the EGM in May 2018.

According to GYP's circular to shareholders, "The Company currently intends to develop the Land for subdivision and to sell the sub-divided lots. The Company may in the future explore the development of part of the Land into residential houses and commercial units."

A fourth (and smallish) land purchase has now been proposed, amounting to NZ$6 million.


It's early days and the success and profitability of ventures No.2-4 are not evident yet.

GYP is a new player in property development and it's not clear whose expertise, if any, in New Zealand it relies on.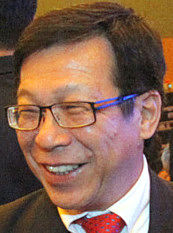 Mah Bow Tan, non-executive chairman.Within its inner circle, GYP has the benefit of the lofty experience and capabilities of its non-executive chairman, the former Singapore Minister for National Development Mah Bow Tan.

Mr Mah is a familiar hand at GYP alongside its CEO, Stanley Tan.

Mr Mah was appointed a director of GYP in September 2011, just four months after he retired from the Cabinet.

By then, CEO Stanley had been with the GYP board for about four years (since 2007), bringing with him his experience as a magazine publisher as well as 30 years of experience in property development and investment.

Then there is Sam Goi, who is not on the GYP board, but is a GYP substantial shareholder and a property expert in his own right.

Insiders raising their stakes in GYP

As GYP progressed in its real estate business, "connected people" have become the first wave of believers/investors as the table shows (and that's before the rights issue of June 2018).


Date

Type of deal

Buyer

Price

No. of shares bought

Oct 2016

Placement of new shares

Yong Yin Min

15.4 c

17,038,000

Thomas Riber Knudsen
(Husband of Kathlyn Tan)

15.4 c

17,038,000

Jan 2017

Open market purchase

Sam Goi

16.5 c

2,710,400

March 2017

Open market purchase & married deal

Sam Goi

18.0 c

68,500 & 30,800

March 2018

Married deal
(Kundsen sold to Kathlyn)

Kathlyn Tan
(Daughter of CEO Stanley Tan)

20 c

10 m

June 2018

Placement of new shares

Mah Bow Tan (non-executive chairman)

20 c

24 m

Notably, Mr Mah made his first financial investment in GYP very recently -- in June 2018 through a share placement approved by shareholders at the May EGM. The placement was completed after the rights issue, so he was not entitled to take part in the rights issue.

The net proceeds (S$4.79 million) are entirely earmarked to help fund the acquisition of venture No. 3, ie the Papakura land acquisition.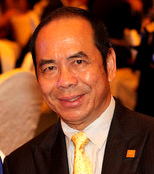 Billionaire Sam Goi.The June 2018 rights issue saw insiders -- chiefly, Sam Goi -- mop up excess rights shares.

There were valid acceptances for 61.14% of the total number of rights shares available for subscription, and excess applications were received for 60.44% of the total number of rights shares available for subscription.


After June 2018 rights issue

Directors

Total interest

% stake

Total interest

% stake

Mah Bow Tan

24.5 m

10.51

24.6 m

8.95

Stanley Tan

8,110,750

3.48

9.7 m

3.54

Ng Tiong Gee

5,250

0.002

5,250

0.002

Pang Yoke Min

24,461,450

10.49

29.4 m

10.68

Substantial shareholders

Sam Goi

23,757,200

10.35

40.0 m

14.55

Yong Yin Min

21,928,075

9.41

26.3 m

9.57

Kathlyn Tan


18.5 m

7.72

22.2 m

8.07

See also: SHS HOLDINGS: Offering affordable, fast solution in NZ property crisis