New Zealand has a housing crisis -- a shortage of affordable homes, mainly, and tourist accommodation and high-end homes too.

Official figures show there is a shortage of 71,194 houses in the country, and it will be a long-term challenge as the population grows with immigration. (

See also Dec 2017 article:

New Zealand bans foreigners from buying homes as housing crisis escalate)

Recognising the ills of New Zealand's high construction costs and labour shortage, Singapore-listed SHS Holdings (formerly See Hup Seng Limited) is offering a fast and affordable solution -- modular construction.

Modular construction translates into significantly lower development costs and faster turnaround times compared to traditional construction methods.

Quality at a lower cost is the winning formula of SHS as

its 60%-owned subsidiary TLC Modular (acquired in Feb 2017) operates out of Vietnam where the costs of materials and labour are sharply lower than in New Zealand.



TLC Modular designs and constructs modules of rooms and bathrooms, completely fitted out, adhering to strict Australian and New Zealand building codes.

The modules are shipped over and, on-site, are assembled into buildings.

TLC Modular is building a second factory in Vietnam as it sets its sight on the New Zealand (and Australia) markets, which SHS considers to be significant and sustainable.

Yesterday, SHS said TLC Modular has secured two contracts amounting to NZ$30 million (approximately S$28.1 million) to build a serviced apartment and a hotel. (More on this later)
What modular construction is: Watch video of our visit to TLC Modular's factory in Ho Chi Minh City:


To start the story at the start: SHS made its initial foray into the NZ market, announced in June 2016, through TLC Modular when the latter clinched a NZ$11.2 million (US$8.2 million) contract from a local private developer.

The project: the construction of an 88-room hotel (Cosa Hotel) in Christchurch .


SHS stock

22.5 c

52-week range

20 – 23 c

PE (ttm)

--

Market cap

S$154 m

Shares outstanding

685 m

Dividend
yield (ttm)

0.9%

1-year return

-3%

Source: Bloomberg
Modules have been produced in TLC Modular's Vietnam factory, and shipped over to Christchurch.

Sometime in this 2Q, after the civil groundwork is completed, the modules will be set up and Christchurch will have a new hotel up and running in 2H2018.

"Cosa Hotel will be the first approved modular hotel to be built in New Zealand and its progress and quality have been the springboard for these two new contracts secured," said Henry Ng, CEO of SHS.


The news from SHS yesterday regarding two contracts worth a total of NZ$30 m (S$28.1 m):

• First contract: Design and build a 79-key service apartment comprising 217 modules in Queenstown, New Zealand which is targeted to be completed in FY2019.

The contracting party is Remarkables Residences Limited, a subsidiary of Singapore-listed Global Yellow Pages.

• Second contract: Supply modular units for the first phase of the refurbishment of Godley Hotel in Tekapo, New Zealand.

This was signed with Coldwater Properties Limited, and the project is expected to complete in 2018.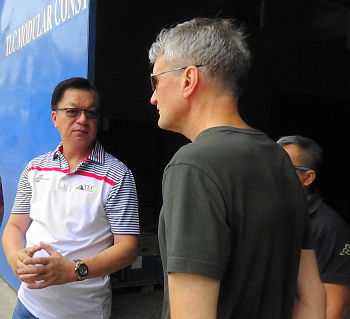 In Vietnam: CEO Henry Ng with Robert Stone, a substantial shareholder of SHS, on a visit to TLC Modular's factory. NextInsight photo "Our journey to penetrate the New Zealand market with our modular technology had not been smooth. We had to convince skeptics to adopt our new technology in construction, as well as secure the building permits for our type of unconventional building methods," said CEO Henry Ng.

"We are proud that despite these challenges, our team managed to cross these hurdles."

The contracts are expected to have a favourable impact on the Group's results in FY2019.

They form the first wave of expected deals in a new business segment that could blossom into SHS' growth story -- as it diversifies away from its corrosion prevention business targeted at the marine, oil and gas, construction and infrastructure industries.

As SHS said, both clients are using the initial contracts to "commence longer-term building programmes for their respective property portfolios using the modular offsite construction technology."

"We are confident that more of such contracts will flow in from New Zealand, which is currently experiencing strong growth in tourism and a severe shortage of affordable homes," said Mr Ng.