ST ENGINEERING has brought out its firepower (ie, cash and will power) to buy back a massive 12.297 million of its shares from the open market in six weeks.

That amounts to about S$41 million since 16 Dec 2014. And it's the first time that ST Engineering has bought back its shares.

It can easily afford the purchases given its $1.6 billion in cash and cash equivalents including funds under management as at end-3Q2014.

The share purchases came in the wake of a decline in the stock price (see chart).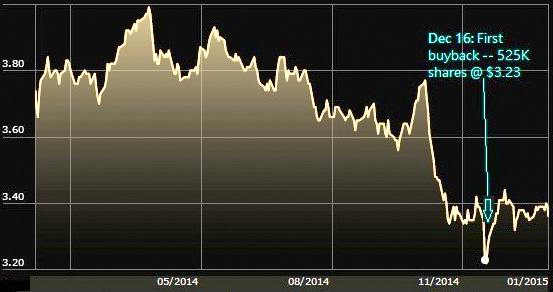 ST Engg ($3.36) has a trailing PE of 18.7, trailing dividend yield of 4.8%, and a market cap of $10.4 billion. Its 52-week trading range is $3.14-$4.00.
Chart: Morningstar.com


Aside from ST Engineering's share buyback, fund manager Aberdeen Asset Management bought 1.5 million shares on 15 October 2014 at $3.60 each, raising its deemed stake to 280.969 million shares or a 9.01% stake.

Other purchases by Aberdeen:

» 2 July 2014: Bought 200,000 shares at $3.82.

» 29 May 2014: Bought 630,000 shares at $3.83.

Another substantial shareholder, Temasek Holdings, through its wholly-owned Vestal Investments, bought 3.4 million shares at about $3.46 on 14 Nov 2014.

Temasek now holds a 51% deemed interest in ST Engineering.



ST Engineering 9M2014 financial results:

» Revenue: S$4.69 billion (unchanged y-o-y).

» Net profit: S$391.7 million (-5% y-o-y).

» Company's outlook statement: "The Group expects to achieve comparable revenue, with a lower PBT for FY2014 when compared to FY2013."

Order book of $13.2 billion at end September 2014, of which about $1.6 billion was expected to be delivered in the last quarter of 2014.

Recent story: 5 Reasons Why ST ENGINEERING Looks Like A Good Buy