Excerpts from analysts' report


Analysts: Somesh Kumar Agarwal and Justin Chiam (Macquarie)
YANGZIJIANG SHIPBUILDING was a surprise outperformer in the Singapore industrials sector in 2014 (up 2% vs peers down 20-30% each) on the back of strong order inflows and better-than-expected margin performance.

We expect the trend to continue into 2015 and keep YZJ as an Outperform with a slightly increased target price of S$1.55, up from S$1.45.

Surprises in 2014

» Orders: New high value orders for 4x260,000 dwt bulk carriers and 6x10,000 TEU containerships allude to the inroads YZJ is making into the very large bulk and container segment.

» Margins: Gross margins were better-than-expected on the back of pre-2008 vessel order deliveries. We now expect FY14 gross margins to be in the region of ~26% vs a previously expected ~23%.

What's in store in 2015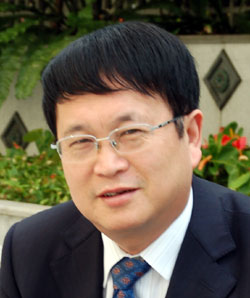 Executive chairman Ren Yuanlin. NextInsight file photo» Starts with a robust order book of US$4.6bn with 41 new vessel orders: With 13 new orders for very large vessel types, YZJ is fast becoming a serious player in a segment previously dominated by Korean yards. Yards will be highly utilized up till 2016.
» Has 6 large outstanding options which could convert into new orders: These options comprises 2 x 36,500 dwt bulk carriers, 2 x 10,000 TEU and 2 x 2,700 TEU containerships and estimated to be about US$300m.
» We estimate US$1.6bn of new orders in 2015: YZJ will continue making inroads into the very large vessel segment, in our view. We estimate 28 bulk carriers and 5 containership orders in 2015.

» Margins will come down a bit but could surprise on the upside: We expect margins to fall as lower value post-08 contract options were exercised but higher value contracts may mitigate this. We are estimating 23.2% EBITDA margin in 2015 and 22.7% in 2016 which have upside risk.
Recovery in shipbuilding prices and continued strength in management execution to drive the stock in 2015

YZJ's dependence on offshore rigs orders is declining which works to its favour given the current oil climate. We think YZJ could beat consensus with better than expected shipbuilding orders at higher prices. At 8x 2015E P/E and 1.0x 2015E P/B with 13-14% ROEs, the stock looks attractively priced in our view.

Bulk carriers and containership prices to rebound
»
Price have bottomed out in 2013, rebound backed by fundamentals

» Demand for both bulk and container trade continues to grow, post-2008 dip.

» While supply has yet to catch on: orders for bulkers to be delivered in 2017 not yet filled, and containerships for 2016 and 2017 delivery barely filled.
Margin compression expected

» Lower value post-2008 contract options that were exercised will result in falling margins for the next few years

» We expect gross margins to be in the region of 26% for 2014 and 24% for 2015

Becoming a serious player in the very large vessel space

» Secured 7 very large bulker orders (>200,000 dwt), 4 are the first of its kind on its order book; the 260,000 dwt bulk carriers

» Secured 6 new 10,000 TEU containership orders with an additional outstanding option for 2 more after having successfully delivered 6 of these ships

» Management also intends to offer the larger 16,000 TEU and 18,000 TEU vessel types to bolster their capabilities

» Focus on shipbuilding and move from offshore has paid off given the current oil climate


Valuation – Attractively priced given the growth and returns

» YZJ trades at 1.0x 2015E P/B and 7.8x 2015E P/E, which we think is attractively priced

» Our target price of S$1.55 implies a valuation of 1.3x 2015E P/B and 10.0x 2015E P/E, which we think is fair