CHINA'S SEVERE air pollution has hit the headlines again in recent months.

The problem is mainly caused by the usage of a huge number of small coal-fired-boilers and non-compliant coal-fired-boilers, according to SGX-listed Sunpower Group.

Sunpower is a China-based heat transfer technology specialist engaged in the design, R&D and manufacture of energy-efficient and environmental protection equipment for diverse industries.



Corporate developments, including the latest project award, has nudged Sunpower stock to a 4-year high. Chart: Yahoo
Now, Sunpower is stepping in to relieve the situation -- and has seen its share price soar about 50% in the past two months to 30 cents recently.

It has secured a Build-Operate-Own ("BOO") /BuildOperate-Transfer ("BOT") contract to build a centralised steam and electricity facility with ultra-low carbon and pollution emission.

Sunpower is to also operate the facility, which is located in the Gaoyang Circular Economy Industrial Park in Hebei Province.

The industrial park in Gaoyang County is one of 18 county-level National Circular Economy Demonstration Pilot Zones.

The facility to be built by Sunpower and a completed wastewater treatment project are the core projects in realizing the "circular economy" concept in the industrial park.

Sludge from wastewater treatment will be mixed with coal as feedstock for boilers to generate steam from treated wastewater to supply heat and generate electricity.

The project will be completed in phases: Phase I will comprise two boilers with a steam generation capacity of 220 tons each per hour, two generators with a power generation capacity of 25 megawatts each per hour, and steam distribution pipelines.


• Sunpower's previous key projects include customised Zero Liquid Discharge system, flare gas recovery system and sulphur recovery system.



•

Customers of Sunpower include well-known international customers such as BASF, Shell, Dow Chemical, BP, SABIC, Alcoa, and Mobil, and Chinese conglomerates such as Sinopec, CNOOC, CNPC and ChemChina.
The project will supply steam to approximately 70 manufacturing plants in Gaoyang County as well as supply electricity to some manufacturing plants and the national grid.

The total investment for Phase I is approximately RMB817 million and will be funded by proceeds from bank loans, internal resources and a share placement. (This month, it obtained shareholder approval to issue 400m new shares at 14 cents apiece).

Currently, almost every manufacturing plant in Gaoyang is dependent on steam and electricity generated from self-owned, small coal-fired boilers --- one of the major culprits causing serious haze issues in the area.

In view of this, the government has rolled out policies, which include the closing down of small and pollutive coal-fired-boilers in Hebei by end-2017.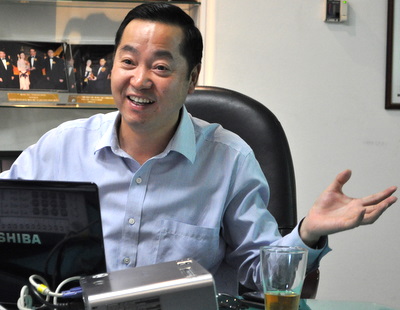 Guo Hongxin, Chairman of Sunpower Group.
NextInsight file photo.
The Group has been committed for the past 18 years in providing energy saving, environmental protection solutions and products to our clients. Over the years, we have secured reputable domestic and international clients as well as developed many proprietary technologies.

"The Chinese government is making great efforts to solve the haze and other environmental problems and this offers great business opportunities for the Group to extend the application of its existing technologies to provide centralized heating and clean energy.

"We will seize these opportunities by securing more Build-Operate-Own, Build-Operate-Transfer and Transfer-Operate-Transfer projects. These business models will not only increase the Group's EPC revenue, but also expand our recurring income stream and thus optimize our business model to maximize shareholders' value."