JUST DAYS after sealing an acquisition in Sydney, Singapore-listed Roxy-Pacific Holdings has now made land purchases in the city fringe.

Its wholly-owned indirect subsidiary, Roxy Gordon Pty Ltd, has acquired two vacant sites 14, Cowper Street (Lot 10) and 8, Elger Street, Glebe, Australia (Lot 11).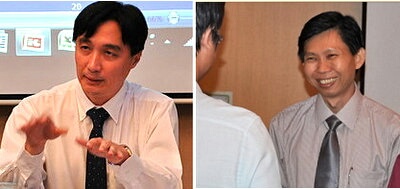 Roxy-Pacific executive chairman Teo Hong Lim and CFO Koh Seng Geok. NextInsight file photo.These are adjoining lots and were up for sale through a government tender about three months ago, Roxy-Pacific CFO Koh Seng Geok told NextInsight.

The land was had for a total consideration of AUD67,380,000 (excluding goods and services tax).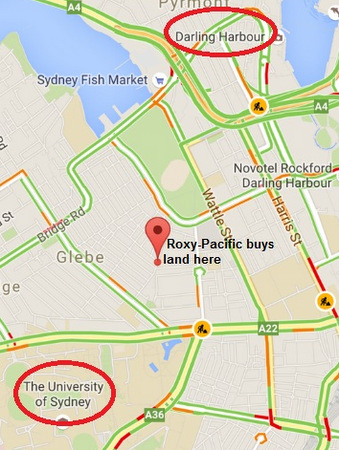 The two city fringe sites have an aggregate land area of 7,125 square metres, or nearly the size of a football field.

The location is a key attraction.

Roxy-Pacific executive chairman Teo Hong Lim told Business Times: "We like the location as it is within one km from the University of Sydney, Haymarket and the Central Railway Station."

According to a Daily Telegraph report, the site is located in "a sought after section of Glebe 500m from Broadway Shopping Centre and 3km from the CBD."

The article added that the two lots were part of a larger government housing estate built in the 1950s and 1960s that was knocked down in 2011 to make way for new housing.


Roxy-Pacific will build up to 248 apartments on vacant land it bought on Cowper Street and Elger Street. Photo: Daily Telegraph.
Roxy-Pacific said the land has a development potential of 248 apartments, subject to final regulatory approval.

Mr Koh said the property development is expected to be launched for sale in early 2017.

The acquisition will be financed by internal funds and bank borrowings.

The table below shows Roxy-Pacific's fast-expanding acquistions Down Under. They were made in just the past two years.
Location

Type

Roxy-Pacific's




stake

Attributable land cost

» Landbank
64 Peel St & 9 Cordelia St, Brisbane

Commercial & Residential Development

40%

AUD13.4 million

54 & 85 Bracks Street, North Fremantle

Industrial land; to be rezoned for commercial and residential use

20.2%

AUD11.9 million

6A and 8 Buckingham Road, Killara NSW

Residential Development

100%

AUD15.65 million

14, Cowper St and 8, Elger St

Residential Development

100%

AUD67.38 million

» Hotel
609, Wellington Street

A hotel development land parcel to be developed into a 23 level, 332 room Marriott Courtyard hotel

49%

AUD8.3 million

»Investment properties
59 Goulburn Street, Sydney

28-storey commercial building

100%

AUD90.2 million

117 Clarence Street, Sydney

14-storey commercial building

50%

AUD40.15 million