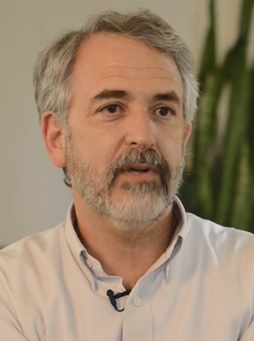 "We look for great companies that address large unmet needs, can get to market quickly, and have very outstanding teams of people working in them," said Trendlines Group Co-Chairman Steve Rhodes.
Photo: Company
START-UP INCUBATOR Trendlines Group of Israel is listing on Catalist tomorrow (26 Nov).

Anchor investors include high profile local investors such as Alan Wang and Tommie Goh. German medical and pharmaceutical device giant, B Braun Melsungen AG, will also hold a strategic stake of up to 5%.

Trendlines specializes in investing in start-ups in medical and agriculture technologies that "improve the human condition". Its successful exits include the following:

1) Inspiro Medical, which developed a dry powder inhaler for asthma patients.

2) PolyTouch Medical, which developed a surgical instrument for keyhole surgery that reduces operation time by 30% to 50%.

3) FlowSense, which manufactures a fluid monitoring system that provides accurate, real-time, and continuous monitoring of urine output in treatment of kidney injury.

4) InnoLap Surgical, which developed a device that eliminates post-surgical scarring in keyhole surgery.


Start-up
Acquired
by
Holding
period
ROI

Inspiro Medical


OPKO Health

4 years

8.8 times

PolyTouch Medical

Covidien

3 years

6.7

times

FlowSense

Baxter

4 years

4.0

times

InnoLap Surgical

Teleflex

8 months

3.2

times

Strong pipeline of near-market technology

So far, five start-ups founded by the 8-year old franchisee of Israel's technology incubator program have been acquired by the likes of medical device giants such as Baxter International, Covidien and Teleflex.


Trendlines is currently incubating 45 start-ups. Every year, it reviews 450 to 500 potential start-ups for inclusion to its portfolio.

How did the Group build such a strong deal flow? For one, it is based in Israel, which leads the world in the number of scientists and technicians in the workforce, with 145 per 10,000, as opposed to 85 in the US, over 70 in Japan, and less than 60 in Germany.

Secondly, the Group works with the technology transfer offices of leading universities and hospitals, as well as with medical devices MNCs. These include:

» John Hopkins University (widely regarded as one of the world's greatest hospitals)
» The Hebrew University of Jerusalem (whose first board of governors included Albert Einstein and Sigmund Freud)
» The Weizmann Institute of Science (the top research institute outside the US in 2015 for impact of scientific research)
» Technion - Israel Institute of Technology (This university is known for its contribution to Israel's reputation as the Start-up Nation. A book published in 2012 reported that 80% of Israeli NASDAQ companies have been found by or led by Technion graduates. There are currently over 80 Israeli companies listed on NASDAQ.)
» The Chaim Sheba Medical Center (the largest hospital in the Middle East)
» Clalit Health Care Services (Israel's largest health maintenance organization which runs 14 hospitals and over 1,300 primary care clinics)
» Medical device MNCs based in the US and in Japan


A startup in Trendlines' portfolio, ApiFix, which developed a system for surgical correction for spinal deformities, was awarded Best Start-Up 2012 by Israel's Office of the Chief Scientist of the Ministry of Economy.

ApiFix's miniature ratchet mechanism is a less invasive system to correct idiopathic scoliosis, a form of spinal deformity. It can be implanted in 45 minutes with a 10 cm incision, replacing the current method which requires a incision of 4 times the size and 6 to 8 hours of surgery time. So far, it has had 60 very successful cases of surgical correction of spinal deformity.

Video: Company


De-risked with government funding

The start-up incubator business is usually a highly risky one but in the case of Trendlines, much of the risk is borne by the Israeli government under its tried and tested Technological Incubators Program.

The Group owns two of out 18 technology incubators licensed by the Office of Chief Scientist under the Israeli Ministry of Economy. Each start-up in Trendlines' portfolio receives cash financing of US$500,000 to US$800,000 for a 2-year term. The cash financing comprises of 85% from the government, which is to be repaid in the form of 3% of the start-up's revenues annually. The remaining 15% is from Trendlines, in the form of cash investment for a 50% share stake in the start-up.

It has 3 business units as follows.
1. Trendlines Medical - franchisee for incubating medical technology start-ups
2. Trendlines AGtech - franchisee for incubating agriculture and food technology start-ups
3. Trendlines Labs, which has joint ventures with medical devices MNCS and large hospitals to develop technology.

Trendlines provides the following support functions for start-ups.

1. Work environment, such as offices and laboratories.
2. Administrative services, such as human resources and financial accounting support.
3. Technological & business guidance, such as product and technology development, development of intellectual property rights, marketing communications and fund raising (sourcing for investors, negotiation in funding structure and assistance in investors' exit.)
4. Legal & regulatory assistance.

For its IPO, Trendlines is placing out 75.76 millon shares at 33 cents apiece (proceeds of S$25 million) that will result in its market capitalization being S$167.9 million.

The net proceeds of S$19.3 million (after deducting listing expenses) will be used in follow-on investments in its portfolio of start-ups, expansion into new markets, as well as technology development by Trendlines Labs.

The Group posted pre-tax income of US$5.3 million for 1HFY2015.