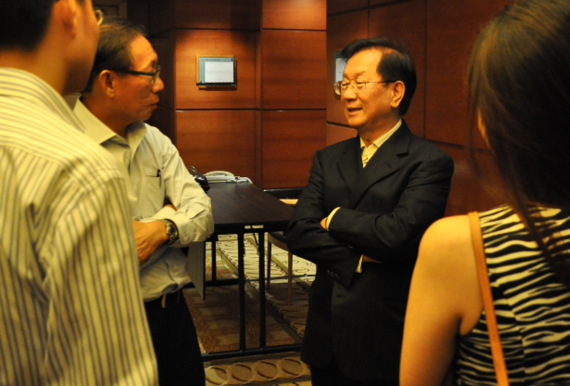 "We expect higher year-on-year profitability in 4QFY2015," said Hi-P's Executive Chairman Yao Hsiao Tung. NextInsight file photoHi-P INTERNATIONAL has posted a stellar 125.8% year-on-year rise in 3QFY2015 net profit attributable to shareholders to reach S$24.3 million, thanks to a successful season of output ramp-up.

The global smartphone market grew 6.8% year-on-year during 3Q2015 to 355.2 million units, the second highest shipment on record. China remains the largest contributor (30%) to global smartphone sales.

PRC video streaming company, LeTV, is Hi-P's new customer and the next up and coming smartphone company to watch. LeTV broke a domestic record for a new smartphone company by selling 1 million phones in three months. At the launch of its second generation smartphone, Le 1S, more than half a million Le 1S phones were sold in a day.


"Our newly implemented processes brought down unit production cost for LeTV, on top of improvements to component features," said Hi-P's Chief Operating Officer, Gary Ho, at the electronics contract manufacturer's results briefing on Friday morning.


The Group's 3QFY2015 revenue increased by 60.4% year-on-year to reach S$394.2 million while gross profit margin expanded by 4.2 percentage points from 9.4% to reach 13.6%. The Group has proposed an interim dividend of 0.3 Singapore cents per share, at a payout ratio of 95.7%.


For details of its financial results, click here.

Below is a summary of questions raised at the results briefing and the replies provided by Executive Chairman Yao Hsiao Tung, Deputy CEO El Tay, CFO Samuel Yuen and COO Gary Ho.


Q: Why did you introduce an interim dividend in spite of your law suit overhang and high gearing?
We wanted to show appreciation to shareholders who remained loyal even though our share price was volatile in the past few quarters. The Yota case is one-off.

Q: How are you going to diversify given China's economic slowdown?
We reorganized our business units last year to cater to different customer segments as follows: China's domestic market; international market; consumer electronics business units; original design services.

This has improved our effectiveness in engaging customers from different segments and countries, and enabled us to grow with them. This is reflected in our 3QFY2015 revenue growth quarter-on-quarter as well as year-on-year. We are projecting this revenue growth momentum to continue into the next year.

Q: How much of 3QFY2015 profit is recurring? Were there any one-off items?
In 3QFY2015, we had a one-off inventory provision of about S$5 million. The S$24 million in net profit is from recurring business, being the net amount after charging this inventory provision.

Q: Why were you able to expand margins in 3QFY2015?
Last quarter, we had good selling prices. We also ramped up our output very quickly. Our plastic projects at Jin Hai Road and CNC projects at Nantong turned profitable. Our CNC projects at Nanhui are on track to turning profitable. New product ramp-up is very important to succeeding in this industry.

Q: Will you be able to expand margins in 4QFY2015?
4QFY2015 revenue will remain strong but we will face price cutting pressures. The revenue growth can partially offset the margin erosion. We expect 4Q margins to be in low teens.

Q: Is the revenue coming from new product segments or new customers?
We have to diversify our risks. Revenue growth comes from new customers, new production sites and new product launches. We are confident our capital investments over the past 2 years will continue to bear fruit.

Q: How many customers do you now have?
We have more than 100 customers now. More than 10 customers account for over 5% of Group revenue. We have one PRC customer among our top 10 customers currently.