Excerpts from analyst's report

Deutsche Bank analyst: Kevin Chong

Price at 3 Nov 2015 (SGD) $1.26
Price target - 12mth (SGD) $1.90


Staying afloat while others sink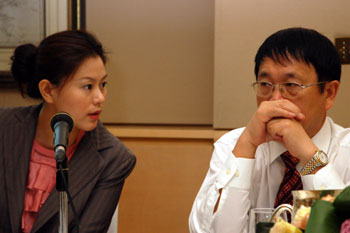 CFO Liu Hua with Chairman Ren Yuanlin.
NextInsight file photo.We recently hosted YZJ's mangement at a post results investor luncheon. A key takeaway is that the group should be well positioned as the Chinese shipbuilding industry consolidates. According to Clarkson, YTD new orders at Chinese yards are down 49% yoy to 6.3m CGT.
Compared to the Chinese market, YZJ appears to stand out with YTD wins up 14% yoy to US$1.6bn (our FY15E is US$2 bn; YZJ's 9M14 wins totaled US$1.4 bn). The group's balance sheet remains robust; net gearing is down from about 10% in FY14 to 2% in Sep-15. With the Chinese shipbuilding industry consolidating, YZJ is prepared for M&A opportunities if the fit, contribution, and price are right.

As the shipbuilding industry consolidates further in China, weaker yards will become marginalized and a select group of larger/stronger yards should remain. We believe YZJ will be one of the winners; already Chinese yards are facing trouble -- Cosco Corp reported losses and has recently issued a profit warning, JES Shipbuilding/Rongsheng are restructuring and reported significant losses, and according to YZJ, many other small yards have shut operations. The Korean yards are not doing any better with losses registered at Hyundai Heavy, Daewoo Shipbuilding, and Samsung Heavy.


Focus on core shipbuilding business
YZJ gradually plans to reduce its investments in non-related assets. Its investments in HTM financial assets have declined from RMB11.7bn in 1Q15 (29% of total assets) to RMB9.7bn in 3Q15 (25% of total assets). The group highlighted that it will continue to gradually divest these assets and redirect resources to support its core shipbuilding business.


Kevin Chong (Deutsche Bank)

The group has enhanced its capabilities and is now targeting larger and more complex vessels such as gas carriers, clean energy vessels and large containerships (recently four 9,700 TEU containership contracts announced in Aug 2015 were converted to 11,800 TEU units, accompanied by increments in contract values). YZJ's valuations remain attractive in our view; maintain Buy. --
9M15 results/order book; enhanced capabilities
YZJ's 9M15 net income was down 15% yoy to RMB2,418 m (about 82% of our FY15E and 79% of the Street). The group's shipbuilding revenues grew 9% yoy to RMB3.3bn; margins declined from 21% in 3Q14 to 18% in 3Q15 as its previous higher margin vessels have all been delivered.

YZJ's US$4.8bn order book (vs US$4.1bn in 2Q15 and US$4.46 bn in 3Q13) comprises 107 vessels (71 bulk carriers at US$2.3bn, 32 containerships at US$2.2bn, 2 LNG carriers and 2 VLGC at US$0.3bn).