I'VE HELD A trio of stocks in a particular account for quite a number of years. The long holding period has yielded lessons.

This trio is by no means the only stocks I own. Two of them -- GSH Corp and Sinjia Land -- are currently in the red. The third -- ComfortDelGro -- is a six-bagger. Yes, six!

It has saved my basket of three stocks from a depressing loss, as a screenshot of the account statement below shows.





I have a 49% capital gain. This does not include dividends from ComfortDelGro whose dividend stream has been consistent and strong.

» GSH Corporation: It was then known as JEL Corp and it was a distributor of electronic goods in developing countries such as Cambodia and Kazakhstan.

My mistakes: Distribution businesses tend to be low margin. (JEL's gross margin was merely 6.6% in FY2011). Inventory risks are high. And it takes high sales volumes to generate a good bottomline.
JEL had a nasty fall because of the company's accounting irregularities for which its CEO, who had a big role, later went to jail.

Perhaps the tough business environment had a role in driving the CEO to commit those financial crimes.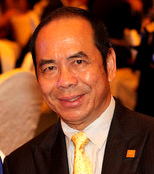 Sam Goi, executive chairman of GSH.The distribution business has recently been divested to Serial System. Perhaps Serial can derive synergies working that business (finished electronic goods) jointly with its (Serial's) own core distribution business (electronic components).

GSH has transitioned into being a property developer/owner. And it has come under the control of Sam Goi. Its profitability could improve but I am not sure if GSH has a property upcycle (overseas) to ride currently.

» Sinjia Land: It was previously known as HLN Technologies. HLN manufactured customised elastomeric and polymeric components to a variety of industries, principally the office automation, consumer electronics and automotive industries.

Again, my mistake was in buying a business with tough operating challenges.

HLN has undergone changes in controlling shareholder and CEO. More critically, it has switched to other industries, including property development (still small scale) and another business -- procuring, assembling and installing fuel cell systems in commercial and other buildings for the generation of electricity and production of synthetic gas and crude oil in Singapore. The outlook is not exactly very bright, in my view.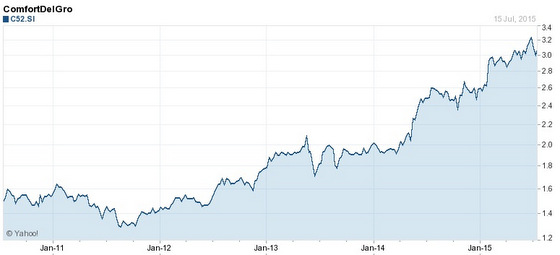 » ComfortDelGro: I saw it as a dividend yield stock back when it was just Comfort Taxi. In 2003, Comfort merged with DelGro to form a bus-taxi-MRT company with a market cap of about S$1 billion then.

I never imagined the huge capital gain that this stock would give investors. The company now has a market cap of S$6.5 billion!

Capital gain aside, ComfortDelGro paid out decent dividends every year. Certainly, the dividends have covered what I paid for the stock!

ComfortDelGro, from being a largely Singapore-centric business, grew through M&A to become a global transport company. It now operates in seven countries and has a global fleet of over 46,300 vehicles.

Half of its S$442 million operating profit in 2014 came from Singapore, the rest coming from overseas.

My mistake: I allocated only $9,000 to this stock. After soaring in value to $60.5K, it now accounts for 75% of the $81K value of the basket of three stocks. It's wishful thinking -- if only I had allocated 75% of my capital to ComfortDelGro years ago.....